Uncomplicated. These are the 14 biggest busts drafted #1 overall in their sport. This list is presented with special dedication to Matthew Stafford whom was drafted today and will likely avoid joining this list.
Here are the 14 that just missed the cut (no particular order):
Alexandre Daigle - NHL - Ottawa Senators,
David Carr - 2002 NFL - Houston Texans,
Kris Benson - 1996 MLB- Pittsburgh Pirates,
Al Chambers - 1979 MLB - Seattle Mariners,
Paul Wilson - 1994 MLB - New York Mets,
Steve Emtman - 1992 NFL - Indianapolis Colts,
Bryan Bullington - 2002 MLB - Pittsburgh Pirates,
David Clyde - 1973 MLB - Texas Rangers,
Courtney Brown - 2000 NFL - Cleveland Browns,
Kwame Brown - 2002 NBA - Washington Wizards,
Doug Wickenheiser - 1980 NHL - Montreal Canadiens,
Michael Olowokandi - 1998 NBA - Los Angeles Clippers,
Patrick Stefan - 1999 NHL - Atlanta Thrashers,
Walt Patulski - 1972 NFL - Buffalo Bills,


14. Gord Kluzak - 1982 NHL - Boston Bruins
Kluzak, a defenseman, was simply a victim of injury as much as an outright bust. He suffered a knee injury before the draft yet was still taken by the Bruins with the first pick. He played 70 games as an 18 year old rookie and though he tallied only 7 points in his first go around the league, he showed promise. Over the next three seasons he amassed 37, 39 and 37 points before suffering another devastating knee injury. He appeared in 13 more games and underwent 11 knee surgeries before calling it quits in 1990. With only 299 career games, he played the fewest amount of games by any NHL #1 overall pick that made it to the league.
13. Kenneth Sims - 1982 NFL - New England Patriots
A Defensive End measuring 6'5" and 272 lbs out of the University of Texas, Kenneth Sims was selected before Hall of Fame players Mike Munchak and Marcus Allen and before such other All-Pro standouts as Jim McMahon, Mike Quick and Luis Sharpe. Sims' tale of his career is mediocre and bland ending up as just plain sad. He played a full season just once and registered only 17 sacks in 74 career games. Dubbed "Game Day" for his infamous disinterest in practice and his frequent quote "I'll be there on game day". He spent his entire lackluster career with the Pats until he was released after getting busted in Texas for possession of cocaine.
12. Brian Lawton - 1983 NHL - Minnesota North Stars
Lawton was the first "Next Gretzky". That should have been the warning sign. He was also the first American-born #1 overall pick. That was strike two. Who he was drafted before is the reason he is considered such a bust. His career numbers weren't horrible but Steve Yzerman, Pat LaFontaine, Cam Neely and Tom Barasso are just some of the players drafted after him.'86-'87 was his best season (by far) gathering 21 goals and 23 assists in 67 games. He is currently the GM for the Tampa Bay Lightning. Perhaps that is "Strike Three"?
11. Pervis Ellison - 1986 NBA - Sacramento Kings
"Never Nervous Pervis" never had a reason to be nervous in the NBA. He was a total bust. He won a NCAA title as a freshman at Louisville and was Most Outstanding Player of the Final Four. That was the pinnacle of his basketball career. Once he was drafted, injuries struck and he earned the new nickname "Out of Service Pervis". He had two decent seasons with the Washington Bullets even averaging 20 points over 66 games for the '91-'92 season. But it was all downhill from there. His career 9.5 PPG and 6.7 RPG over 11 seasons certainly are pallid considering he averaged nearly 25 minutes a game and in comparison to the hopes and expectations he brought into the league.
10. Shawn Abner - 1984 MLB - New York Mets
What does the #1 overall pick get you in the 1984 MLB draft? 11 HR, 71 RBI, and a .227 AVG in 392 games. He wasn't a very good fielder and didn't have a strong arm and had more career CS (8) than SB (6). He was a classic zero-tool player. Abner never played 100 games in any season and batted over .200 only in 3 of his 6 seasons. His season highs of 3 HR and 15 RBI are truly monumental for an overall first pick. Shawn's brother Ben was also a 5th round pick by the Expos that season and was a superb bust in his own right; he played all of 26 games above Single A.
9. Aundray Bruce - 1988 NFL - Atlanta Falcons
A star linebacker at Auburn, "The Next Lawrence Taylor" started 42 games in his 11 year NFL career. He had one less interception in his highly acclaimed, nationally televised performance against Georgia Tech(3) as he had his entire NFL career (4). He garnered 32 career sacks, never getting more than 6 in a season. Unlike many of the players on this list, Bruce was healthy for the duration of his career as he played 14 or more games each of his first 9 seasons (6 times appearing in all 16 games). He was never a defensive threat and never came close to living up to the hype that made him the NFL's #1 pick in 1988.
8. Tim Couch - 1999 NFL - Cleveland Browns
Drafting Number one, the Cleveland Browns select the biggest flop QB this side of Ryan Leaf. Perhaps if it wasn't for Leaf, Couch would be remembered for being the biggest bust in NFL history. Couch went into college touted as the best QB prospect since John Elway and into the NFL draft heralded as the savior to the new Cleveland Browns. He took over the Browns in the second game of his rookie season. An inexperienced QB behind an inexperienced expansion Offensive Line led to disaster. Couch had 11 more TD and 31 less INT in his two full years at Kentucky than he had in his 5 year NFL career.
7. LaRue Martin - 1972 NBA - Portland Trailblazers
Martin was drafted on a simple premise: He outplayed UCLA's Bill Walton in a game one time. A 6'11" center out of Loyola had a career night handling the legendary Walton during the storied '71-'72 run. LaRue never really got into a groove in the NBA and once the Blazers drafted Walton in '74, he was relegated to the pine. He retired after the '75-'76 season and pursued other interests. Of course, the Blazers won their only Championship the next season. Martin averaged 5.3 points and 4.6 rebounds a game for his career.

6. Danny Goodwin - 1971 MLB - Chicago White Sox, 1975 MLB - California Angels
Danny Goodwin has the rare distinction of being the only two-time #1 overall draft pick in any of the 4 major sports. He was drafted as a catcher out of high school by the White Sox and decided to go to college instead. Four years later, the Angels picked him #1, too. It's pretty tough to scout a guy that much and have two teams get it so wrong. He never caught a single game in the Majors, primarily appearing as a DH. His career year was 1979 with the Twins when he hit 5 HR and knocked in 27 RBI on 46 hits. He lasted all of 252 games and left the game with 13 career HR and a whopping .236 lifetime batting average and was out of baseball by age 28.
5. Greg Joly - 1974 NHL - Washington Capitals
The expansion Capitals were poised to select a difference maker in 1974 and went with the defenseman of the year out of the WCHL with the first overall pick. His best season - by far - after being drafted was a 10 goal season in '83-'84 with the Red Wings. Adirondack Red Wings of the AHL, that is! Joly played 365 career NHL games racking up 97 total points and a career +/- of (-163)
4. Ki-Jana Carter - 1996 NFL - Cincinnati Bengals
Carter tore his knee up on his third carry of the first preseason game of his NFL career. he never fully recovered. His career best season tallied 464 yards. After bouncing around with several teams and never making an impact with any of them, he retired in 2004 with 1,144 career rushing yards, or about 40% of his career rushing yards in three years at Penn State.
3. Steve Chilcott - 1966 MLB - New York Mets
The first amateur draft in baseball took place in 1966. With the very first draft pick, the New York Mets chose Steve Chilcott. Chilcott never played a day in the majors. Sure, scouting high school baseball players is tough but the Mets chose him over some guy named Reggie Jackson, who went #2 to the Kansas City Athletics.
2. Brien Taylor - 1999 MLB - New York Yankees
Another #1 that never made it to the Show. In fact, Taylor and Chilcott are the only two #1 picks in MLB Draft history not to make an appearance in an official game. Taylor was selected by the Yankees and quickly flush with incredible hype. A suspended at the time ordered Taylor to be drafted and signed or the consequences would be more dire than merely being fired. He was certainly talented enough to advance to the majors, but it was a bar fight defending his brother that tore his labrum while he was in Double A that got the best of his career (Didn't he ever see Bull Durham?). He was never the same and spent the next 6 years bouncing around different organizations, toiling in Single A baseball.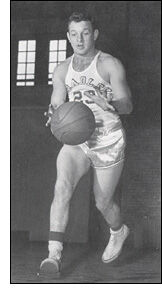 1. Gene Melchiorre - 1951 NBA - Baltimore Bullets
It's one thing to never live up to the potential of being a Number one draft pick. It's quite another to throw that opportunity away. Gene "Squeaky" Melchiorre was a guy who was a mere 5'8" but could score at will, setting the NIT record for points in a game with 71 while at Bradley in 1949. Squeaky was one of many players who were involved with point shaving in college and after an investigation was found guilty though his 3 year jail sentence was suspended because he cooperated with investigators. Just weeks after the draft, he was banished from NCAA sponsored events and banished from the NBA. He never played a single game. That makes him the biggest bust of all.