From: Stupid Sideline Reporters
It's playoff time! The NBA season got a lot more interesting with the Western Conference playoff race as tight as it has ever been. Oh yeah, the other conference. Well let's get that out of the way first.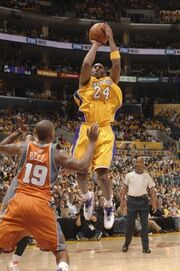 (1) Boston Celtics vs. #8 Atlanta Hawks
If the Hawks win this series, then I shall no longer provide you with predictions to gamble on. Al Horford and the Hawks should be thankful they are even in the Eastern Conference and can make the playoffs with a losing record. Boston has too much talent, and a great coach in Doc Rivers…SWEEP!
Celtics in 4.
(2) Detroit Pistons vs. (7) Philadelphia 76ers
The 76ers are fun to watch; they have beat Detroit twice this season and are 22-14 since the All-Star Break. However, they did fall down the stretch and dropped to the #7 seed. They are a very balanced team with 5 players averaging in double figures. Andre Iguodala is the new AI in the City of Brotherly Love. Unfortunately, the Pistons seem to just turn on the jets when they reach the playoffs (then turn it off in the NBA Finals or the Conference Finals). The home court advantage is too much for this young team to handle.
Pistons in 5.
(3) Orlando Magic vs. (6) Toronto Raptors
Stan Van Mustache should get "Coach of the Year" considerations. Dwight Howard is playing out of his mind, Rashard Lewis continues his good form that he had with the Sonics. Oh yeah, J.J. Redick… is not even averaging 5 points a game.
I can't find anything good with this Raptors team outside of Chris Bosh and Andrea Bargnani. Jason Kapono, the TWO time winner of the three point shootout is so underused that it is not even funny. They had a great run last season before falling to the New Jersey Nets in the first round… I'm not sure they will win 1 in this series.
Magic in 4.
(4) Cleveland Cavaliers vs. (5) Washington Wizards
A month ago, Washington did not have Gilbert Arenas and was fighting to stay in the playoffs. Now they are a #5 seed, and have made the playoffs for the 4th consecutive time, and 3rd straight against Cleveland. I have not been impressed with Cleveland after they traded away Larry Hughes and Drew Gooden. Yes, they needed to trade Hughes because he is awful, and I thought Ben Wallace would HELP the Cavaliers playoff position, not get injured. Wally Szczerbiak and Delonte West (Seattle Supersonics) and Joe Smith (Chicago Bulls) really are doing all they can, but the Cavs keep losing. LeBron James is once again forced to play as if he's the only one out there. The other thing I do not like about Cleveland is the way they play on the road; their 18-23 record away from Quicken Loans Arena isn't that great.
Back to the Wizards. Last year, Gilbert Arenas had another knee injury, the whole team was banged up, and they got swept. The year before that, Arenas and Antawn Jamison were very much healthy, and were probably a traveling call and a free throw away from winning that series. This year they are starting to get healthy again, and I think they can push Cleveland to the limit. They won't win, but they will push them.
Cavs in 7.
Now the Western Conference!
(1) Los Angeles Lakers vs. #8 Denver Nuggets
Do not count Denver out in this series. They are (in many ways) similar to the Golden State Warriors team that upset Dallas last year. Allen Iverson and Carmelo Anthony work very well together and it bothers me that these guys can't win a playoff series. Kenyon Martin is slowly getting back to the days when he was a Nets star. With the high scoring back and forth pace of Denver comes one fatal flaw. Outside of Marcus Camby (who is a big man), who will stop Kobe Bryant, Pau Gasol, Lamar Odom, Derek Fisher, or Jordan Farmar? What defensive formation do you use? Playing zone or a 1-3-1 probably does them no good at all considering who is on the other side.
For the Lakers, not having Andrew Bynum back in time for the playoffs is huge. This means Ronny Turiaf is really going to have to step up his game when called upon to give Pau Gasol a rest. Kobe Bryant is an MVP candidate and he FINALLY has a competent supporting cast to get the Lake Show the top seed.
Denver's lack of consistent road play, their horrendous defense, another year, another series in which the...
Nuggets are eliminated in 5.
(2) New Orleans Hornets vs. (7) Dallas Mavericks
Byron Scott is a great coach. He led the New Jersey Nets to the NBA Finals twice, as well as guide the New Orleans Hornets to their first division title in history and a #2 seed in the playoffs. Chris Paul is widely considered the MVP for this year. He has a strong ability to drive to the lane and is not afraid to pull up and shoot the jumper. Tyson Chandler is reformed and is playing a bigger role than he did with the Chicago Bulls, who are currently a wreck. Peja Stojakovic is playing his best basketball since the Lakers/Kings rivalry actually meant something, and David West is very underrated in my opinion.
Dallas has more experience in the playoffs than the Hornets do, but the Warriors had no playoff experience last year and they were able to wipe the Mavs out so that argument is out the door for me. Dirk Nowitzki is improving after the ankle injury, they're trying to develop Brandon Bass into a starter in the future. I think it is quite apparent the Jason Kidd deal has not worked well at all. They traded a quick, talented, and young man in Devin Harris for a slowed down 36 year old assist man who is NOT a center. It's not working because they have beaten only 1 team since the Kidd deal that is in the Western Conference Playoffs, and that is the Phoenix Suns. Now they have to face a fast paced playoff team again for a minimum of 4 times!
The trendy pick is to go with Dallas because of their experience, but I'm going with the
Hornets in 6.
(3) San Antonio Spurs vs. (6) [[Phoenix Suns]
It's Shaq vs. Duncan again, Nash vs. Parker... the matchups are brilliant and so will this series. Phoenix really looked out of sync once Shaq was put into the starting lineup. They turned the ball over more often and were actually playing worse defensively, which to me, balances out the rebounding, 2nd chance points, and blocked shots inside the paint that O'Neal brought to the table. Coach Mike D'Antoni seems to have figured out how to fix that problem, and they're not making Shaq the nucleus of the offense. He's not scoring 35 and getting 15 boards like he did with LA, but more like 15 points and 14 rebounds with 4 blocked shots. The most interesting matchup I see is Leandro Barbosa vs. Manu Ginobili. The top 2 candidates for Sixth Man of the Year can really shoot from the outside, make their free throws, and most importantly, are very quick; they can drive to the baseline and kick it out to an open man on the wing or just take it in themselves.
San Antonio will not let up that easily. They are the defending champs, but they lost the season series to the Suns, and put up a stinker at home 2 weeks ago, that all but clinched the Suns' ticket to the playoffs. They really need Robert Horry back because the playoffs begin tomorrow, and I find that if you take away one of the big three (Duncan, Ginobili, Parker), the Spurs are average, at best. The evidence points to Sunday's game against the Lakers, when Ginobili was out with an injury. San Antonio got blown out of the water by 21, and lost all hope of gaining the top spot in the West. They still have a good defense, but their offense is pathetic. They had a run of 3 games in which they didn't break 80.
The only way I see them stopping Phoenix is by slowing the game down completely, and make them win the 86-80 games, because Phoenix scores 110 per game, San Antonio scores only 95, but allows just 90. This is a tough one to pick, but I'm going with the upset.
Phoenix wins in 6, they have really impressed me as of late.
(4) Utah Jazz vs. (5) Houston Rockets*
The key thing about the * is that Houston has a better overall record than the Jazz, and they will get home court advantage despite being a lower seed. Why is it key, you might ask? Utah is 37-4 at home, best in the NBA in that category, but 17-24 away. Last year, the Jazz made a spirited run to the Western Conference Finals, and sent T-Mac packing in the first round again.
Dikembe Mutombo is really picking up the slack on the defensive side with the loss of Yao Ming. I really like how Luis Scola is playing, and he should be considered for Rookie of the Year, averaging 10.3 PPG and 6.1 RPG. They have a deep enough roster to beat the Jazz, and they have the home court advantage.
For Utah, Deron Williams and Carlos Boozer are a fantastic combination and are very much one of the deadliest duos in the league as we speak. They have an electrifying offense (106.2 PPG) and a defense that holds opponents to under 100. As far as we know, they only need to win one game at Houston and they may be set. But then again, there is that road record factor that I think will push this to 7 games again…and this time T-Mac comes out on top.
I'm going with the Rockets in 7 in an "upset".
X Factors For Each Playoff Team
Josh Childress - Atlanta Hawks
Daniel Gibson - Cleveland Cavaliers
Antonio Daniels - Washington Wizards
Rodney Stuckey - Detroit Pistons
Samuel Dalembert - Philadelphia 76ers
Anthony Parker - Toronto Raptors
Derek Fisher - Los Angeles Lakers
Rafer Alston - Houston Rockets
David West - New Orleans Hornets
Jason Terry - Dallas Mavericks
Michael Finley - San Antonio Spurs