The average fans believe that the NFL season is over when the final whistle blows at the Super Bowl. But unlike Bill Belichick the NFL doesn't leave the field.
A recent NFL commercial starring Cleveland Browns WR Braylon Edwards said it best: "The NFL is 13 months a year; 14 on a leap-year". (Don't worry; he laughed so he knew that it wasn't exactly…umm…smart…)
What is your point, Matt?
Well, this weekend we had the combine, which for all intents and purposes is boring. Yet, I was still glued to it. These are guys that are trying to make it. These are guys that are doing everything they can do to make the next level. This is when the passion shows, and isn't that what fans love?
There were some great stats posted.
In the 40-Yard Dash:
1. RB Chris Johnson, East Carolina -- 4.24
2. RB Darren McFadden, Arkansas -- 4.33
3. WR DeSean Jackson, California -- 4.35
4.24? Wow. That guy will be drafted.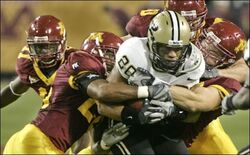 I also liked watching TE Dustin Keller who (while only measuring in at 6-foot 2-inches) put up a whopping 38" vertical jump. By my calculations (by looking at FFLiveWire.com) it is second only to WR Keenan Burton who registered a 38.5".
Speaking of Keller he impressed everyone with a 4.53 second 40-Yard Dash and 26-reps of 225-lbs, second only to Craig Stevens among TEs. He came across as one of the better TEs at the combine, and seeing as how Fred Davis wasn't there, he is moving up the draft board.
But that is what the Combine is for, huh?
The Combine aside, there have been a lot of interesting NFL transactions over the last week.
Per ESPN.com's "transactions" section.
Monday, February 18, 2008
Chicago Bears: Signed defensive end Alex Brown to a two-year contract extension; release wide receiver Muhsin Muhammad; declined to exercise the contract option on defensive tackle Darwin Walker.
- That is too bad, seeing as how Muhammad has been a major part of their offense the last few years. But, he is old and it was time to move on.
Tuesday, February 19, 2008
San Francisco 49ers: Waived linebacker Derek Smith.
- I like Smith. I don't like that he had to go, but as you age you lose your "oomph". Add to that the amazing play of Patrick Willis last year and you have a recipe for the waiver wire.
Wednesday, February 20, 2008
Green Bay Packers: Released tight end Bubba Franks.
- The end of an era. I hope that he ends up somewhere.
Houston Texans: Released linebacker Shawn Barber, center Mike Flanagan, and tight end Jeb Putzier; waived center Drew Hodgdon.
- Flanagan? Wasn't he still productive? And then they cut another center? Good luck with that.
Thursday, February 21, 2008
Carolina Panthers: Released running back DeShaun Foster.
- Rumblings are that The Bucs want him.
Arizona Cardinals: Released safety Terrence Holt, tackle Oliver Ross, and defensive end Chris Cooper.
- This a cap issue? Because really, two starters?
Cleveland Browns: Signed running back Jamal Lewis to a three-year contract extension through the 2010 season.
- I like this. He is still productive and it is a short enough contract that if he goes downhill they don't have to eat a lot of it.
Saturday, February 23, 2008
Chicago Bears: Agreed to terms with quarterback Rex Grossman on a one-year contract.
- Is this sadistic or masochistic? Are they doing it because they like to hurt themselves or the fans? Because, really?
Sunday, February 24, 2008
San Diego Chargers: Agreed to terms with linebacker Derek Smith on a two-year contract.
- Woohoo! I knew he would land on his feet.
Chicago Bears: Agreed to terms with tight end Desmond Clark on a two-year contract extension through 2010.
- Did they not notice that it was time to start cutting old TEs? Especially if your first round pick in 2007 was a TE? Goes back to my question about Grossman. These guys are just plain silly.
Community content is available under
CC-BY-SA
unless otherwise noted.