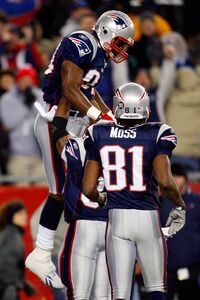 This is the seventeenth edition of the popular Meet the Users series, where The Beast will be interviewing a particular ArmchairGM user. The goal for the series is to allow all users to know each other better. The seventeenth edition goes to Bobbyjim45
1. How did you learn about AGM?
I am truly one of the old timers at the 'Chair. It all started on a cold blustery winter night… the night of March 14 th, 2006. I was a simple 16 year-old kid trying to get some writing exposure on SportsColumn.com. Then, I received an email from a man by the name of Dan Lewis. This is what his email said:
"Hi Rob:
I just noticed your article on SportsColumn.com.
My friends and I started a site similar to SportsColumn last week -- but better. Users actually vote for the best stories. Stories are published on all relevant pages -- the front page, yes, but also the league's page, the team's page, and the player's page. Anyone can write. You can make your own blog. We have stats loaded for every NBA and MLB player, and a lot of NFL players, through last year. We are also building an encyclopedia. And you can even write news stories.
Oh, and we have over 125 registered users. Not bad for a site that's officially a week old! You'll certainly get more than the few comments you got over at SportsColumn.
The site is ArmchairGM.com. I highly suggest you click the "first time?" button – that brings you to our tour. Actually, just go to http://armchairgm.com/firsttime.html -- that's the direct link. (The "next" buttons at the top are broken, so use the ones at the bottom.)
Feel free to cross-publish your SportsColumn article with us. And write for us whenever you'd like! If you have any questions, let me know. I'm always around to help.
Yours,
Dan"
So I registered and posted a few articles, but I didn't truly get in the spirit of the 'Chair right away. I was more of a writer/observer; not many comments or edits. I didn't say or do much, until finally one day I saw that there was a "Top Users" section, and by golly, I was number 80 or something like that. I said to myself, "Hey, that's pretty cool…" So I decided to contribute a little more through comments and edits as well as my writing. That was when I really got swept up in the community and didn't look back. 
I can only remember a handful of guys still around who were here before me; the four founders, of course, Justin, Christof, Davis, CPCP (is he still around?), Corey, BigPPup, MetsJetsDevils, ASwaff, probably a few others I can't think of.
2. How good are the Celtics? Have they benefited from a soft schedule or are they legit?
The Celtics are going to go as far as their role players can take them. Obviously, the Big 3 are going to produce every time they're on the court and healthy (and it looks like Allen is feeling good again). However, when guys like Glen Davis, Eddie House, Tony Allen, Brian Scalabrine, James Posey, and especially Rajon Rondo and Kendrick Perkins are playing solid basketball, this is a team that is going to have a tough time losing. Big Baby has been one hell of a steal. He may not have much height, but he's physical and surprisingly athletic. Eddie House and James Posey were two other acquisitions who are making Danny Ainge look good.
As for the "soft schedule" argument, I thought you were better than that, Beast. The fact is, it's a weak argument, especially this many games into the season. 19 of their 37 games have come against teams with winning records. That's more than half. As far as the elite teams they've had to face; 1-1 against Orlando, 1-1 against Detroit, 1-0 against Portland, and 2-0 against your Lakers. I'd say that's not too bad. Sure they lost to Charlotte and Washington (twice), but every season will bring ups and downs. Plus, they haven't had a full strength Rondo and Allen was out against Charlotte. Both of those guys are instrumental to Celtics success. This is a team that's here for the long run, because they are much deeper than they get credit for.
3. Fact of Fiction: The Red Sox will win another World Series title.
That is a fact, my friend. The Red Sox will win another World Series, and probably pretty soon, if not in 2008. This team was stacked from top to bottom last year and they're bringing back all of their key players. Hopefully Matsuzaka was just going through an adjustment period last year and will be a dominating compliment to Beckett in '08. Schilling is officially old now, but as long as he stays healthy, he's another solid block in the rotation. Then you have Lester and Buchholz, who both are going to be impact pitchers for years to come.
The lineup looks pretty good as well. Pedroia and Ellsbury were two guys who burst on the scene last year and will hopefully only get better. Lugo and Drew ended up being pretty bad pickups for their price tags, but they're both serviceable until replacements are found. Perhaps Jed Lowrie will be the heir at shortstop, although he has disappointed in the minors. The biggest issue the Sox need to address is the declining production of Jason Varitek. He's getting old for a catcher, and it's time to find his replacement. I don't know where this mystery replacement will come from, but he better appear soon, because the Sox will be lucky to get Tek through the '08 season.
4. As a Pats fan, are you the slightest bit nervous about the playoffs? Or, are you ready to by a Super Bowl XLII championship T-Shirt?
Obviously anything can happen in the NFL… any given Sunday, right? However, I feel much better now that Indy is out of it, as they were clearly the next best team in the NFL. I think they're going to handle the Chargers pretty easily, since there certainly is no lack of motivation and San Diego is beat up. However, whether they get the Giants or Packers, the Super Bowl is going to be a good game. They are both strong teams. We already know the Giants can put up a fight, and destiny seems to be in Brett Favre's favor this season. The thing is that, especially in a dome, I don't see any team being able to stop Brady, Moss, Welker, Stallworth, and Gaffney. There are too many weapons to stop them all.
I'm not making my travel plans to go to the parade just yet, but it certainly looks good right now. Prediction for this weekend: 41-17, Pats. San Diego isn't strong enough defensively. Chances are they're going to use the Chargers pass rushing speed against them and run with Maroney a lot. However, they'll be able to mix it up whenever they want and turn to Moss deep and Welker over the middle. Too much for the Bolts to handle…
5. Make the case: Boston is a better sports city than New York. Ah, the great debate: Boston or New York? 
Of course, if you're talking about recent success, nobody can top Boston. Sox win the World Series, Pats are 17-0, Celtics are the best team in the NBA; we've covered them all here. With that, though come the bandwagon fans which Boston has no lack of. I haven't spent much time in the city of Boston itself, but I can certainly speak for the New England area. I'm here in New Hampshire where it seems like everyone is the biggest Pats fan in the world. You can't drive down the street without seeing Pats bumper stickers on every other car, or walk down the road without seeing Brady, Moss, Maroney or Wilfork jerseys (surprisingly, Vince Wilfork is one of the most popular jerseys you see around here… everyone strives to be 400 pounds). 
Do some of these fans have no idea what they're talking about? Sure. Can you call many of them bandwagon fans? Of course. However, I do know that there are a greater number of knowledgeable Boston sports fans who know what they're talking about, and have suffered more losses years ago than they have enjoyed victories.
Boston fans have the rep for being obnoxious, but I like to look at it more as enthusiasm. The thing that people don't realize is that real Boston fans have always been loud and, I suppose you could say, annoying even when their teams were losing. The only thing that has changed about Boston sports is the shift from losers to winners. The fans are still as loud and noisy, as they were. You drive down the highway on the way home from a Sox game and there are guys with their van doors wide open, hanging out screaming, "GO RED SOX!!!" Other fans seem to hate Boston fans now because they think they're an arrogant bunch of pricks. But the thing is that we've always been an arrogant bunch of pricks… it just didn't get on anyone's nerves when we lost every year.
There is a passion for sports that radiates strongly throughout New England that I have never felt anywhere else. I have spent significant time in Connecticut (just outside of NY), Pennsylvania, Baltimore, Washington DC, and Florida, and have never experienced a love of sports from the community in general like I have in New England. Maybe that's just my personal experience, but I know I wouldn't want to be anywhere else.