Detroit keeps hopes up with BIG win at home:
The Detroit Pistons avoided the 3-1 deficit by defeating the "Boston Three Party" by a margin of 19 points in last night's game 4 matchup. The best-of-7 Eastern Conference Finals is now knotted up at 2 wins apiece heading into game 5. The Pistons obviously have the momentum without even having a big game from gimpy Chauncey Billups who hit 3 of 12 from the field, good enough for 10 points, and 7 assists. The BIG 3 in Boston, Kevin Garnett, Paul Pierce, and Ray Allen weren't even the headline of the game. Instead, it was the overlooked 6 foot 9 center for Detroit, Antonio McDyess. McDyess went for 21 points (8 of 14 from the field), and grabbed 16 rebounds in 34 minutes played. While the Big three managed just 43 points, 20 rebounds, and 6 assists combined. The League's defensive player of the year, Garnett, went for a double-double (16 points, 10 rebounds), but just couldn't keep his team together in the end, and his team suffered an embarrassing loss in Detroit.
The key to Detroit's game 4 win had to be their great shooting. Detroit, as a team, shot 51.4% from the field, and had some great support from the bench. Jason Maxiell, Rasheed Wallace's backup, scored 14 points, hitting all 6 of his FG attempts in 20 minutes played. But, past Maxiell, Detroit's bench scored just 8 points, and in just 9 minutes backup PG, Lindsey Hunter fouled four times, and sat out the rest of the game.
As usual, Rasheed got in foul trouble, and was just one bad call away from being thrown out of the game, along with SG Richard Hamilton, who scored 20 points, and assisted 7 times.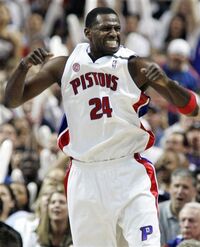 Detroit started out on fire, going on a 10-0 run to start the game off, and led by 10 with about two minutes left in the opening QTR. Down 22-17 with just under a minute left in the QTR, Boston got 3 chances to cut the lead to 3 points, but Detroit continued to play solid D, and Detroit ended the first QTR with a 5 point lead. Detroit played more nasty defense in the second QTR, but Boston managed to go into the half down just 4 points after Rajon Rondo drives to the hoop for a layup, and is fouled by Detroit's Rodney Stuckey with :04 remaining. The basket counted, but Rondo missed the free throw attempt. Halftime: BOS 39, DET 43.
The first minute or two of the second half didn't look too good for Detroit. In the first minute, Rasheed turned the ball over on Detroit's first possession, Hamilton picks up his 3rd personal of the game, and then misses a 2-point shot. Tayshaun Prince fouled KG 1:03 into the half, and Garnett hits both Free throws. It wasn't until McDyess hits two straight free throws when Detroit got into the zone, and went on a 16-9 run, and had a nine-point lead with 4:20 left in the third. James Posey gets Boston back into the game with a 17 foot jumper as time expired in the third. End of 3rd QTR: BOS 58, DET 65.
By the time the fourth QTR was halfway over, Detroit had taken total control, and held a 10-point lead, and never looked back. In the last 3 minutes of the game, Detroit scored 14 points as opposed to Boston's measley 2. If you didn't watch this game, then you wouldn't think it was close at all. But, despite the 19-point margin of victory, this game could've gone either way. Boston will go back home for Game 5, which is on Wednesday at 8 PM ET.
Who will win game 5??? I am going to go with Detroit, who currently has the momentum. If Rasheed, and Rip keep their heads in the game, I think Detroit can run away with game 5, but that won't happen. Detroit will win, but it will not be but more than 10 points. Boston needs support from their ENTIRE team, and not just the big three. But, I think if the big three get hot, so will their supporting cast. So Detroit, play D like you did last night, and you'll be just fine.
Who WIS thinks will win Series:
Game 5
DET 95
BOS 98
Despite Billups fine game (21 points, 4 assists; 12 for 12 from FT Line), McDyess' 13 boards, and Rasheed's career low in personal fouls (sarcasm), Detroit falls to Boston, and in the series.
http://whatifsports.com/NBA/boxscore.asp?GameID=559764&nomenu=1&teamfee=-1
Game 6
BOS 108
DET 99
Well apparently, WIS doesn't believe in Detroit. Boston takes series in six games with a 9-point win on the road, and will move on to the Finals against either LA or San Antonio. Not surprisingly, KG has a big night, going for 24 points, and 11 boards while leading his team to the Finals.
http://whatifsports.com/NBA/boxscore.asp?GameID=561596&nomenu=1&teamfee=-1