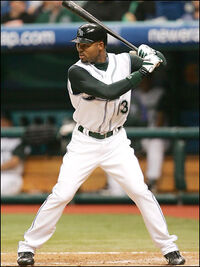 2007 Record: 66-96
2007 Finish: 5th in the AL East
Projected 2008 Finish: 3rd
Manager: Joe Maddon (3rd season)
Projected Lineup:
1. Akinori Iwamura 2B
2. Carl Crawford LF
3. Carlos Pena 1B
4. B.J. Upton CF
5. Cliff Floyd DH
6. Evan Longoria 3B
7. Jonny Gomes RF
8. Dioner Navarro C
9. Jason Bartlett SS
Projected Rotation:
1. Scott Kazmir LHP
2. James Shields RHP
3. Matt Garza RHP
4. Edwin Jackson RHP
5. Andy Sonnanstine RHP
SU Al Reyes
SU Dan Wheeler
CL Troy Percival

Departures:
Delmon Young (Minnesota Twins), Elijah Dukes (Washington Nationals), Greg Norton (Seattle Mariners), Casey Fossum (Pittsburgh Pirates), Brendan Harris (Minnesota Twins), Josh Wilson (Pittsburgh Pirates), Shawn Camp (Toronto Blue Jays), and Brian Stokes (New York Mets)
'
Arrivals:
Matt Garza, Jason Bartlett, Troy Percival, Cliff Floyd, Trever Miller, Willy Aybar
X-Factor:
Two things will decide Tampa Bay's fate this season. First, how successful will the bullpen be this season? Since the Rays lack both a studded rotation and a high-powered offense, a lot of pressure will be put on the bullpen to close out games. The combination of Reyes, Wheeler, and Percival seems very scary, but they should be able to close the door enough times to keep the Rays in third place. However, it seems strange, but Carl Crawford is also an x-factor. Crawford has shown that he is a star and can perform, but when will he achieve that breakout season that scouts have predicted for so long. Scouts rave about his 30 home run potential, yet he has not broken 20. Plus, with Delmon Young gone, Crawford will not see many meatballs any time soon. If Crawford can finally put that season together where he breaks the 30 homer and 100 RBI barrier and still steal 40 bases, he will truly become a force to be reckoned with.
Position Battle:
Even though it is not a real position battle, any question whether Evan Longoria is ready to hold down the Rays third base job. With Ty Wigginton traded last season, nobody seems likely to challenge Longoria other than Willy Aybar who has never had over 150 at-bats in the major leagues. Many questions surround the third base job as to whether Longoria is ready to step into the limelight.
Up-and-Coming Prospects:
As everyone knows, the Rays are loaded with talent. This really is not that hard when your team is bad as long as the Ray's have been. The Rays boast one of the best farm systems in baseball, even with a team already loaded with retired prospects, now major league starters, and players used in the Young-Garza deal. Perhaps, the most hyped prospect is soon-to-be third basemen Evan Longoria who boasts great power and speed. The Rays also possess some superb pitching in the form of Jeff Niemann, Mitch Talbot, David Price, and Matt Garza. This team is certainly loaded with talent, the looming questions is: where do you put them all?
Outlook:
This will be the season that the Rays finally get over the hump and catapult themselves into third place. The only thing that will stop them from ascending any further is the fact that they are unlucky enough to be in the same division as the Boston Red Sox and New York Yankees. Although they are a team stacked with talent up and down, they also have a mountain of inexperience. The team will look to veteran Carl Crawford to lead the way once again.