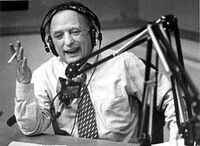 The Pittsburgh Steelers, the NFL, and the broadcast industry lost a great member in Myron Cope. The famous Steelers analyst known for his nasal voice, and the invention of the Terrible Towel, died today of unknown causes (his health was failing) at the age of 79 at a nursing home.
Cope was also known for some catch phrases such as "Okel Dokel" and Yiddish expressions like "Feh!". It was Cope who had nicknames for Steelers players like RB Jerome "The Bus" Bettis, and Kordell "Slash" Stewart. He was a very popular member of the Steelers organization, and once he joined way back in 1970, the stadium had sell outs, and Pittsburgh coincidentally became the dynasty of the decade.
In 35 years, he became the influences in the careers of Chris Berman and Mike Lange. His style was unique, he was always jovial, excited. He left the Steelers radio broadcast because of said health problems. He's been replaced by Tunch Ilkin, but it's never been the same.
Myron Cope will be remembered perhaps as the greatest Steeler to never play for them. Creating the Terrible Towel, getting the fans excited, for 35 solid years.
RIP Myron Cope
1929-2008
EmbedVideo received the bad id "source=http://www.youtube.com/v/Yz-byoitQLg
width=425
height=355" for the service "youtube".