The NBA is a weird league. There are some nights where certain teams look so good, you can imagine them winning the Finals. Then those same teams play against the real contenders/former champions, and you realize the regular season is really the preseason. They don't look like champions, and then you look at the roster and realize none of them have ever been there before. That's what happened last night when the Celtics beat the Magic.
The Magic have an impressive record, and they have played the Celtics well over the last season and a half, but they are a regular season machine. They have a glaring weakness at the 2-guard spot, and they have small forwards masquerading as power forwards. This formula works in the regular season, but championship teams play with a grind-it-out half-court style that isn't doesn't work for teams like this. They are also a team that would not be able to win a tough playoff series if one of their key players are dinged up. Maybe Michael Pietrus being out changes some things, but I just don't have confidence that they'll be able to win against Boston in a playoff series. Not quite enough toughness... LeBron may have something to say in the end. Gun to the head, though, the Celts are taking the East.
As for the Lakers, I could see some tough series for them. The problem is that they have the best player in the world, and they have too much talent to lose (due to the fact that the Grizzlies dumped Pau Gasol off for nothing, last year). Their depth can be credited to good drafting, too. Oh yeah, the best player in the world is playing with a chip on his shoulder. I thought that San Antonio, Utah, New Orleans, or Houston could pose a problem, but the Lake Show scores too much to lose a seven game series.
What I'm trying to get at is that we should just give the Celts and Lakers a bye to the conference finals. We can let the conference finals play out, for entertainment value, then start the finals... Lakers vs. Celtics once again...
Last thing... I noticed there is a mod that allows the current NFL roster to be inputed into Tecmo Bowl. Can somebody figure out how to do that for 'Lakers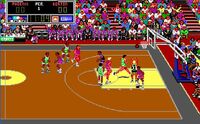 vs. Celtics, and the NBA Playoffs'? There is no better time than this year, and it would be fun to see my friends continuously break XBOX controllers after I keep on using the Tom Chambers signature windmill dunk on them, which is indefensible. I guess Dirk, would have to replace Tom Chambers which would make it infinitely more hilarious...