It was reported earlier, and announced today that Kobe Bryant is the NBA's most valuable player for the 2007-2008 season.  This is the same Kobe who demanded a trade during the offseason and is known for being a great teammate, until you mess up of course, but I digress…
The real issue here is that the NBA has never defined what "Most Valuable" means.  Most valuable isn't the guy who won the scoring title, or the guy with the best PER, or the guy everyone likes the best, or even Wilt Chamberlain when he averages 50 and 25, it's just most valuable.  The word "valuable" means that the award can be interpreted differently by different people.  Value is what determined that Bill Russell was the MVP in 1962.  The NBA loves this.  The fact that this topic of conversation has been dominant for weeks means many things, but most importantly for the NBA it means attention.  And any attention where reporters and hoops fans alike are arguing between four real MVP candidates is good attention.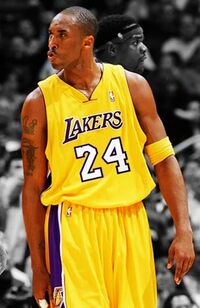 However:  Kobe Bryant should not have been this year's MVP.
I don't buy the "Kobe learned to trust his teammates" argument.  The numbers don't support it.  He took two less shots per game (20 to 22), grabbed one half rebound more per game (6.3 to 5.7), and dished out the same number of assists (5.4) this year compared to last year, all while scoring three points less (28.3 to 31.6).  Where does it say that he had a better season this year?  Is it the fact that he shot a worse field goal percentage this year?  Is that he shot a worse free throw percentage this year?  Is it the fact that he shot one less three pointer every ten games this season?  Make no mistake, this is the same Kobe we've seen before.
I also don't buy the " Kevin Garnett has better teammates" argument.  First of all, this is part of what makes KG so valuable in the first place.  He is such a great teammate, that people wanted to play in Boston for the first time in about 16 years.  Bill Simmons made this argument recently so I won't hammer it into the ground, but something I find particularly important is the fact that the Lakers didn't become title contenders until they acquired Pau Gasol for essentially the price of his plane ticket to LA.  After the addition of Gasol, the Lakers were 28 and 9, which is a lot better than the 29 and 16 they were without him.
So Celtics fans, even though the MVP race is technically over, don't stop chanting for our MVP tonight.  Help me let him know, what the league should have recognized, that he helped revitalize a city and a team, and led them to one of the best regular season's ever.