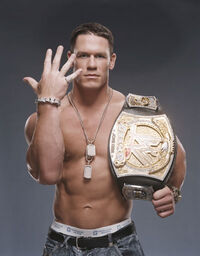 No, that is not a raciest term, but it is more than fitting when talking about WWE, John Cena and Alex Rodriguez. Professional wrestling superstar John Cena is busy making the media tour for his movie 12 Rounds and of course not even the potential World Wrestling Champion cannot escape questions about A-Rod. Amazing how that Rodriguez guy manages to make everything about him, even when he is no where near the situation.
Once asked about steroids and potential punishments, WWE star John Cena had some harsh words for Alex Rodriguez and other professional athletes who may be caught using steroids. Cena had the following to say about steroid users, "The government should take the initiative, and if you get caught using drugs, then you should go to jail. A criminal record will hurt your endorsements and long-term contracts."
Now while I agree with John Cena that the government should not pull any punches when dealing with steroid users, its just the source who is making the statement that makes me laugh a bit. The WWE boast a product that is notorious for steroid use. All the big names in the industry have admitted to using steroids or some sort of illegal narcotic at one point or another. Not to mention the fact that the "Wellness Policy" the WWE has put in place is a bigger joke than the MLB testing, maybe Cena should avoid talking steroids. Especially when he stands 6'0 275 pounds of pure muscle, not exactly a normal build for a man of that stature.