Seeing the New York Mets get their "butts" handed to them against the Atlanta Braves yesterday, 0-11; this brings the impression that the Mets' season could be over.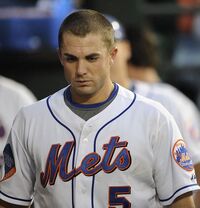 Mets starting pitcher Mike Pelfrey pitched four innings, allowing nine earned runs with three strike outs.
This season has been a roller coaster for Pelfrey. Staying consistent has been something he's struggled with this season.
He's currently 7-5 with a 5.07 ERA on the season.
The Mets failed to provide run support, which has been their number one problem. This leads many to believe the pitching staff has more pressure.
Since Jose Reyes (shortstop), Carlos Delgado (first baseman), and Carlos Beltran (center fielder) went down with injuries, the Mets have been lost.
The Mets are hanging on with a 42-47 record and are 8 games back of the NL East lead. Only having third baseman David Wright to provide run support isn't going to bring success. Wright hasn't been productive himself, but with the pressure to perform with three major players out because of injuries could be the cause of his struggles.
The Mets will finish the season against the Atlanta Braves today and they'll be avoiding the sweep. The confidence of this team has already been "killed," getting a victory today isn't going to do much.
Mets general manager Omar Minaya said he'll stay aggressive, but it could be too late. The only attractive player in the Mets' line-up is Wright and the rest aren't worth talking about. Minaya could have waited to long.
Mets manager Jerry Manuel is using what he has and that's nothing. Manuel could be on the hot seat, but with three star players on the DL; what did you expect from him? He was going to struggle when this problem occurred.
Planning for next season should be considered.