As a life-long fan, I was very happy to watch the Pittsburgh Steelers defeat the underdog Arizona Cardinals last night in Super Bowl XLIII in Tampa Bay, Florida.  Not only did they win their record 6th Super Bowl title by defeating Arizona 27-23, but also Ben Roethlisberger proved, once again, why he is well on his way to a Hall of Fame career.  I understand he still has a lot to prove, but the fact that he already has two Super Bowl championships under his belt at age 26 is remarkable.  Lets not forget about his rookie season in '04 where he went 13-0 as the starter in the regular season and took his team to the AFC Championship game against Tom Brady and the New England Patriots.  I will put it this way, Roethlisberger is a play-maker--that's all there really is to say about that.  A clutch play-maker.  Say what you want about holding on to the ball too long, but the reason why he's so good is because he uses his huge body (6 foot 5, 240 pounds) to avoid defenders and find the open man.  That's exactly what Big Ben did on that final drive, which includes the last 6-yard TD toss to eventual MVP Santonio Holmes with :35 to play.
Roethlisberger, Holmes, Arizona's mental errors on defense.  They all played a key role on that final, 78-yard TD drive which put Pittsburgh ahead 27-23.  I don't want to hear anything about those penalties--that's not why I wrote this article.  Arizona killed themselves, I will put it that way.  There was no need for Adrian Wilson to run Mitch Berger over after Jeff Reed's field goal attempt.  And how about all those holding calls enforced against Mike Gandy going up against James Harrison?  Arizona can only blame themselves for all those penalties.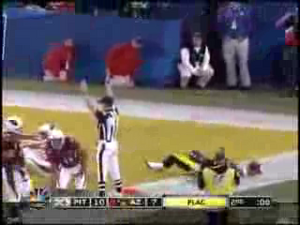 Arizona gave a valiant effort, but they truly only played one quarter of fabulous football.  Pittsburgh went out there on fire in the first quarter and Arizona pretty much just dug themselves too big of a hole early on.  Pittsburgh continued their first quarter donination from the rest of this season by holding on to the ball for 11:28 of the 15 minutes and producing two scoring drives, giving them an early 10-0 lead.  Arizona had a nice goal line stand, stopping Roethlisberger inches from the end zone--had Ben gotten in, Pittsburgh would've had a two TD lead instead of a 10-point lead.
Kurt Warner bounced back from his three passing yards first quarter by leading his offense down the field, 83 yards, in approximately five and a half minutes.  The nine-play drive was capped by a one-yard TD pass from the 37-year old Warner to TE Ben Patrick.  10-7 Pittsburgh.  The two teams exchanged punts for the next several minutes--with a Ben Roethlisberger INT thrown in the mix--until Arizona put together a nice little drive after the two-minute warning.  Six Warner pass plays (4/6 for 33 yards) and a Tim Hightower run play later the Cards found themselves knocking on Pittsburgh's door with :18 left to go in the first half of play.  After a four-yard pass complete to Anquan Boldin failed to stop the clock, head coach Ken Whisenhunt decided to call his final timeout of the half.  So with no timeouts remaining and Arizona had the ball at PIT's one-yard line, Whisenhunt and his offensive coordinator Todd Haley had no choice but to put the ball in Warner's hands and pass the ball--well, duh, what else would Arizona do!  Either way, Arizona ended up paying the price.  The NFL's defensive player of the year, James Harrison, smelled the end zone, and after snagging the ball out of the air and running 100 yards (a new SB record, by the way), Harrison found it as well.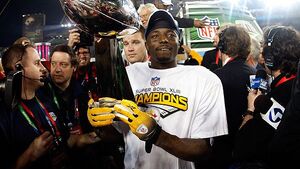 The veteran QB Warner makes a costly mistake with no time left in the first half and that proves to be at least a 10 point TD for Harrison, who needed his oxygen after the Jim Brown-like run to paydirt.  The play was reviewed by the booth (inside two minutes) but the call on the field was confirmed and the TD stood.  Despite the final drive for Pittsburgh, I think Harrison's INT returned for a TD was the play of the game.  Had Arizona scored a TD there, or even just kicked a chip-shot FG, the second half may have been totally different, therefore ending a little differently.
After Bruce Springsteen's solid effort during halftime, play got back underway with a Jeff Reed kickoff to Arizona's return man, J.J. Arrington.  On Arizona's first possession, Pittsburgh's defense got a heavy dose of Edgerrin James, but they held up and even forced another Warner fumble (even though it was challenged and the call was eventually overturned).  Shortly afterwards, Arizona was forced to punt.  Pittsburgh's first possession of half number two resulted in almost nine minutes elapsing, and after the big Adrian Wilson "unneccessary roughness" penalty gave the Steelers a first down deep inside Cards' territory, the Arizona defense got back to work. Just three short plays after the big penalty against Arizona, Pittsburgh was forced to attempt another short FG, which Reed (and his crazy dyed-blonde hair of his) kicked through the uprights for a 20-7 lead.
But, not so fast Pittsburgh fans.  With just over 10 minutes left in the fourth quarter, Arizona's offense really started clicking, and Pro Bowl WR Larry Fitzgerald finally broke out and was the heart of Arizona's eight-play, 87 yard drive which was capped by, yes, a one-yard TD pass to Larry Fitzgerald himself.
Still 20-14 with three minutes left, Pittsburgh was caught in a pickle.  Arizona punter Ben Graham had a fantastic punt, downing Pittsburgh inside their own five-yard line.  Ben Roethlisberger, on third and 10 at their one, threw a 19-yard bullet to Holmes for the first down.  But..center Justin Hartwig was called for holding--which was quite obvious and VERY stupid, by the way--and a safety was called against Pittsburgh since the penalty took place in the end zone.  As you all know, safeties are worth two points for the opposing defense.  PIT 20, ARI 16.
Safeties also mean the Cardinals would get the ball on a free kick, giving them solid field position.  It took just two plays for Warner to throw a short pass to Fitzgerald, who was running a 5-yard slant route.  Of course, Fitzgerald has that speed burst, and he turned up the center of the field for a 64-yard TD.  Kicker Neil Rackers put Arizona ahead 23-20 with his extra point, which split the uprights easily.
Arizona and their fans must not have watched much of Pittsburgh football this season, this game was certainly not over, and Arizona gave Roethlisberger way too much time to get into the end zone (just over two minutes, in fact), not to mention that Pittsburgh had two timeouts remaining plus the two-minute warning which stops the clock.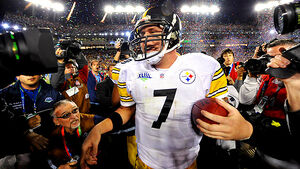 Roethlisberger got right to work, throwing a 14-yard strike to Santonio Holmes right after a 10-yard holding penalty called against left guard Chris Kemoeatu.  That pass is really what got the GW drive going.  The highlight of the drive: A 40-yard pass and catch by Holmes, who later caught the go-ahead six-yard TD catch, which was a phenomenal, tight-rope catch in the back of the end zone--the pass happened to go right over the outstretched arms of THREE Arizona defenders.  Again, the play was reviewed by the officials but the call on the field stood as called--a TD--which was, in fact, the correct call.
Pittsburgh left about :30 for Arizona to drive down the field and score, but Pittsburgh's defense held up, forcing a questionable fumble (LaMarr Woodley with his second sack of the night AND the forced fumble).  Defensive end Brett Keisel recovered the fumble, wrapping up the sixth SB victory in the team's history.  The officials should have reviewed the play, that certainly would've stopped most of this "controversy" and "bad officiating" talks, even though I believe the call would've stood as was.  The ball was coming loose before Warner's arm went forward, the ball went forward because it was still against his body, but it was obvious Warner had no control over that ball.
Pittsburgh 27, Arizona 23
Great game, nonetheless!  One of the best in the past 10 or 15 years, and I will give the Cards credit, they played a heck of a game, but head coach Mike Tomlin deserves this one. The 36-year old Tomlin will no longer have to day-dream about winning a Super Bowl in Pittsburgh, it has merely become a reality. Now, when he goes to work everyday, he will have a Vince Lombardi trophy of his own to look at.
Six pack, one for the other thumb, whatever you want to call it, it belongs to the Pittsburgh Steelers.  But, one of the best parts about all this, Pittsburgh has the chance to do this again next year, and the year after, and even the year after that.  Could this be another Steeler dynasty?  Who knows.  But it's a good start (two of the last four SB wins).  Great way to end the season, Pittsburgh.  Congratulations, let's do it again!
Community content is available under
CC-BY-SA
unless otherwise noted.