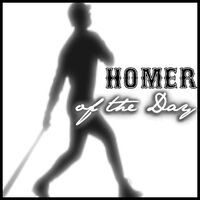 | Batter | Team (B) | Inning | Pitcher | Team (P) | Situation |
| --- | --- | --- | --- | --- | --- |
| Jason Giambi (7) | Yankees | 2nd | Kenny Rogers (4) | Tigers | 0 on, 1 out, 0-1 |
| Chris B. Young (9) | Diamondbacks | 1st | Ted Lilly (7) | Cubs | 0 on, 2 out, 0-0 |
| Derrek Lee (9) | Cubs | 8th | Juan Cruz (1) | Diamondbacks | 0 on, 1 out, 2-1 |
| Evan Longoria (4) | Rays | 9th (GW) | Ryan Speier (5) | Angels | 1 on, 1 out, 0-0 |
| Brandon Boggs (2) | Rangers | 2nd | Greg Smith (5) | Athletics | 0 on, 1 out, 1-0 |
| Alex Gordon (5) | Royals | 1st | Steve Traschel (7) | Orioles | 1 on, 1 out, 0-0 |
| Melvin Mora (5) | Orioles | 3rd | Gil Meche (7) | Royals | 1 on, 2 out, 0-2 |
| Aubrey Huff (6) | Orioles | 5th | Gil Meche (8) | Royals | 2 on, 2 out, 2-2 |
| Albert Pujols (6) | Cardinals | 1st | Manny Parra (4) | Brewers | 0 on, 2 out, 0-0 |
| Matt Holliday (6) | Rockies | 8th | Glendon Rusch (2) | Padres | 0 on, 0 out, 3-1 |
| Kevin Kouzmanoff (3) | Padres | 9th | Brian Fuentes (1) | Rockies | 0 on, 1 out, 1-4 |
| Jimmy Rollins (3) | Phillies | 5th | Pat Misch (5) | Giants | 1 on, 2 out, 1-4 |
| Jim Thome (7) | White Sox | 7th | Carlos Silva (6) | Mariners | 0 on, 2 out, 3-1 |
| Wladimir Balentien (3) | Mariners | 9th | Bobby Jenks (1) | White Sox | 0 on, 2 out, 1-4 |
| Lance Berkman (12) | Astros | 5th | Derek Lowe (4) | Dodgers | 1 on, 2 out, 4-0 |
It's a Long[oria] Fly Ball...
As if Dioner Navarro's grand slam against the Toronto Blue Jays the night before wasn't enough. The Tampa Bay Rays are in the "Homer of the Day" series for the second time in a row. After a 13 inning victory in Toronto, the Rays went back home to face the Los Angeles Angels, who were pretty red hot on the road, winning their last four series on the road. However, they were facing a red hot Rays team, who not only took two out of three from a [once hot] Blue Jays team, but they have also won 6 straight at home, including a sweep of the Boston Red Sox.
The pitching match-up was between Jon Garland for the Angels, who started off the game with an ERA of over 5.00, and James Shields, who threw a two-hitter against the BoSox last time was on the mound in Tropicana Field. This game was all pitching and defense and you could tell after the first at-bat of the game. Gary Matthews Jr. hit a blooper to centerfield that many thought was going to drop, but B.J. Upton had an amazing grab to start the game off. In the bottom of the 2nd inning, it was the Angels' turn to show of their gloves, as Sean Rodriguez made a soaring catch to rob Dioner Navarro of a base hit. The Rays would then take the field in the top of the 3rd, with Mike Napoli leading off the inning. Two pitches later, he hit a fly ball that Carl Crawford eventually robbed of an extra-base hit.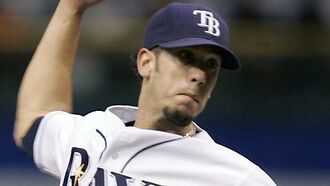 Innings passed quicker and quicker, and both starters were pitching very well. Jon Garland left the game with 8 shutout innings pitched, along with only 4 hits and 3 walks. As always, he did not strike out many, sitting down only 2 batters on strikes. However, his ERA dropped from a disgusting 5.08 to a much better 4.30 in one game. James Shields pitched even better, pitching 9 shutout innings, surrendering only 1 hit, no walks, as well as striking out 8. He also retired the last 17 batters he faced. Just think, after a two-hit shutout against the Red Sox, and then pitching horribly on the road against the Sawx (surrendering 7 runs in less than 4 innings), Shields redeemed himself by coming back to Tropicana and throwing another gem at home. On top of that, it only took him 92 pitches to complete the game.
"I didn't like my last outing," Shields said after his outing. "It's not so fun. An outing like this is fun."
Oh, I almost forgot to mention the main reason why I thought this was good for the Homer of the Day. Mike Scioscia decided to take Garland out and replace him with Justin Speier, as he almost gave up the game winning run in the 8th inning; there was a runner on third, but Carl Crawford wasn't able to get the run across, as he grounded out to Casey Kotchman. B.J. Upton got things started, as he singled to right field for a leadoff single. Carlos Pena was able to get Upton to move to second base, as he grounded out to second base; without B.J. Upton's speed, the Angels didn't want to risk not getting the easy at first. With one out, and Upton on second, every Rays fan's favorite, Evan Longoria, was at the plate. Speier pitched a 1-1 fastball, and E-Long crushed it over the left field wall for a two-run blast. The Rays won in a really well pitched game, 2-0.
"I think it was just a sinker he left up," said Longoria of the pitch he hit. "He's got that arm slot, and he just elevated a little bit. I was going around first, and I thought [the left fielder] was camped underneath it, and he looked up at it about halfway to second, and I said, 'Thank God.' I was pumped. But I'm more seriously pumped for Shields right now, because I hate to see a guy pitch like that and get a loss. It's a good feeling for him."
The last words from Angels manager Mike Scioscia were, ""Jon pitched a terrific game, but you know, Shields really pitched well for those guys. He got a big play in left field from Crawford. As the game went on, the play got bigger and bigger. Jon matched him pitch for pitch, and I really liked his stuff. I thought his command got better as the game went on. ... Good game for him, and unfortunately, we couldn't get some runs to take advantage of it."
A Little Bit of Trivia
*Shields became the second pitcher in Rays history to throw a one-hit shutout. Who was the the other one?
*Shields also became the fifth pitcher to complete two shutouts for the Rays. The other three are...
This game marked the first time a pitcher has thrown a one-hit shutout (or no-hitter) and his team won the game via walk-off homer since May 19, 1975.
Homer of the Day (May 8, 2008)
And the Homer of the Day for May 8, 2008 goes to...
So, the grand slam in the 13th inning wins the Homer of the Day for May 9th. Click here to find out the details of why this homer is so significant. Maybe there is a reason why besides the fact that it was a grand slam in extra innings. You never know...
On Another Matter:
Wow! Two in less than one day. Talk about "trying to catch up", huh?
Thanks to everyone who has been voting, especially those who have since the very beginning (you know who you are). Like I said, the more votes we have in these articles, the better. It makes it more interesting, and makes me feel better when I post these articles.