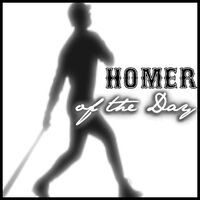 Batter
Team (B)
Inning
Pitcher
Team (P)
Situation
Johnny Damon (5)
Yankees
4th
Paul Byrd (8)
Indians
0 on, 0 out, 0-0
Jason Giambi (6)
Yankees
4th
Paul Byrd (9)
Indians
1 on, 2 out, 1-0
Robinson Cano (4)
Yankees
7th
Paul Byrd (10)
Indians
0 on, 1 out, 4-3
Wilson Betemit (1)
Yankees
7th
Masahide Kobayashi (2)
Indians
0 on, 1 out, 5-3
Jermaine Dye (6)
White Sox
5th
Kevin Slowey (2)
Twins
0 on, 0 out, 0-2
Juan Uribe (3)
White Sox
5th
Kevin Slowey (3)
Twins
1 on, 1 out, 1-2
Ryan Ludwick (6)
Cardinals
2nd
Jorge De La Rosa (2)
Rockies
0 on, 0 out, 0-4
Ryan Ludwick (7)
Cardinals
8th
Matt Herges (2)
Rockies
0 on, 2 out, 2-7
Chris B. Young (8)
Diamondbacks
1st
Brett Myers (12)
Phillies
1 on, 1 out, 0-1
Justin Upton (6)
Diamondbacks
7th
Clay Condrey (2)
Phillies
0 on, 0 out, 1-7
Kevin Youkilis (7)
Red Sox
5th
Justin Verlander (7)
Tigers
1 on, 2 out, 3-1
Gabe Gross (2)
Rays
5th
Jesse Litsch (6)
Blue Jays
1 on, 2 out, 0-0
Carlos Pena (8)
Rays
7th
Jesse Litsch (7)
Blue Jays
0 on, 0 out, 2-0
Vernon Wells (5)
Blue Jays
9th
Troy Percival (1)
Rays
1 on, 1 out, 0-3
Dioner Navarro (1)
Rays
13th
Shawn Camp (1)
Blue Jays
3 on, 2 out, 4-3
Jorge Cantu (5)
Marlins
1st
Carlos Villanueva (9)
Brewers
1 on, 2 out, 0-0
Matt Treanor (1)
Marlins
5th
Carlos Villanueva (10)
Brewers
2 on, 2 out, 4-1
Willie Harris (1)
Nationals
3rd
Brandon Backe (7)
Astros
0 on, 1 out, 1-0
Rob Mackowiak (1)
Nationals
8th
Oscar Villarreal (7)
Astros
1 on, 2 out, 5-1
Nick Markakis (7)
Orioles
3rd
Luke Hochevar (2)
Royals
2 on, 1 out, 1-0
Ian Kinsler (3)
Rangers
2nd
Felix Hernandez (5)
Mariners
1 on, 1 out, 2-0
For those of you who don't remember this game, let me remind you. It was the bottom of the ninth inning, with the Tampa Bay Rays winning a game at the Rogers Centre against the Toronto Blue Jays 3-0. It seemed like the Rays were going to win only their second game out of six, and the Jays would finally be stopped for the second time out of eight; the only exceptions in both streaks were when they faced each other two games before this one. Eventually, this pitchers duel went into extra innings, and one team became victorious thanks to a sacrifice fly and a grand slam in the 13th inning. Read along and find out how these teams got there.
This battle started with a pitchers duel involving Jesse Litsch (pitching for the Jays) and Edwin Jackson (pitching for the Rays). Both guys brought their A games, as only 3 runs scored amongst the two starters. Primarily, Jackson did exceptionally well, pitching 8 solid innings without surrendering a single run, and allowing only 6 hits and 1 walk. However, Litsch got into a little bit of trouble when the 5th inning came along, as he gave up a 2 run homer to Gabe Gross, making it a 2-0 lead for Tampa Bay. On top of that, left hander Carlos Pena drove a ball to the opposite field for a home run of his own, taking a 76 mile-per-hour Litsch curveball to the opposite field to make it 3-0 in the 7th inning. Other than that, both pitchers pitched pretty well, putting only 9 other runners on base (combined).
To the top the ninth they went, and both starters were done. The Rays didn't score any insurance runs, so it was a save situation if manager Joe Maddon decided to take Jackson out. Jackson was still pitched a pretty strong eighth inning, getting Marco Scutaro to fly out, and striking out Alexis Rios and Shannon Stewart for the final two outs of the inning; Jackson's 112th and last pitch was a 97 mile-per hour fastball, so he was still doing well. However, because it was a save situation, Maddon decided to go with the guy who had not surrendered one run in 11 innings, with only 3 batters managing to get on base: Troy Percival. Little did anyone know that this was a huge mistake, as Percival would allow more hits in this particular game than all of the previous 11 games he pitched in. It all started with Scott Rolen's single to left field. Two batters later, Vernon Wells homered to make it a one run ballgame. The next batter was Lyle Overbay, and he hammered a 1-2 pitch to left-center field for a stand up double. The tying run was on second base, so Toronto's manager, John Gibbons, had no choice but to take the risk and substitute Overbay for Joe Inglett to run the bases. Five fastballs later, Aaron Hill was able to get a hit one out of Akinori Iwamura's range, and Inglett beat centerfielder B.J. Upton's throw to not only tie the ballgame, but to give Percival his first blown save of the season.
The Rays and Jays headed to extra innings, and it seemed like it was going to be over after a leadoff ''triple'' by Alexis Rios in the bottom of the tenth off of Dan Wheeler. Eventually, it turned into an interesting inning, as Shannon Stewart struck out looking, and Scott Rolen was intentionally walked. Matt Stairs then struck out swinging, meaning that the Rios could not score on a sacrifice fly anymore. Then Vernon Wells was walked (unintentionally) to load the bases, which meant it was all up to Rod Barajas. He struck out swinging, and Wheeler got out of the gem, and the game continued.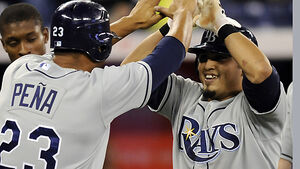 Moving on, 3 innings later, the game was busted wide open, after a sacrifice fly by Carl Crawford, and a grand slam by Dioner Navarro (with 2 outs and a full count), making it 8-3 in favor of Tampa Bay. Toronto could not come back from that deficit, as the score stayed the same way when the game ended. Shawn Camp gave up all 5 runs in the last inning for the loss, while J.P. Howell earned his win by pitching 3 shutout innings.
Homer of the Day (May 7, 2008)
And the Homer of the Day for May 7, 2008 goes to...
...And the walkoff homer wins the Homer of the Day. Click here for more information about the homer.
Others who received votes:
Carlos Gomez of the Minnesota Twins (1 vote)
Joey Votto of the Cincinnati Reds (1 vote)
On Another Matter:
I have one goal for this series: to catch up before the regular season is actually over! 
Thanks to everyone who has been voting, especially those who have since the very beginning (you know who you are). Like I said, the more votes we have in these articles, the better. It makes it more interesting, and makes me feel better when I post these articles.
You guys might be wondering why I haven't posted this article in so long. It's actually very frustrating, because I have actually typed this article up three times, and the internet just shut down on me. The original article actually involved a Yankees/Indians game. It didn't even give me a warning or anything; it just shut down, just like that. Plus this must've happened to me four or five times before this week. I'm sorry for the late article; I'm sure you guys understand.