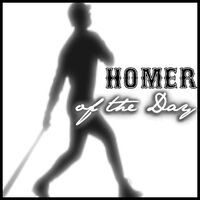 | Batter | Team (B) | Inning | Pitcher | Team (P) | Situation |
| --- | --- | --- | --- | --- | --- |
| Kurt Suzuki (1) | Athletics | 5th | Jeremy Guthrie (8) | Orioles | 1 on, 0 out, 1-0 |
| Mark Ellis (3) | Athletics | 10th (GW) | Lance Cormier (1) | Orioles | 0 on, 2 out, 5-5 |
| Joey Votto (5) | Reds | 2nd | Jon Lieber (3) | Cubs | 0 on, 0 out, 0-0 |
| Adam Dunn (6) | Reds | 2nd | Jon Lieber (4) | Cubs | 0 on, 0 out, 1-0 |
| Paul Bako (4) | Reds | 2nd | Jon Lieber (5) | Cubs | 0 on, 1 out, 2-0 |
| Jerry Hairston Jr. (1) | Reds | 2nd | Jon Lieber (6) | Cubs | 1 on, 2 out, 3-0 |
| Brandon Phillips (6) | Reds | 5th | Sean Marshall (1) | Cubs | 0 on, 0 out, 5-0 |
| Joey Votto (6) | Reds | 5th | Sean Marshall (2) | Cubs | 0 on, 0 out, 6-0 |
| Joey Votto (7) | Reds | 6th | Sean Gallagher (1) | Cubs | 1 on, 2 out, 7-0 |
| Ryan Church (6) | Mets | 6th | Scott Proctor (4) | Dodgers | 0 on, 0 out, 11-0 |
| Kevin Youkilis (5) | Red Sox | 4th | Armando Galarraga (2) | Tigers | 1 on, 2 out, 0-4 |
| Kevin Youkilis (6) | Red Sox | 6th | Aramando Galarraga (3) | Tigers | 0 on, 1 out, 4-8 |
| Mike Lowell (2) | Red Sox | 7th | Francisco Cruceta (1) | Tigers | 2 on, 2 out, 5-8 |
| Xavier Nady (5) | Pirates | 4th | Barry Zito (5) | Giants | 1 on, 0 out, 0-0 |
| Scott Rolen (2) | Blue Jays | 8th | Scott Dohmann (2) | Rays | 1 on, 0 out, 1-0 |
| Rickie Weeks (5) | Brewers | 6th | Burke Badenhop (4) | Marlins | 1 on, 0 out, 0-3 |
| Jorge Cantu (4) | Marlins | 6th | Dave Bush (5) | Brewers | 1 on, 1 out, 3-2 |
| Dan Uggla (8) | Marlins | 6th | Dave Bush (6) | Brewers | 0 on, 1 out, 4-2 |
| Ryan Zimmerman (4) | Nationals | 1st | Roy Oswalt (10) | Astros | 1 on, 1 out, 0-0 |
| Lance Berkman (6) | Astros | 4th | Odalis Perez (6) | Nationals | 0 on, 0 out, 0-2 |
| Ryan Zimmerman (5) | Nationals | 6th | Roy Oswalt (11) | Astros | 0 on, 1 out, 2-3 |
| David DeJesus (3) | Royals | 2nd | Jered Weaver (6) | Angels | 2 on, 1 out, 2-1 |
| Alex Gordon (4) | Royals | 4th | Jered Weaver (7) | Angels | 1 on, 1 out, 6-1 |
| Mike Napoli (8) | Angels | 7th | Zack Greinke (5) | Royals | 1 on, 0 out, 1-9 |
| Garret Anderson (5) | Angels | 9th | Yasuhiko Yabuta (4) | Royals | 0 on, 0 out, 3-9 |
| Carlos Gomez (2) | Twins | 1st | Mark Buehrle (2) | White Sox | 0 on, 0 out, 0-0 |
| Jermaine Dye (5) | White Sox | 9th | Livan Hernandez (8) | Twins | 0 on, 1 out, 0-13 |
| Ryan Ludwick (5) | Cardinals | 5th | Jeff Francis (8) | Rockies | 0 on, 0 out, 2-0 |
| Chris B. Young (7) | Diamondbacks | 5th | Kyle Kendrick (5) | Phillies | 0 on, 0 out, 1-1 |
| Pedro Feliz (5) | Phillies | 7th | Micah Owings (7) | Diamondbacks | 1 on, 1 out, 1-3 |
| Milton Bradley (4) | Rangers | 6th | Erik Bedard (4) | Mariners | 0 on, 2 out, 1-0 |
For the people who have not been introduced to the "Home Runs of the Day" yet, let me just clarify a couple of things:
The "situation part" (the part that states the score) is the score BEFORE the home run is it.

And, on a second note, the first part of the score is the score of the home run hitter's team. The second number represents the opponent's team.
Ellis Hits First Walkoff Home Run
Oakland Athletics' Mark Ellis, who entered the final game of the series against the Baltimore Orioles 0-for-16, stepped up in a clutch situation. He finally got out of that horrifying slump, as he walked, singled, and laid down a beautiful sacrifice bunt, part of what tied the game in the eighth inning. With the game in extra innings, 2 outs, and a tied ballgame, Ellis belted a solo jack for his third homer of the season, and the game, of course.
"I've never hit a walk-off homer before. Just to see all my teammates waiting at home plate was incredible. Some people go their whole careers and don't get to experience that."
This whole thing started with Joe Blanton on the mound against Jeremy Guthrie. Guthrie won his last start last time he was on the mound, but it was his first win in 15 starts. It seemed like he wouldn't get a stop the Orioles' losing streak, or avoid the A's sweeping them, as the A's took an early 1-0 lead in the 1st inning after a bases-loaded sacrifice hit by Emil Brown. Then in the fifth, A's catcher Kurt Suzuki blasted a two-run shot over the left field wall to make it 3-0.
Although Guthrie didn't pitch as well as he did last time he was on the mound, the Orioles' offense was still able to help him out, as the O's singled in two runs in the top of the 6th to narrow the lead to 1. Jack Hannahan then doubled in another run for the A's to double the lead and to give Joe Blanton a little relief, as he was looking for the win. Although Joey Devine didn't surrender any runs in the 7th, the A's were worried once again, as they lost their lead for the first time after Andrew Brown, who entered the game with a 0.52 ERA (in 15 appearances), gave up for straight hits and surrendered 3 runs in the 8th.
"Andrew's been pretty much perfect all season," A's manager Bob Geren said. "It just wasn't his day."
The score was 5-4 after 7 1/2 innings, which is when Mark Ellis really came into the picture. With runners on first and second and nobody out, Ellis decided to go for it and lay down a bunt to put two runners in scoring position for Jack Hannahan. With the score being 5-4 and a base hit giving the A's the lead, O's reliever Chad Bradford intentionally walked Hannahan to load the bases for Frank Thomas. George Sherrill then replaced Bradford, as they needed a double play in order to get out of the inning. On the fourth pitch of the at-bat, it looked like their chance to score a run was over. However, with Hannahan's great slide to take out Brian Roberts at second base to prevent the double play, Thomas was safe at first, and Emil Brown scored to tie the ballgame at 5.
"Not a lot of people are going to remember that play," Ellis said about his teammate's tremendous takeout slide, "but everyone in here realizes that's why we won this game. Those are the little things a team like us has to do to win, and it was just a good, hard, clean slide." Ellis later on called Hannahan's slide a "slroll": a combination of a slide and a roll.
Neither team was able to score a run until the 10th inning. Guess who was up: none other than the hero, Mark Ellis. With Rheal Cormier on the mound and 2 outs, in the top of the 10th, Ellis made the home crowd and his teammates happy by hitting a bomb off the edge of the left field foul pole for his first walkoff homer in his career, leaving Orioles swept.
"It's tough, especially when we were able to come back and tie the game," said third baseman Melvin Mora. "I feel like it's my fault that in the eighth inning I didn't catch the ball [Emil] Brown hit. It could've been a different situation." When talking about the ball he should've caught, in my opinion, it could've been caught, but Mora just thought the ball would trail towards the wall more. It then had a really big hop off the wall, which was ("surprisingly") hit by Jack Hannahan and ("surprisingly") scoring Mark Ellis.
"I give Oakland all the credit in the world. They played better than us," said Baltimore manager Dave Trembley. "They deserved to win all three games. They took advantage of every opportunity that they had [and] they pitched us real tough. They came up with key hits whenever they needed to do it, and the opposite took effect for us.
After a decent start to the season, the Orioles have now lost 5 in a row. If Trembley believes that Oakland "deserved" to win all those games, then I suggest he and his team should stop being nice and giving guys credit and take advantage. Otherwise, they're going to go down in the standings... for good.
Reds Demolish Cubs with Homers; Votto Tears it Up
It was a happy day in the Great American Ballpark, as almost every fan got a hold of a home run hit by a player on the Cincinnati Reds. I knew that this stadium is hitter friendly. In fact, according to ESPN.com it's ranked fourth of all teams for the park factor of hitting home runs. However, I did not know that the Reds could hit more home runs than someone would in a Home Run Derby. With Edinson Volquez pitching, the Reds crushed the Chicago Cubs 9-0, with every, single run brought in via home run.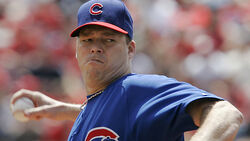 It just wasn't the day for Jon Lieber and the Cubs' bullpen, as far as keeping the ball in the ballpark. Joey Votto, a top prospect for Cincy, got things started for the Reds in the second inning, as he led off the inning hitting a hanging slider for a solo home run. Two pitches later, the next batter, Adam Dunn, absolutely crushed another bomb, almost hitting it out of the stadium, making it 2-0 in favor of Cincy. Two batters later, Paul Bako (who has been having a solid April with a .310 average, 2 home runs, and 10 RBIs) hit a solo shot of his own to make it 3-0. After an Edinson Volquez single, and Corey Patterson strikeout, Jerry Hairston Jr. hit a two run shot over the left field wall for a two run shot to make it 5-0. It was Hairston's first long bomb since June 25th, 2007. That was it for Lieber, as he surrendered 5 earned runs, 7 hits, and 4 home runs in 2 innings pitched. In the 105 years the Cubs have been around, Lieber became only the second pitcher in Cubs' history to surrender four home runs in one inning. The only other pitcher on the Cubs to do it was Phil Norton when the Cubs faced the Los Angeles Dodgers on August 8, 2000.
"It's just terrible pitching and I put my team in a hole right off the bat," Lieber said about his terrible outing. "I just have to execute pitches, and I didn't do a very good job of that. They were aggressive early in the count, I made mistakes that I didn't get away with and they hurt me with them."
When asked about how they were able to hit so many home runs off him, he said, "[The pitches] were basically across the middle of the plate, and I'm not the kind of pitcher who can get away with stuff like that," Lieber said. "I really have to locate. I looked at the tape, and I don't feel like my rhythm was very good either."
With the game being 5-0, and the home crowd wanting more long balls, Brandon Phillips didn't disappoint. With Lieber out and Sean Marshall in, Phillips added to the fun, hitting his 6th home run of the season; it landed in the upper deck. Joey Votto connected on another ball three pitches later with the ball sailing over the center field wall for the second combination of back-to-back home runs in the game, and his first multihomer game of his career. Volquez kept pitching tremendously, as he only gave up 4 hits, while striking out 10, and giving up no earned runs in 7 innings. Speaking of the 7th inning, one more home run was hit. Guess who hit it: Votto (surprise, surprise)! It was his third homer of the game, and the third pitcher hit a home run off of in the game, as he tallied two more runs to make the score 9-0, which was the final score; Sean Gallagher was the third victim of a Votto home run.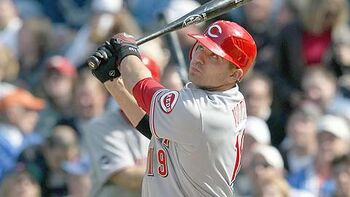 After hitting the three home runs, Votto told the press, "I'm like a kid," a second-year player who had never hit more than one in a game. "I thought it was cool. It's not a big part of my game. I'm not going to lie. It was in the back of my head. I just thought if I put a really good swing on a good pitch, I would have a chance to do some good. It's weird. Sometimes, you have games like this and you don't know why things go so well. You kind of go with the flow. That last at-bat, I tried to go with the flow."
Reds manager Dusty Baker was very proud to see his team's offense come alive, for once. "It was great to see that," Baker said. "Boy, you get all those home runs in one inning, especially after we haven't been hitting any and not scoring any runs."
"We didn't hit the way we wanted to, but St. Louis is in first place for a reason, and [the Reds] have good arms," Cubs third baseman Aramis Ramirez said. "We have to go home and start all over again. We have the talent to do it. We just have to come out of this and play good ball."
On a couple of side notes:
The total distance of all the home runs hit was about 2,729 feet! That's more than half of a mile! Here are the distances of all of the home runs:


Joey Votto's first home run traveled 401 feet.
Adam Dunn's home run traveled 428 feet.
Paul Bako's home run traveled 409 feet.
Jerry Hairston Jr.'s home run traveled 362 feet.
Brandon Phillips' home run traveled 359 feet.
Joey Votto's second home run traveled 414 feet.
Joey Votto's third home run traveled 396 feet.

Joey Votto had the chance to become the first person to hit four home runs since Carlos Delgado when he did it on September 25th, 2003. However, Michael Wuertz was able to get him to ground out in the bottom of the eighth inning.
It's too bad Ken Griffey Jr. didn't hit one of the seven long bombs hit by the Reds. If he did, he would have had hit his 600th homer already.
The Reds fell one home run shy of tying the record for the most home runs hit against the Cubs in a game. The Cubs surrendered 8 home runs twice in 2006. The most recent games came against the Atlanta Braves on May 28th, and theDetroit Tigers on June 18th.
Votto was the first Red with a three-homer game since Aaron Boone in 2003.
The four homers in the second inning tied Cincinnati's record for the most homers in one inning. It has been accomplished many times, but the most recent game where it happened was on August 17th, 1996, when

Eddie Taubensee

, Reggie Sanders,

Jeff Branson

, and

Barry Larkin

connected against the Colorado Rockies.
Homer of the Day (May 6, 2008)
And the Homer of the Day for May 6, 2008 goes to...
Blake DeWitt's go-ahead inside-the-park homer in 5th inning helped the Dodgers
Others who received votes:
David Dellucci of the Cleveland Indians (2 votes, 2 tiebreaker votes)
N/A (Didn't give you guys all the 24 hours you need to vote).
On Another Matter:
Thank you so much, fellow AGMers, for for your support. Hopefully, I'll be able to catch up soon. I'm going to try to post at least two articles a day until I do.
Thanks to everyone who has been voting, especially those who have since the very beginning (you know who you are). Like I said, the more votes we have in these articles, the better. It makes it more interesting, and makes me feel better when I post these articles.