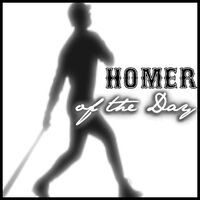 | Batter | Team (B) | Inning | Pitcher | Team (P) | Situation |
| --- | --- | --- | --- | --- | --- |
| Mike Lowell (1) | Red Sox | 2nd | Jeremy Bonderman (5) | Tigers | 1 on, 0 out, 0-0 |
| Kevin Youkilis (4) | Red Sox | 4th | Jeremy Bonderman (6) | Tigers | 1 on, 0 out, 2-0 |
| David Ortiz (6) | Red Sox | 9th | Todd Jones (2) | Tigers | 0 on, 1 out, 5-3 |
| Matt Stairs (4) | Blue Jays | 7th | Javier Vazquez (3) | White Sox | 0 on, 0 out, 0-0 |
| Geovany Soto (6) | Cubs | 2nd | Johnny Cueto (6) | Reds | 0 on, 1 out, 0-3 |
| Adam Dunn (5) | Reds | 3rd | Ryan Dempster (3) | Cubs | 1 on, 2 out, 3-1 |
| Garret Anderson (3) | Angels | 9th | Joel Peralta (2) | Royals | 1 on, 2 out, 1-0 |
| Brandon Wood (1) | Angels | 9th | Joel Peralta (3) | Royals | 0 on, 2 out, 3-0 |
| Brad Hawpe (3) | Rockies | 2nd | Joel Pineiro (3) | Cardinals | 0 on, 1 out, 1-0 |
| Chris Snyder (2) | Diamondbacks | 7th | Jamie Moyer (4) | Phillies | 0 on, 2 out, 1-9 |
| Rafael Furcal (5) | Dodgers | 1st | Oliver Perez (2) | Mets | 0 on, 0 out, 0-0 |
| Blake DeWitt (1) | Dodgers | 5th | Oliver Perez (3) | Mets | 0 on, 0 out, 2-0 |
| Matt Kemp (3) | Dodgers | 5th | Oliver Perez (4) | Mets | 1 on, 2 out, 3-0 |
| Richie Sexson (7) | Mariners | 3rd | Kevin Millwood (4) | Rangers | 0 on, 1 out, 3-0 |
| Wladimir Balentien (2) | Mariners | 3rd | Kevin Millwood (5) | Rangers | 2 on, 2 out, 4-0 |
For the people who have not been introduced to the "Home Runs of the Day" yet, let me just clarify a couple of things:
The "situation part" (the part that states the score) is the score BEFORE the home run is it.

And, on a second note, the first part of the score is the score of the home run hitter's team. The second number represents the opponent's team.
Holy Lowelly
It has been seven months since Mike Lowell has collected an RBI (never mind a home run) in the regular season. After a long offseason, a 20 day depressing time period on the disabled list after a thumb injury, and a 15 day drought of not having a run batted in this season, Lowell knew that he was due, and he was ready to make Red Sox fans happy once again. He got things started for the Sawx pretty quickly. In his first at-bat of the game, he hit a 2 run jack, putting the Boston Red Sox on top of the Detroit Tigers, 2-0.  Jeremy Bonderman served up on a fat, juicy pitch, and Lowell took advantage and ripped it. Hopefully, for Red Sox fans, we can get to see more good stuff coming from Mike Lowell. Lowell hit a line drive that was carried by the wind over the wall on Bonderman's 89 mile per hour fastball located on the inside-high part of the plate. I don't know about other Mike Lowell/Red Sox fans, but all I can say is, "FINALLY!" Not only did he collect his first 2 RBI's, but he also managed to get on base 3 times (a first this season), as well as raise his batting average by 33 points (.204 to .237).
Kevin Youkilis also added to the lead in the fourth by hitting another mediocre fastball on the inside high part of the plate by Bonderman. He made the score 4-0. The 0-1 pitch he drove was good for his 4th homer of the season, and his second consecutive game where he has hit a home run.
Daisuke Matsuzaka was really lacking control and he had to be taken out of the game in the top of the 6th, throwing 109 pitches, and drawing 8 walks. However, he was able to get out of the gems he was in every single inning, as he only surrendered 1 run. After a two run single by Marcus Thames off Craig Hansen, the score was 5-3 in favor of the Red Sox; it could've been a 6-3 game, but Jacoby Ellsbury was robbed by Curtis Granderson of an extra base hit.
As the teams headed to the ninth inning, David Ortiz hit a homer of his own to officially make it a 6-3 game. He had problems with his soar knee (again), which was why missed the game before this specific game. After Jonathan Papelbon pitched a 1-2-3 ninth for his 10th save of the season, the Red Sox won their fourth straight game. Dice-K is now 5-0, and the Red Sox are 7-0 after starting.
On the other hand, the Tigers lost their fourth game in a row. Tigers manager Jim Leyland must be pretty disappointed. No matter what he does to the lineup, they aren't able to score runs. It's no wonder why they are 14-19 (as of May 5th).
"We probably let a real good pitcher who wasn't real good tonight off the hook," Leyland said. "I thought we actually had pretty good at-bats against Dice-K. We just couldn't get a hit. We did work his pitch count up. We got a lot of walks. We didn't swing at a lot of bad pitches. Overall, I thought we worked him pretty good. We just couldn't get a gapper with those guys on base with the base hit, and that hurt us."
Third First baseman Miguel Cabrera had a different perspective on the game by saying that Dice-K "walked eight guys, but when he needed to make a pitch, he made a pitch." He could be right, but with that many runners on base and so many opportunities to score runs, they need to score more than just one run off him.
How Good is the Blue Jays' Rotation?
The Toronto Blue Jays have surprisingly been red hot as of late. Although they lost 8 of 9 games in the last 10 days in April, they have been victorious in their last four games (a season high). However, their offense hasn't really helped out much during those four games, scoring only 3 1/2 runs/gamer. So, why have they done so well. For one, their pitching has been superb. In the Jays' last eight games, their starters have a combined ERA of 1.22.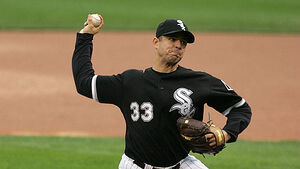 Dustin McGowan was on the mound that day, looking to win the last game of the series, and sweep the Chicago White Sox. The Jays knew it was going to be tough for them, as McGowan's opponent was Javier Vazquez. People had to wonder whether Toronto had the decency to actually drive in more than just a couple of runs to help McGowan. Unfortunately, they couldn't, as only managed to get one run across. The good news is that McGowan pitched so well, that the one run was the game deciding run. The White Sox could've tied it, or even won the game had it not been for the bases loaded 1-2-3 double play to end the ballgame. The Blue Jays defeated, and swept, the White Sox thanks to a solo home run by Matt Stairs in the 7th inning.
"He's pretty much eaten me up the whole time I've faced him," Stairs said about Vazquez. "I just got lucky, made good contact and it went out of the ballpark." His home runs was pretty surprising, as he hit a 1-2 curveball off of a guy who had limited Stairs to one hit in the last 23 previous at-bats he had against him.
On a side note, during a stretch in the game between the third and eighth innings, McGowan retired 16 hitters in order. It was the second straight start in which McGowan had a run of 16 outs in a row; the last streak was against Boston.
"That's pretty good," McGowan said about this impressive accomplishment. "I wish it was 17 or 18." He, later on, said that he was "just trying to pick up where the other guys left off. I don't want to be the one to mess this up -- this string of starts for us."
So, the Blue Jays have got their pitching down really well. All they need to do now is score some more runs. Just take it step by step, or should I say... take it "stair by stair".
Homer of the Day (May 4, 2008)
And the Homer of the Day for May 4, 2008 goes to...
What a "shocker": Houston Astros' Hunter Pence is the winner of the Homer of the Day of May 4th, 2008. Hitting a 2 run walkoff home run when down by one in extra innings. Please click here for more details, and to see who won the tiebreaker for May 3rd, 2008.
On Another Matter:
Thank you so much, fellow AGMers, for waiting so patiently for this article, once again. I have taken a little break after completing 5 projects and finishing my exam (religion); yeah, apparently, they have to "teach" us how to be a correct Muslim so that we don't end up like... you know. As always, I thank you guys for your support. Hopefully, I'll be able to catch up soon.
Thanks to everyone who has been voting, especially those who have since the very beginning (you know who you are). Like I said, the more votes we have in these articles, the better. It makes it more interesting, and makes me feel better when I post these articles.