Template:Homer of the Day
| Batter | Team (B) | Inning | Pitcher | Team (P) | Situation |
| --- | --- | --- | --- | --- | --- |
| Brandon Inge (4) | Tigers | 2nd | Miguel Batista (5) | Mariners | 2 on, 1 out, 1-0 |
| Matthew Joyce (5) | Tigers | 5th | R.A. Dickey (1) | Mariners | 1 on, 1 out, 5-2 |
| Carlos Gomez (4) | Twins | 5th | Vincente Padilla (9) | Rangers | 0 on, 1 out, 2-4 |
| Josh Hamilton (12) | Rangers | 10th | Brian Bass (6) | Twins | 0 on, 2 out, 7-7 |
| J.D. Drew (4) | Red Sox | 2nd | Brian Bannister (7) | Royals | 3 on, 0 out, 0-1 |
| Mike Lowell (6) | Red Sox | 6th | Jimmy Gobble (1) | Royals | 3 on, 2 out, 3-7 |
| Jose Guillen (6) | Royals | 7th | Craig Hansen (2) | Red Sox | 0 on, 0 out, 3-11 |
| Miguel Olivo (6) | Royals | 8th | David Aardsma (1) | Red Sox | 2 on, 2 out, 5-11 |
| Carlos Beltran (4) | Mets | 2nd | Tim Hudson (4) | Braves | 0 on, 0 out, 0-0 |
| Carlos Delgado (6) | Mets | 2nd | Tim Hudson (5) | Braves | 0 on, 0 out, 1-0 |
| Corey Hart (4) | Brewers | 4th | Tom Gorzelanny (8) | Pirates | 0 on, 0 out, 0-0 |
| Jason Bay (11) | Pirates | 4th | Dave Bush (9) | Brewers | 1 on, 1 out, 0-1 |
| Xavier Nady (7) | Pirates | 5th | Dave Bush (10) | Brewers | 0 on, 2 out, 5-1 |
| Rickie Weeks (7) | Brewers | 8th | John Grabow (2) | Pirates | 0 on, 0 out, 3-8 |
| Lyle Overbay (3) | Blue Jays | 6th | Ervin Santana (5) | Angels | 0 on, 1 out, 3-3 |
| Ryan Howard (13) | Phillies | 5th | Roy Oswalt (15) | Astros | 0 on, 0 out, 4-2 |
| Pat Burrell (11) | Phillies | 8th | Wesley Wright (2) | Astros | 0 on, 0 out, 5-5 |
| Ken Griffey Jr. (5) | Reds | 1st | Randy Wolf (4) | Padres | 1 on, 1 out, 0-0 |
| Adrian Gonzalez (13) | Padres | 5th | Aaron Harang (9) | Reds | 1 on, 2 out, 1-2 |
| Khalil Greene (4) | Padres | 6th | Aaron Harang (10) | Reds | 0 on, 0 out, 3-2 |
| Kevin Kouzmanoff (5) | Padres | 7th | Mike Lincoln (4) | Reds | 1 on, 1 out, 5-2 |
| Khalil Greene (5) | Padres | 7th | Mike Lincoln (5) | Reds | 0 on, 1 out, 7-2 |
Tex n' 'Sota
Tex n' 'Sota or Texan soda? Whatever, that was lame.
After losing in extras and being taken to the limit by the Minnesota Twins, the Texas Rangers put everything they had in a third game against the Twinkies. They ended up winning in a blowout, 10-1 with a 7-run 6th inning, showing baseball fans that their offence is not a joke. With that being said, was their offence able to keep it up in a Game 4 of the series against the workhorse Livan Hernandez, who (at the time) had a 3.88 ERA and 2.45 ERA when counting only his last four outings? They had his number last game, as Hernandez only got through the 2nd inning and surrendered 7 runs along with 9 hits. This is a new game though, so this was a chance for Hernandez to redeem himself. His opponent was Vincente Padilla, who had a decent 3.16 ERA going into the game.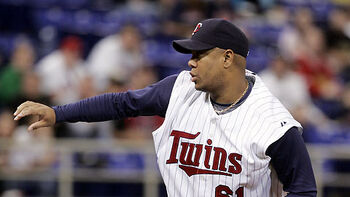 I guess the Rangers' offence was still red hot after the last game they had because although Livan had a good outing in every, single appearance in May, he surrendered 4 runs, with 5 of the first 6 batters getting on base. Leadoff batter Ian Kinsler, singled to start the game off. #2 batter Michael Young then doubled to move Kinsler to third base. Hernandez was in trouble already, but at least he got Josh Hamilton, one of the most dangerous hitters in baseball today. However, in that at-bat, Kinsler was able to make it home to give the Rangers their first run and the early 1-0 lead. After that, Hernandez gave up three straight hits: one to Milton Bradley (on the first pitch, scoring Michael Young), one to David Murphy (a double), and one to Gerald Laird. The Rangers scored a troubling 4 runs in the 1st inning. The Twins managed to get two runners on base in the bottom half of the inning, but they weren't able to bring anyone in.
"It [was] a little frustrating, the first inning," Hernandez said. (YOU THINK!?)
The 2nd inning, and just about every other inning Livan was involved in, was more of a light breeze for him. With the workhorse facing the top of the order again, he proved that he brought a completely new game on the mound. He retired the side 1-2-3 on 11 pitches, which was quite a difference when comparing that inning to the 1st (20 pitches less). The Twins' offence came around this time around though, as they got 2 runs across to cut the lead in half thanks to an Carlos Gomez single, scoring Alexi Casilla and Mike Redmond. When the inning ended, it seemed like the advantage shifted to the Twins after Hernandez's quick inning and with the Twins racking up 2 runs.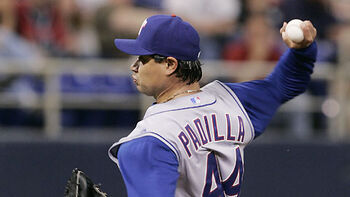 Not much happened in the 3rd or 4th innings. Both pitchers made both of the innings quick, as both offences couldn't do anything at the plate. Milton Bradley walked in the 3rd inning for the Rangers, but Gerald Laird grounded into a double play. That, along with a David Murphy fly out to Carlos Gomez, ended the inning for Hernandez. Vincente Padilla struck out two in the bottom half, as he impeded the Twins from scoring any more runs, for the time being. In the 4th inning, Ramon Vazquez (the second batter for the Rangers of the inning) doubled. However, the Rangers couldn't bring him around and he was stranded at second base. With the Twins' 6, 7, and 8 hitters going down in order on 8 easy pitches.
During the 5th inning, it seemed like déjà vu all over again. Livan Hernandez allowed the first to batters to get on base, and he got into a lot of trouble with no outs. However, Ron Gardenhire kept faith in Hernandez, and knew he would get out of the gem. He rightfully did so, getting three consecutive outs after giving up two consecutive singles. In the bottom half of the inning, Carlos Gomez got a hold of a Vincente Padilla fastball (or a hanging slider, according to Gomez) that landed in the left-center field bleachers for a solo shot to make it 4-3, Texas. With the solo shot, Gomez was having a great day already, with 3 hits.
"I wait for the slow curve; I waited for this," Gomez said of the at-bat in which he homered off Padilla. "He threw the ball and then he wanted to throw me a slider, and he [hung] it, and I went 'Bam!'"
With runners in scoring position and 1 out, Chris Shelton, the #9 hitter, did exactly what a #9 hitter was supposed to do when behind in the count: drive the easy ball that a pitcher will almost always get across the plate. Well, he roped the ball past third base, which had Shelton standing up with a two-run double. Ron Gardenhire finally saw enough of Hernandez and didn't think he was able to finish the inning. With the Twins down 6-3, Gardenhire decided to go with Matt Guerrier to relieve Hernandez and get some work done. Hernandez pitched 5 1/3 innings, with 10 hits, 2 walks, and only 1 strikeout; it's all right, since he hasn't been known for striking out many batters this season.
"It's a good-hitting team," Hernandez said of the Rangers. "They [don't] strike out too much. The second baseman and Young, and this guy in right field [are having] great [years]. It's a good-hitting team. They hit anything you throw at home plate. It's a little crazy. I can do nothing, but I need to figure it out because I think I face them one more time." (The second baseman and right fielder have names. C'mon dude. You should know who you're facing. It's no wonder why you got crushed by the Rangers both times you faced them.)
With Guerrier finally able to get out of the inning after Ian Kinsler got on base on a bunt, while moving Shelton to third, and surrendering a walk to Michael Young, the Twins were up again. Knowing that they were running out of chances, they took their time facing new pitcher Jamey Wright. With the first two batters eventually going back to the dugout with nothing to show for their respective at-bats, Mike Lamb started the Twins off against his former team, as he singled to right field for a base hit. With Wright walking Alexi Casilla, Carlos Gomez being hit by a pitch, and Brendan Harris being walked with the bases loaded, Rangers' manager Ron Washington came to the conclusion that this was obviously not Wright's day; hence he took him out and replaced him with fireballer Frank Francisco. On five straight fastballs, Michael Cuddyer patiently watched them all for three balls and two strikes. The final pitch of the at-bat was a ball, and Cuddyer got credit for the RBI as Alexi Casilla scored for the second run of the inning for the Twins, which meant the Twins only trailed by 1 again. Thankfully, for the Rangers, one of the Twins' most dangerous batters in Justin Morneau popped out to Michael Young to finally end the inning.
After a less than mediocre outing by Matt Guerrier, including a throwing error by the reliever to give up another run for the Rangers, along with a nice Carlos Gomez diving catch to end the 8th inning, the Twins had only 6 outs to get 2 runs across, or else the game was over. Well, a new pitcher, Joaquin Benoit, was on the mound, and he didn't have his best stuff either as far as location. Alexi Casilla got on base with a single, and Carlos Gomez bunted his way on, reaching base for the 5th time (he was hit by a pitch in the 6th). After Brendan Harris sacrificed both Casilla and Gomez over, and a Michael Cuddyer walk, Justin Morneau was due with the bases loaded, yet again. Only this time, he connected with a single up the middle, scoring Casilla and Gomez to tie the ballgame up at 7. The next batter was Delmon Young, and he hit a line drive up the middle as well. However, this one was caught by shortstop Michael Young, and he flipped it over to Ian Kinsler for the easy double play to save the Rangers. What a game!
The 9th inning finally came along, and Twins brought in the closer Joe Nathan. After three days of resting, Gardenhire probably figured that since the Twins needed three straight outs, why not go with him? The 9th started off with a David Murphy single and a stolen base. However, Nathan struck out the side, as he showed the Rangers that he is lights out when he's on top of his game. The bottom half of the inning came around and pinch-hitter Joe Mauer was up. He had nothing to show for his only at-bat of the game, as he struck out. Mike Lamb also struck out swinging, and Alexi Casilla flied out to center field for the third out. You know what that means? We're going to extras!
It didn't take very long for the game to end after the ninth inning though. Ron Gardenhire decided to take out Joe Nathan just in case the Twins needed him for what might have been a close game the day after. Brian Bass came in to relieve him. With 2 outs and no one on, Bass was facing Josh Hamilton. After striking out both Ian Kinsler and Michael Young, it seemed like Bass was on a roll, as he already had 2 strikes against Hamilton. But this is Josh Hamilton we're talking about, the Major League leader in RBI's. In the seventh pitch of the at-bat, Hamilton drove one into the left field seats for an opposite field home run, good for his 12th home run of the year (tied for the AL lead).
"I was just trying to put it in play and hit it hard," Hamilton said. "If you put it in play, something might happen. Somebody might fall down or get a knock. That's how you approach it with two strikes: shorten [your swing] up and put the ball in play."
"That is what you are supposed to do with a hanging slider: hit it out of the ballpark," Bass said. "That's what he did… He's one of those guys you can't make a mistake to."
With the Rangers up 8-7, Ron Washington went with C.J. Wilson to close out the game. Wilson struck out Michael Cuddyer to end the game, splitting the four game series with two wins for each team.
"It seems like a long time," said Wilson, who blew a save in game earlier in the series. "It feels good, especially facing some of the same guys I faced earlier in the series. In extra innings, I pitch well. I stay loose, while everybody else gets tired running around on the turf."
"It's a disappointing loss for us," Gardenhire said after the game. "We had a chance to get three of four from these guys. One more big hit and we would have had it."
On another note:
The Rangers are now 17-9 in their last 26 games, and are now only one game behind the .500 mark.
The Twins ended the Rangers' 7 straight series streak, meaning the Twins stopped the Rangers from winning more games than them. It is (or was, maybe?) the longest streak this season, and it is also the second longest one since moving to Texas in 1972.
Homer of the Day (May 21, 2008)
And the Homer of the Day for May 21, 2008 goes to...
Big Vladdy hit 2 home runs and was responsible for all 4 RBI's in the game.
Congrats to Vladimir Guerrero!
Others who received votes:
Jermaine Dye of the Chicago White Sox (1 vote)
Marcus Thames of the Detroit Tigers (1 vote)
On Another Matter:
Thanks to everyone who has been voting, especially those who have since the very beginning (you know who you are). Like I said, the more votes we have in these articles, the better. It makes it more interesting, and makes me feel better when I post these articles.
Stiles, I apologize. I don't think I'll be able to do two articles in one day. There's always something getting in the way.
So, I'm about a month and a half away from catching up. It's like I'm falling more behind than I am catching up. Like I said, I'm trying. I probably won't catch up, but I'm going to keep posting.