Template:Homer of the Day
| Batter | Team (B) | Inning | Pitcher | Team (P) | Situation |
| --- | --- | --- | --- | --- | --- |
| Kevin Millar (6) | Orioles | 4th | Ross Ohlendorf (3) | Yankees | 0 on, 0 out, 9-0 |
| Alex Rodriguez (5) | Yankees | 6th | Daniel Cabrera (9) | Orioles | 1 on, 2 out, 10-0 |
| Luke Scott (4) | Orioles | 8th | Jose Veras (1) | Yankees | 1 on, 2 out, 10-2 |
| Luis Castillo (1) | Mets | 1st | Tom Glavine (5) | Braves | 0 on, 1 out, 0-0 |
| Brian McCann (8) | Braves | 7th | Aaron Heilman (5) | Mets | 1 on, 0 out, 4-1 |
| Mark Kotsay (4) | Braves | 8th | Matt Wise (2) | Mets | 1 on, 1 out, 4-2 |
| Mike Cameron (5) | Brewers | 7th | Paul Maholm (5) | Pirates | 1 on, 1 out, 2-0 |
| Corey Hart (3) | Brewers | 9th | Marino Salas (1) | Pirates | 0 on, 2 out, 6-0 |
| Jason Bay (10) | Pirates | 9th | Eric Gagne (5) | Brewers | 1 on, 1 out, 7-0 |
| Adrian Beltre (9) | Mariners | 1st | Justin Verlander (8) | Tigers | 0 on, 1 out, 0-0 |
| Magglio Ordonez (7) | Tigers | 5th | Cha Seung Baek (3) | Mariners | 0 on, 0 out, 7-1 |
| Edgar Renteria (4) | Tigers | 6th | Cha Seung Baek (4) | Mariners | 0 on, 0 out, 8-1 |
| Curtis Granderson (6) | Tigers | 6th | Cha Seung Baek (5) | Mariners | 1 on, 0 out, 9-1 |
| Carlos Guillen (4) | Tigers | 7th | Mark Lowe (1) | Mariners | 0 on, 0 out, 11-3 |
| Brad Wilkerson (1) | Blue Jays | 1st | John Lackey (1) | Angels | 0 on, 0 out, 0-1 |
| Dan Uggla (14) | Marlins | 6th | Micah Owings (8) | Diamondbacks | 0 on, 0 out, 2-1 |
| Chris Snyder (4) | Diamondbacks | 7th | Justin Miller (2) | Marlins | 0 on, 2 out, 1-3 |
| Aramis Ramirez (8) | Cubs | 4th | Chris Sampson (3) | Astros | 1 on, 0 out, 0-0 |
| Hunter Pence (5) | Astros | 4th | Ryan Dempster (4) | Cubs | 3 on, 1 out, 0-2 |
| Carlos Quentin (12) | White Sox | 1st | C.C. Sabathia (7) | Indians | 0 on, 2 out, 0-0 |
| Jim Thome (8) | White Sox | 2nd | C.C. Sabathia (8) | Indians | 0 on, 0 out, 1-0 |
| Rich Aurilia (5) | Giants | 2nd | Aaron Cook (5) | Rockies | 0 on, 0 out, 2-0 |
| Fred Lewis (4) | Giants | 9th | Alberto Arias (1) | Rockies | 0 on, 1 out, 4-3 |
| Clint Barmes (5) | Rockies | 9th | Brian Wilson (2) | Giants | 1 on, 2 out, 3-6 |
| Kevin Kouzmanoff (4) | Padres | 6th | Joel Pineiro (5) | Cardinals | 2 on, 2 out, 0-2 |
| Frank Thomas (6) | Athletics | 9th | Troy Percival (3) | Rays | 0 on, 0 out, 1-3 |
The Tale of Two Teams who Fail to Live up to Expectations
It has been 1 1/2 months since Opening Day, and two teams who were highly considered to win their respective divisions had the two worst records in the American League. In the AL Central, you've got the Detroit Tigers, who lost 6 of their last 7 going into the game, including a sweep of the Kansas City Royals. Their offense has been atrocious, as they have already been shut out 8 times out of a possible 44 games; that's almost 1/5 of all their games so far! They've only managed to score 10 runs in their last 5 games combined. Talk about "not reaching expectations", huh. The Tigers, or should I say Kittens judging by the way that they played, were facing a team who is doing just as bad: the Seattle Mariners. The Mariners are in a river on a canoe with no paddles, as they can't stop surrendering runs. As of May 19, Seattle is 12th in the American League in runs allowed, which seems less than mediocre, but is just horrible if you're Seattle. With two pitchers who were considered Cy Young candidates in Erik Bedard and Felix Hernandez on your team, there is no way that their pitching can possibly be this terrible. Justin Verlander, who is another reason why the Tigers are having problems, was on the hill for Detroit to begin the contest. He had a 1-7 record going into the game with a 6.05 ERA. However, during his last start, he only surrendered 2 runs through 6 innings. Could Verlander pitch another good game for the Tigers and possibly get the second win of the season? What would the once highly regarded Detroit lineup do against Seattle's starting pitcher Carlos Silva? Let's find out…
Justin Verlander didn't start off well, as usual, as he surrendered a home run to Adrian Beltre, the second batter he faced. Little did Verlander know that the Tigers would ''really'' help him out this time. Not only they get the lead back, but they were able to lead by double digits by the time Verlander was out of the ballgame. In the bottom of the second inning, Miguel Cabrera hit a leadoff double to get things started for the Tiger offense. Carlos Guillen would then single him in the tie the game at 1-1. Edgar Renteria would then bring in Guillen to give the Tigers the lead… and that was just the beginning of Renteria's night.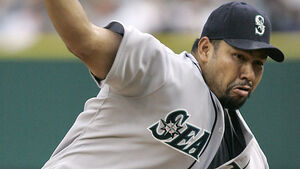 Justin Verlander seemed to get back on track after giving up that solo home run to Adrian Beltre. After committing that mistake, he retired the next 7 batters; his streak ended when he walked Ichiro Suzuki in the top of the third. While he was cruising right through, Carlos Silva was having trouble just getting out of the 4th inning. He was just throwing strikes, and with the potential that Detroit's offence has to hit balls right down the pipe, things got a little out of hand for Silva. The first batter of the inning, Magglio Ordonez, ripped the first pitch of the at-bat for a single. The next batter was Miguel Cabrera, and he singled to left field on the same first pitch: a fastball right down the middle. Two batters later, Matt Joyce made it to first on a walk to load the bases; he took his time, made contact on a few pitches, and just waited patiently to draw the walk. Silva was losing his control, and really needed to settle down. That was when Edgar Renteria was up for the second time that night. Just like Ordonez and Cabrera, Renteria got a fastball from Silva right down the middle. Renteria knew it was coming, and he ripped it to centerfield. It should've been a single, but Ichiro wanted to get fancy and unintentionally let the ball get by him and make it all the way to the centerfield wall; Renteria stood on third base with a stand up, bases-clearing triple. Curtis Granderson would then bring in Renteria with an RBI double to give the Tigers another insurance run. It seemed like nothing Carlos Silva had in his pitching arsenal, which is not much (a fastball and a changeup), was able to stop Detroit.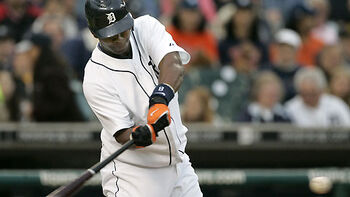 "You can never be passive on him," Granderson said about Silva. "I think that's one of the approaches that guys took today: Be ready to hit, because that one you let go by try to be passive may be the best one you get the entire at-bat."
I guess Placido Polanco thought like Granderson, because later on in the inning, he hit yet another first pitch (another fastball right down the middle) up the middle to score Granderson from second base; Granderson showed incredible baserunning skills when he slid past Ichiro's bullet to home to just barely make it across for a 7-1 lead.
"They have been struggling, you know, but they have a good lineup over there," said Silva of the Tigers, who was done by the 4th inning after surrendering 7 runs on 9 hits. "If you make a mistake, they are going to make you pay. I was missing my spots, and when you miss your spots against that kind of lineup, that's going to happen."
It wasn't just Silva who had trouble though. Cha Seung Baek came in to "relieve" him, but did not do a very good job of it. On the 4th pitch of his appearance, Baek gave up a solo jack to Magglio Ordonez to make it 8-1, Detroit. Baek wasn't done giving up home runs though, as he surrendered two more in the 6th: one to Edgar Renteria, crossing the home run off the checklist of things to do to hit for the cycle (he only needs a double now), and another to Curtis Granderson, who had quite a night himself; he brought in Ivan Rodriguez on the dinger. After Placido Polanco doubled, to give the Tigers their fourth straight hit of the inning, Baek settled down and got the 3 outs he needed to retire the side.
By the end of the 6th, the score was 11-1. The Tigers' offence has finally come alive, as they have scored more runs than they did in their last 5 games combined! It also seemed like Justin Verlander has finally started to come back. After a quality start on May 14th (6 innings pitched, 2 earned runs), Verlander didn't disappoint in his next start, pitching even better: 6 innings pitched, 1 earned run on hits, and 7 strikeouts (a season high).
"He didn't look like a 1-7 guy," Jose Vidro said.
"He's one of those guys that gives an impression he could throw a no-hitter every night," Seattle's manager John McLaren said. "He's got that kind of stuff."
After a great game pitched by Verlander, Tigers' manager Jim Leyland felt that Verlander's arm was not needed anymore. Since they were up 11-1, Leyland relied on the bullpen to get the last nine outs. Aquilino Lopez was brought in, who was pretty reliable, giving up at least 1 run only twice in 17 appearances. His ERA was a marvelous 1.78, and was ready to give the Mariners another shutout inning. However, the Mariners had something else planned, as they were able to get four runners on base during the inning, and were able to get two of them across. The Tigers got one back in the bottom of the inning, as Carlos Guillen hit a solo home run on the first pitch new pitcher Mark Lowe threw. And guess what it was: a fastball right down the middle.
The Mariners were down by 9 in the 8th inning, and the game seemed pretty much over. They kept fighting back though, as they scored a run in that frame, and a lot more in the 9th. The question is: how much more? Down by 8 with only 3 outs until the game was over, the Mariners dug deep. They started a huge rally getting 6 of their first 7 batters on base. Clay Rapada got walloped, as he gave up four straight hits and was responsible for all the 4 runs that scored in the frame. That's right; the Mariners only managed to score 4 runs until Miguel Cairo grounded into a double play to finally end the game. It took three pitchers, but Todd Jones was finally able to end the game in what could've been a huge upset.
"We showed some spunk, stayed after it and hung in there, but you can't get that far behind," McLaren said. "It was too big of a mountain to climb." He then went on saying, "We threw strikes but had poor location. Pitching is changing speeds, having good location, and throwing strikes. I didn't think we had very good location, and changing speeds wasn't all that good either."
"The win was nice. I'd say we needed it," Justin Verlander said, who got his first win in 5 starts. "Hopefully, tonight turns the page for us."
"Hopefully we can take off from here," Renteria said, who was just a double shy of hitting for the cycle.
On another note:
Out of all players, Ichiro was the only one of the first seven Mariners who didn't get on base in the 9th inning.
Edgar Renteria was 0-for-9 against Carlos Silva entering this game. It didn't look like it in this game.
Also, Renteria matched a season high with 4 hits, including a three-run triple in the five-run 4th inning, and his 4th home run. He entered the game without an extra-base hit since April 24th. "Edgar's working hard and he's a real proud guy," Leyland said. "I'm tickled to death for him because he had a huge night."
Curtis Granderson's two-run homer ended his own personal streak of 23 consecutive solo shots. The last home run he had with someone on base was on May 6, 2007.
Detroit's 12 runs tripled the amount of support that Justin Verlander received in his past 4 starts. No wonder why he's only 2-7 now.
Homer of the Day (May 19, 2008)
And the Homer of the Day for May 19, 2008 goes to... 
I guess an inside-the-park home run by a catcher is good enough to win the Homer of the Day.
Congrats, Geovany, for winning it, and congrats for making it all the way around.
Others who received votes:
Evan Longoria of the Tampa Bay Rays (1 vote)
On Another Matter:
Thanks to everyone who has been voting, especially those who have since the very beginning (you know who you are). Like I said, the more votes we have in these articles, the better. It makes it more interesting, and makes me feel better when I post these articles.
Trying to catch up. Don't think I will, but at least I'm trying, right?