Template:Homer of the Day
| Batter | Team (B) | Inning | Pitcher | Team (P) | Situation |
| --- | --- | --- | --- | --- | --- |
| Jason Varitek (5) | Red Sox | 6th | Luke Hochevar (3) | Royals | 1 on, 1 out, 5-0 |
| Geovany Soto (9) | Cubs | 4th (ITP) | Brian Moehler (3) | Astros | 2 on, 1 out, 0-0 |
| Aramis Ramirez (7) | Cubs | 9th | Dave Borkowski (4) | Astros | 1 on, 0 out, 5-2 |
| Josh Hamilton (11) | Rangers | 1st | Boof Bonser (6) | Twins | 0 on, 2 out, 0-0 |
| Ian Kinsler (4) | Rangers | 3rd | Boof Bonser (7) | Twins | 0 on, 2 out, 1-0 |
| Alexi Casilla (1) | Twins | 4th | Scott Feldman (4) | Rangers | 2 on, 2 out, 1-2 |
| Randy Winn (2) | Giants | 1st | Jorge De La Rosa (3) | Rockies | 0 on, 2 out, 0-0 |
| Clint Barmes (4) | Rockies | 4th | Pat Misch (7) | Giants | 0 on, 0 out, 0-2 |
| Ryan Ludwick (12) | Cardinals | 1st | Wilfredo Ledezma (2) | Padres | 1 on, 2 out, 0-0 |
| Cesar Izturis (1) | Cardinals | 4th | Wilfredo Ledezma (3) | Padres | 0 on, 1 out, 3-1 |
| Albert Pujols (10) | Cardinals | 5th | Justin Germano (7) | Padres | 0 on, 0 out, 4-1 |
| Albert Pujols (11) | Cardinals | 8th | Sean Henn (1) | Padres | 0 on, 0 out, 7-2 |
| Frank Thomas (4) | Athletics | 1st | James Shields (3) | Rays | 1 on, 2 out, 0-0 |
| Emil Brown (5) | Athletics | 2nd | James Shields (4) | Rays | 0 on, 0 out, 2-0 |
| Eric Hinske (8) | Rays | 5th | Joe Blanton (6) | Athletics | 1 on, 1 out, 0-3 |
| Frank Thomas (5) | Athletics | 6th | James Shields (5) | Rays | 0 on, 2 out, 3-4 |
| Evan Longoria (5) | Rays | 13th | Chad Gaudin (5) | Athletics | 1 on, 0 out, 5-5 |
| Adam Dunn (11) | Reds | 3rd | Brad Penny (5) | Dodgers | 1 on, 0 out, 2-0 |
  ITP stands for "inside-the-park"...  
An A-Ray Day
About 1 1/2 weeks ago, I wrote a recap about the Tampa Bay Rays and the Toronto Blue Jays in what was a 13th inning thriller, until the bottom of the 9th inning. [[Dioner Navarro hit his first home run of the season, a grand slam, as the Rays went on to win the game 8-3. This episode of the Homer of the Day is going to feature the Rays and the Oakland Athletics. The fact that the two teams' names rhyme isn't the only thing they have in common. They are two of the biggest surprise teams in baseball today, and they are both in second place in their respected divisions. Not only that, but two [more than] decent pitchers were on the mound to battle it out, yet do not have the ''best'' records. Rays' James Shields has an remarkable 3.05 ERA, but only has a 4-3 record, which is rather surprising since the Rays have been doing so well. Joe Blanton of the A's has a respectable ERA of 3.69, yet only has a 2-6 record. Let's see if either one of these pitchers could get the win and achieve a better record.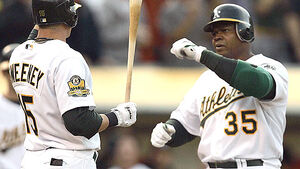 The game was not scoreless for very long. Frank Thomas wanted to prove to the Blue Jays that they made the wrong move by letting him go, and he surely succeeded in this game. In his first at-bat of the game, with one on and two outs, Thomas crushed a 2-0 pitch from Blanton over the deep centerfield wall (over 400 feet) to give the A's an early 2-0 lead. Emil Brown would then get into the action in the 2nd inning by hitting a solo shot over the left-center field wall to make it a 3-0 lead for Oakland.
Enough of the A's offence… let's get right to what the Rays did in this game. While trailing 3-0 in the 5th inning, Eric Hinske knew that he needed to get the Rays on board; otherwise, the game would be a blowout. He did just that, hitting a two-run shot that bounced off the right field wall, making it a one run ballgame. There was some controversy on the play at first, since the ball was considered to be in play, and Hinske was gunned out on a perfect throw from Emil Brown from right field. The umpires discussed it amongst each other, and they ruled it a home run.
So, the Rays were on the board, and the game got a little more interesting. However, that inning wasn't the only one where the Rays scored runs. Evan Longoria brought in Carl Crawford with his first hit of the game (a double) to tie all up. Cliff Floyd would then ground out softly to first base, which would score Carlos Pena from third and suddenly the Rays had a 4-3 lead. Never underestimate these Rays! They come out of nowhere sometimes. Thankfully, for the A's, the Big Hurt was in the mood to put a Big Hurt on the baseball in his next at-bat. After clobbering a home run in his first at-bat of the game, Thomas hit a line drive sailing over the left field wall to tie the game up at 4. Thomas has really heated up this season, which could mean trouble for his opposing pitchers in the future.
"It's good to see," Joe Blanton said, who was the first to congratulate him after hitting his second homer. "He was talking about it in Atlanta. I heard him say he saw some old video and saw something. That's all it takes is that first one. Hopefully he stays locked in now."
The two teams were tied, once again, thanks to the Big Hurt, who definitely made an impact on this game, with 2 home runs and 3 RBI's already. However, that did not stop the Rays from scoring. In the next frame of the game, Akinori Iwamura gave the Rays the lead again; these Rays will just not stop scoring! Iwamura hit a double over left fielder Jack Cust's head to help score Jason Bartlett from first base. However, in the bottom of the 8th, Ryan Sweeney hit a blooper over the second baseman with runners on the corners, tying the ballgame ''again''. These two teams just kept fighting back, and we have to wonder if any team would emerge victorious in the end.
Tampa Bay's J.P. Howell and Oakland's Huston Street would then calm both of the team's lineups down, as they both retired the side in the 9th inning. 5 strikeouts took place in that inning, as Street struck out the side and Howell K'd 2. Street was still racking up strikeouts in the 10th inning, as he gunned out 2 more batters, increasing his strikeout total for the night to 5 (a career high for him). In the bottom of the 10th, it was a different story, as Bobby Crosby led off the inning with a walk. Thankfully for newly substituted pitcher Jason Hammel, Rajai Davis could not show that he could lay down a bunt, one of the most fundamental things in baseball, as far as offence; Davis popped out to first baseman Carlos Pena, and Crosby was doubled off at first. After Alan Embree retired the side in the 11th inning 1-2-3, Jason Hammel was sent back to do some more work. He got into some trouble, as Emil Brown hit a double with 1 out. However, after intentionally walking Daric Barton, he got the next two batters out to get out of what could've been a game winning hit. The 12th inning was rather quiet, as both sides went down in order. However, there was a fine play involving catcher Kurt Suzuki and Gregorio Petit gunning out Akinori Iwamura at second base. The ball was on the shortstop's side, but Petit made an off balance play to somehow get the ump's call in the A's favor. Hammel pitched another shutout inning, to make it 3 scoreless innings in a row. His ERA dropped from 5.04 to 4.59. It was quite a way for Hammel to come back, as he hadn't thrown one pitch off the mound in 12 days. It goes to show that Hammel ''does'' have some good days.
"I was too excited to be in there that I almost forgot what to do," Hammel said. "I'm still learning, but it's all about doing my job and getting outs. No matter when or where you pitch, you still need to throw strikes."
"I said, 'Listen I know it stinks but we need you to stay ready because we're going to need you at some point and you're going to come through for us tonight,'" Rays manager Joe Maddon said of Hammel. "I did not have that in the back of my mind when I said it to him. He pitched great. He really did."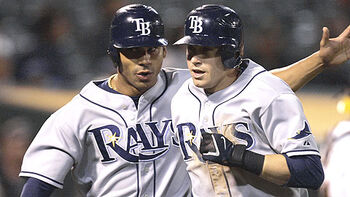 And we're off to the 13th inning: lucky #13, where something's bound to happen (wink, wink). Chad Gaudin was in for Alan Embree, who was on a 5 scoreless inning streak. He started off the inning giving up a single to right field, then things got good… well, if you were a Rays or anti-A's fan. Evan Longoria hit a towering fly ball over the left field wall for a two-run shot to finally break the tie.
The score was then 7-5. Could Troy Percival shut the door down for the save? Well, unlike Gaudin, he actually made fans believe that this inning was going to be quick. He got the Two Sweeneys out via pop-out and strikeout. He did not manage to get a third straight out though, as he walked Emil Brown, and then balked him, advancing him to second base. So, Daric Barton was only a single away from cutting the lead in half, and a home run away to win it? What did he do? He did what he was supposed to do when you're down by two runs and you have only one out left: start a rally. The ball was hit off the bat and it looked like it was going to leave the ballpark, but it ricocheted off the right field wall for an RBI triple; the tying run was now on third. Kurt Suzuki was now up, and it was all up to him to make something happen and possibly tie the ballgame. On the second pitch of the at-bat, Suzuki connected and the ball was hit high, but not far, as first baseman Carlos Pena made the play in front of first base in foul territory to seal the deal for the Rays. Your final score: 7-6. Jason Hammel got the win (well earned) and Troy Percival got his 12th save, and the 336th of his career. He is now only 5 saves away from tying Rollie Fingers for 9th on the all-time list for saves.
"I couldn't help but think about the way the last two ended," Longoria said, talking about the Rays' couple of losses against the St. Louis Cardinals. "It's always nice to get an extra-inning win."
On another note:
Frank Thomas was on a tear this game, hitting two home runs, which were the first two home runs he hit as an A this season. He had not hit a home run in 102 at-bats.

The longest home run drought he's ever had was a 114 at-bat stretch that lasted from September 19, 1992 and continued through the 1993 season when he finally hit a home run on April 25th.
The last time he hit a home run was on April 8th against: the Oakland Athletics. How ironic.
Alan Embree was the pitcher who surrendered the home run.

Thomas' two long balls were good for his 33rd multi-homer game in his career.
James Shields gave up more home runs in this game (3) than he did in his first 9 games (2).
Joe Blanton remained winless for a 7th straight start at home.
Evan Longoria's last home run before the one in this game was a walk-off shot against the Los Angeles Angels on May 9th.
The Rays kept pace with the Boston Red Sox on this day, as the Sawx defeated the Kansas City Royals thanks to Jon Lester's no-hitter.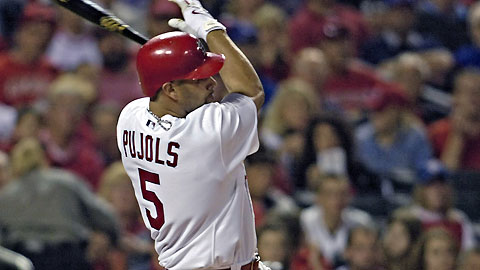 Homer of the Day (May 18, 2008)
And the Homer of the Day for May 18, 2008 goes to...
Michael Aubrey's first career home run was in the 6th inning against the Cincinnati Reds, and he came in and got the game a little closer for the Indians, hitting a two-run homer to make it 4-3, Cincinnati. Although the Indians still lost (6-4), Aubrey's home run was still good enough for him to win the Homer of the Day.
Congrats, Michael Aubrey!
Others who received votes:
Carlos Quentin of the Chicago White Sox (1 vote, 3 tiebreaker votes)
Todd Helton of the Colorado Rockies (1 vote, 0 tiebreaker votes)
On Another Matter:
Thanks to everyone who has been voting, especially those who have since the very beginning (you know who you are). Like I said, the more votes we have in these articles, the better. It makes it more interesting, and makes me feel better when I post these articles.
I know many of you are thinking, "Why are we still talking about Lester's no-hitter?" It's okay. I won't talk about it… unless the topic gets brought up, again, by somebody else.
Let's face it. I'm never going to catch up.