Template:Homer of the Day
| Batter | Team (B) | Inning | Pitcher | Team (P) | Situation |
| --- | --- | --- | --- | --- | --- |
| Yunel Escobar (4) | Braves | 1st | Brett Myers (13) | Phillies | 0 on, 0 out, 0-0 |
| Chipper Jones (11) | Braves | 1st | Brett Myers (14) | Phillies | 0 on, 1 out, 1-0 |
| Kelly Johnson (5) | Braves | 2nd | Brett Myers (15) | Phillies | 0 on, 1 out, 2-0 |
| Chase Utley (14) | Phillies | 6th | Tom Glavine (4) | Braves | 1 on, 1 out, 8-2 |
| Ryan Howard (8) | Phillies | 8th | Royce Ring (1) | Braves | 0 on, 2 out, 8-4 |
| Jason Varitek (4) | Red Sox | 5th | Daniel Cabrera (7) | Orioles | 0 on, 1 out, 1-0 |
| Mike Lowell (4) | Red Sox | 6th | Daniel Cabrera (8) | Orioles | 0 on, 2 out, 2-0 |
| Jay Payton (3) | Orioles | 7th | Hideki Okajima (2) | Red Sox | 3 on, 2 out, 2-3 |
| Adam Dunn (7) | Reds | 6th | Logan Kensing (2) | Marlins | 0 on, 1 out, 2-0 |
| Cody Ross (4) | Marlins | 9th | Francisco Cordero (1) | Reds | 2 on, 1 out, 3-6 |
| Grady Sizemore (7) | Indians | 1st | Joe Blanton (4) | Athletics | 0 on, 0 out, 0-0 |
| Ryan Garko (4) | Indians | 4th | Joe Blanton (5) | Athletics | 0 on, 2 out, 1-0 |
| Brian Schneider (2) | Mets | 5th | Tim Redding (6) | Nationals | 0 on, 2 out, 0-0 |
| Ryan Zimmerman (7) | Nationals | 6th | Claudio Vargas (1) | Mets | 0 on, 2 out, 0-1 |
| Blake DeWitt (3) | Dodgers | 5th | Manny Parra (5) | Brewers | 0 on, 1 out, 0-3 |
| Alfonso Soriano (6) | Cubs | 1st | Jake Peavy (6) | Padres | 0 on, 0 out, 0-0 |
| Geovany Soto (7) | Cubs | 5th | Wilfredo Ledezma (1) | Padres | 1 on, 0 out, 4-3 |
| Matt Stairs (6) | Blue Jays | 1st | Boof Bonser (5) | Twins | 3 on, 1 out, 0-0 |
| Justin Morneau (7) | Twins | 1st | Roy Halladay (5) | Blue Jays | 1 on, 2 out, 0-4 |
| Carlos Quentin (10) | White Sox | 8th | Scot Shields (2) | Angels | 3 on, 0 out, 1-1 |
| Nick Swisher (4) | White Sox | 9th | Jose Arredondo (1) | Angels | 0 on, 0 out, 5-1 |
| Lance Berkman (14) | Astros | 1st | Pat Misch (6) | Giants | 1 on, 1 out, 1-0 |
| Aaron Rowand (5) | Giants | 2nd | Brian Moehler (2) | Astros | 1 on, 0 out, 0-3 |
| Brad Ausmus (1) | Astros | 8th | Billy Sadler (1) | Giants | 1 on, 1 out, 4-3 |
300 Wins for Glavine... Is that it?
Today's article is coming at you from Citizens Bank Park; home of the Philadelphia Phillies, the Phillie Phanatic, and the long ball. The Atlanta Braves were in town, and we are set to begin game two of this series. It is Wednesday night baseball. Let's head down to the field...
"Brett Myers is on the hill tonight. He has struggled mightily in his return to the rotation this season. In his first eight starts, he has posted a 2-3 record with a 5.33 earned run average. It's the long ball that has hurt him this season. In only 49 innings, he has given up twelve home runs, well over the nine he allowed through 68 innings last season. Yunel Escobar will be the first batter he faces. Escobar is having a wonderful season and is doing a fine job filling the lead-off hole for the Braves. Myers sets and delivers on a 1-0 count...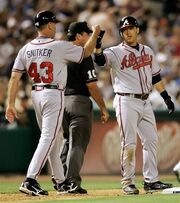 Low line-drive to deep left field, will it stay up? It does. Home run, Yunel Escobar. The Braves are out to an early lead... Mark Kotsay follows with a pop up to Jimmy Rollins. It looks like Myers shook off that early home run by Escobar. Now, the dangerous Chipper Jones steps up to bat, and what an amazing season he is having; an average over .400 this even this early in the season is impressive... A long drive deep left field... It's gone. Home run, Chipper Jones! On the first pitch he sees, he adds onto the Braves early lead here at Citizens Bank Park..."
...Time marches on...
"The top of the second kicks off with the Braves still holding onto a two run lead. Jeff Francoeur is up currently with two strikes on him. Myers sets and delivers... Strike three. Francoeur just watched that one go by and he knows he should have swung. That will bring Kelly Johnson to the plate. Kelly is coming off a great season... A long drive, deep left field… this one is gone. Home run, Kelly Johnson. His fifth of the season, as the Braves go up three to nothing early in this game..."
...Time marches on...
"Here in the top of the third, the Braves are threatening. Runners on second and third, two outs for the catcher Brian McCann. McCann struggled a little bit last season, but he seems to have put it back together this year. Myers with the delivery, and McCann punishes this one to right center. Jayson Werth can't get there and this is going to be extra bases... And McCann pulls into second with a two RBI double..."
...Time marches on...
"The Braves are now out in front five to nothing here in the top of the fifth. Ryan Madson comes on to face Jeff Francoeur with runners on first and second. The pitch... a chopper out in front of the plate. McCann is out to get it. His only play is at first, and he gets makes a good throw. Two outs now. It looks like they are going to put Kelly Johnson on and go after the rookie Gregor Blanco. Yup, that is what they do. So now, the bases are loaded for the rookie left fielder Blanco. He fights off a pitch, and another, and another... Here comes the tenth pitch of the at bat, and what a battle it has been. A hard hit ball up the middle, Rollins can't get there, and two runs are going to score..."
...Time marches on...
"Chris Coste will lead off for the Phillies to start the bottom of the sixth. Coste has the only hit so far versus Tom Glavine, who has been strong throughout. Coste's single back in the third is the only baserunner Glavine has allowed thus far. I spoke too soon, Coste with a single through the left side. Eric Bruntlett will come on here to pinch hit for Ryan Madson… He walks, bringing reigning NL MVP Jimmy Rollins to the plate. The Phills are looking to finally close in on that 8-0 lead the Braves have sustained...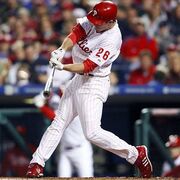 "Rollins take the first pitch he sees to right-center field. Coste is going to score. Bruntlett is held up at third as Rollins knocks in the Phillies first run of the game with his stand-up double. The crowd is growing excited, finally seeing some offense. Shane Victorino comes up to the plate. There are two on and still nobody out. This could be a big inning for the Phills. He rolls one out to the shortstop Yunel Escobar, who makes the throw to first for the out. Bruntlett will come across to score, and Rollins makes it over to third base. Glavine will now have to face Chase Utley, with a man on and one out. Utley drives the pitch deep to right center field. It has the distance, and it's gone! A two run home run by Chase Utley and the crowd is on their feet..."
...Time marches on...
"The Phillies are down 8-5 now, thanks to Ryan Howard's solo shot in the bottom of the eight inning. Here in the ninth, there are two outs and two men on for Jimmy Rollins. A home run here can tie the game. He singles to right! Coste will score from second and Dobbs will slide into third. Shane Victorino, now up to bat, is the winning run. Rollins is off to second. He is trying to get into scoring position. Safe! The tying run is on second base. Chase Utley patiently waits on deck, hoping he get a chance to complete this late comeback. Victorino drives one! Deep right center field! Could it be?
"It would be nice to say the Victorino was a hero and the Phills were able to come back late, but Jeff Francoeur hauls in the ball and squeezes it tight to seal the victory. Victorino just missed completing the Phillies comeback. The Braves and Phillies are now tied for second in the National League East division..."
"It's frustrating. I'm not giving the team an opportunity to win," Phillies' starter Myers said after the game. "I'm disappointed in myself. I'm disappointed in letting my teammates down and disappointed that the fans had to watch that."
On Another Note:
This was Tom Glavine's first win as a Brave in nearly 6 years.
Chipper Jones has the fifth highest batting average on May 14 in the past 35 years.

Paul O'Neill

(.461 in 1984), Rod Carew (.450 in the 1983), Barry Bonds (.427 in 1993), and Tony Gwynn (.419 in 1994) are the four players with better averages than Jones as far as that date.
Chuck James took the mound the game after this one, which was marked as the first time the Braves start three straight left-handers since June 4-6, 1997. Coincidentally, it involved Glavine; the other two were

Denny Neagle

and

Terrell Wade

.
Homer of the Day (May 13, 2008)
And the Homer of the Day for May 13, 2008 goes to...
The San Francisco Giants defeated the Houston Astros 4-2 with the help of a Matt Cain jack in the 5th inning. With a great game pitched and a home run, why is there a reason not to vote for Cain?
Congrats, Matty, for winning your first Homer of the Day.
On Another Matter:
Thanks to everyone who has been voting, especially those who have since the very beginning (you know who you are). Like I said, the more votes we have in these articles, the better. It makes it more interesting, and makes me feel better when I post these articles.
I hope you're enjoying these articles as much as I like finding more about what has happened over a month ago!
Thanks again, Falcon02520 for your help on this one. I really appreciate it.