Template:Homer of the Day
| Batter | Team (B) | Inning | Pitcher | Team (P) | Situation |
| --- | --- | --- | --- | --- | --- |
| Carlos Beltran (3) | Mets | 5th | Johnny Cueto (7) | Reds | 1 on, 1 out, 3-0 |
| Ryan Church (7) | Mets | 5th | Johnny Cueto (8) | Reds | 0 on, 1 out, 5-0 |
| Carl Crawford (3) | Rays | 6th | Justin Speier (3) | Angels | 2 on, 2 out, 4-5 |
| Aaron Boone (3) | Nationals | 2nd | Scott Olsen (5) | Marlins | 0 on, 0 out, 0-1 |
| Ronnie Belliard (2) | Nationals | 3rd | Scott Olsen (6) | Marlins | 1 on, 2 out, 1-1 |
| Dan Uggla (10) | Marlins | 6th | Shawn Hill (1) | Nationals | 0 on, 2 out, 1-4 |
| Jeremy Hermida (3) | Marlins | 8th | Luis Ayala (2) | Nationals | 0 on, 2 out, 2-4 |
| Dan Uggla (11) | Marlins | 8th | Luis Ayala (3) | Nationals | 1 on, 0 out, 3-4 |
| Ryan Braun (6) | Brewers | 3rd | Braden Looper (4) | Cardinals | 0 on, 0 out, 2-1 |
| Ryan Braun (7) | Brewers | 5th | Braden Looper (5) | Cardinals | 0 on, 1 out, 3-1 |
| Ryan Ludwick (8) | Cardinals | 8th | David Riske (2) | Brewers | 0 on, 2 out, 1-4 |
| Derrek Lee (10) | Cubs | 3rd | Edgar Gonzalez (4) | Diamondbacks | 0 on, 1 out, 1-1 |
| Reed Johnson (1) | Cubs | 7th | Juan Cruz (2) | Diamondbacks | 1 on, 1 out, 2-4 |
| Emil Brown (4) | Athletics | 1st | Sidney Ponson (1) | Rangers | 2 on, 1 out, 1-0 |
| Daric Barton (2) | Athletics | 9th | Eduardo Guardado (1) | Rangers | 1 on, 2 out, 10-6 |
| Scott Hairston (5) | Padres | 5th | Greg Reynolds (1) | Rockies | 0 on, 0 out, 0-0 |
| Khalil Greene (2) | Padres | 6th | Greg Reynolds (2) | Rockies | 1 on, 2 out, 2-0 |
| Steve Holm (1) | Giants | 7th | J.C. Romero (1) | Phillies | 1 on, 2 out, 2-3 |
| Raul Ibanez (6) | Mariners | 3rd | Gavin Floyd (5) | White Sox | 1 on, 2 out, 1-2 |
| James Loney (4) | Dodgers | 1st | Shawn Chacon (6) | Astros | 1 on, 2 out, 0-0 |
| Craig Monroe (3) | Twins | 2nd | Tim Wakefield (5) | Red Sox | 2 on, 0 out, 0-0 |
| Adam Everett (1) | Twins | 2nd | Tim Wakefield (6) | Red Sox | 1 on, 1 out, 3-0 |
| Coco Crisp (2) | Red Sox | 7th | Matt Guerrier (3) | Twins | 1 on, 2 out, 4-8 |
| Craig Monroe (4) | Twins | 7th | Mike Timlin (3) | Red Sox | 0 on, 0 out, 6-8 |
When Is it too Late for a Comeback?
After a pretty exciting game on May 10th, the Boston Red Sox and Minnesota Twins were not done hitting long balls, as  Boston hit four solo shots on the 10th of May. However, this time around, the Twins came back and redeemed themselves with the long ball as well, making it an epic battle involving the long ball. Starting pitcher Tim Wakefield was 13-4 against Minnesota in his career before the game kicked off. He would face Nick Blackburn, the 26-year-old rookie from Ada, Oklahoma.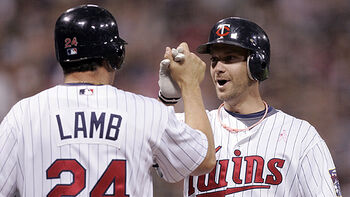 Wakefield's knuckleball, unlike many of his previous starts this season, did not get the best of Wakefield's opponents. The Twins scored early, as Craig Monroe home run with two men on to make it 3-0. Two batters later, with a runner on first, Adam Everett, not known for his power, got a hold of one that managed to go over the left field wall. Wakefield really struggled in this game, surrendering 7 runs in 2 2/3 innings.
"I felt great and thought I had good stuff," Wakefield said. "It was one of those nights that you like to forget. I made a good pitch to Monroe. He just ran into it for the three-run homer. With Everett, I threw a fastball and it cost me. It was a matter of not making the right pitches at the right time."
Although Boston trailed by as many as 6 runs, but never gave up. With the score being 7-1 in the top of the 4th inning, 3 runs crossed the plate for the BoSox thanks to a couple of RBI singles and a sacrifice hit. However, the Twins were not done scoring, as one more run scored in the bottom of the 4th thanks to a Mike Lowell fielding error. The score was 8-4 after that incident, and it stayed that way until the top of the 7th inning. After a J.D. Drew single, Coco Crisp hit a two-run shot to cut the lead in half (8-6). It was Crisp's second homer of the season and his second consecutive day he hit a home run, as you may remember that he also homered on the 10th.
As soon as it seemed like things were going the Sawx' way, Craig Monroe was able to smash another ball into the bleachers, causing more nervousness for Red Sox fans and the Red Sox team.
"To hit two home runs, it gives you a different feeling on the inside," Monroe said after doubling his season total of home runs. It was the third multihomer game of his career, and the first one since August 30, 2004.
It is known that Ron Gardenhire has benched Monroe for some time, but he had a good feeling about putting Monroe in the lineup because he had been successful about Tim Wakefield in the past. Monroe's words were, "hitting against a knuckleball was like playing Wiffle ball: you don't know where that thing is going." According to mlb.com, he also said that it sure brought a lot of memories of playing ball in the backyard.
In the top of the ninth, the Red Sox did not believe they were not done. They did, however, believe it was going to be hard with almost perfect Joe Nathan (0.69 ERA, 11 saves). With runners on first and third and only one out, J.D. Drew came up big with a double that scored a run and put two runners in scoring position. Centerfielder Carlos Gomez should've had the ball though, but he just timed the ball inaccurately; I'm sure that if Torii Hunter was in center field for the Twins, the play would've been considered routine. So, with runners on second and third, Coco Crisp was up, who already had a big night narrowing the lead down to two in the seventh, as I mentioned above. He hit a line drive that ricocheted off Nathan, which scored Mike Lowell from third base. However, Drew was gunned out at third on a great heads-up play by Nathan.
"When I saw the ball kick up in the air, I felt it was coming at me," Drew said. "I wouldn't say it was a bad read, just an unfortunate read."
"J.D., obviously, did the right thing there," Crisp said. "You've got to try and get to third with one out there as the tying run. Nathan just made a heck of a play."
Speaking of Crisp, J.D. Drew wasn't the only man running aggressively on the basepaths. One pitch after Drew was out at third, Crisp got into scoring position, stealing a base off of Nathan and Joe Mauer. The man you want with the bat, Manny Ramirez, subbed in for Kevin Cash. However, Man-Ram wasn't able to drive in the tying run, as he grounded out to Adam Everett for the final out of the ballgame. The Twins retaliated after a close loss on May 10th, and won in another close, exciting game, 9-8. It turns out that Monroe's solo shot was the game winning home run. 
On Another Note:
Tim Wakefield pitched only 2 2/3 innings. That is the shortest outing he has had since September 28, 2004.
Joe Nathan may have gotten the save, but his ERA jumped from a 0.69 to a 1.93.
The Twins proved that making offseason moves really pay off. Offseason acquisitions Mike Lamb, Craig Monroe, and Adam Everett were responsible for all of the RBI and 4 of the 9 runs. "We are trying to get these guys going," manager Ron Gardenhire said. "All we can hope for is they come along and help us score some runs."
The Red Sox almost managed to pull off another comeback win on Mother's Day. Last Mother's Day, the Sawx defeated the Baltimore Orioles at Fenway Park thanks to a six run rally in the bottom of the 9th, defeating the O's 6-5.
With Alex Cora back in the lineup,

Jed Lowrie

was sent back to the Minors on this day.
Homer of the Day (May 10, 2008)
And the Homer of the Day for May 10, 2008 goes to...
Pittsburgh Pirates' Jason Bay hit a two run shot off of Atlanta Braves starter Chuck James when the Pirates were trailing by one run in the bottom of the 4th inning. It ended up being the game winner, as the Pirates never looked back, winning 5-2.
Congrats to Jason Bay for becoming the first Pirate and Canadian on winning the Homer of the Day.
Others who received votes:
Prince Fielder of the Milwaukee Brewers (1 vote)
Jed Lowrie of the Boston Red Sox (1 vote)
Dan Uggla of the Florida Marlins (1 vote)
On Another Matter:
Thanks to everyone who has been voting, especially those who have since the very beginning (you know who you are). Like I said, the more votes we have in these articles, the better. It makes it more interesting, and makes me feel better when I post these articles.
I would like to thank Falcon02520 for helping me out with the future articles (that will be posted up soon). He has already finished six of them, and I really appreciate his diligence for me in order to get caught up.
To all those mothers out there, Happy Mother's Day; at least you didn't have to wait another year to wait for me to say it on the "Homer of the Day".