| Batter | Team (B) | Inning | Pitcher | Team (P) | Situation |
| --- | --- | --- | --- | --- | --- |
| Melky Cabrera (5) | Yankees | 5th | C.C. Sabathia (6) | Indians | 0 on, 1 out, 0-0 |
| Raul Casanova (1) | Mets | 2nd | John Smoltz (1) | Braves | 1 on, 1 out, 1-0 |
| Carlos Delgado (2) | Mets | 3rd | John Smoltz (2) | Braves | 0 on, 2 out, 3-0 |
| Carlos Delgado (3) | Mets | 7th | Will Ohman (1) | Braves | 0 on, 1 out, 5-3 |
| Nate McLouth (5) | Pirates | 1st | Brett Myers (9) | Phillies | 0 on, 0 out, 0-0 |
| Nate McLouth (6) | Pirates | 5th | Brett Myers (10) | Phillies | 1 on, 0 out, 2-1 |
| Evan Longoria (3) | Rays | 7th | Josh Beckett (2) | Red Sox | 0 on, 0 out, 1-0 |
| Paul Konerko (4) | White Sox | 2nd | Jeremy Guthrie (6) | Orioles | 0 on, 0 out, 0-0 |
| Brian Roberts (3) | Orioles | 3rd | Jose Contreras (2) | White Sox | 0 on, 1 out, 0-1 |
| Paul Konerko (5) | White Sox | 6th | Jeremy Guthrie (7) | Orioles | 0 on, 0 out, 1-1 |
| Bill Hall (7) | Brewers | 7th | Taylor Tankersley (1) | Marlins | 0 on, 1 out, 0-1 |
| Wes Helms (1) | Marlins | 10th | Seth McClung (2) | Brewers | 0 on, 0 out, 2-2 |
| Milton Bradley (2) | Rangers | 1st | Livan Hernandez (5) | Twins | 2 on, 1 out, 0-0 |
| Jason Botts (2) | Rangers | 3rd | Livan Hernandez (6) | Twins | 0 on, 1 out, 6-0 |
| Josh Hamilton (5) | Rangers | 8th | Joe Nathan (1) | Twins | 0 on, 0 out, 9-0 |
| Scott Rolen (1) | Blue Jays | 1st | Gil Meche (6) | Royals | 0 on, 1 out, 1-0 |
| Albert Pujols (5) | Cardinals | 5th | Brandon Backe (5) | Astros | 1 on, 1 out, 2-1 |
| Troy Glaus (1) | Cardinals | 7th | Brian Moehler (1) | Astros | 0 on, 1 out, 4-1 |
| Chris Snyder (1) | Diamondbacks | 2nd | Jake Peavy (4) | Padres | 1 on, 2 out, 0-0 |
| Brandon Phillips (4) | Reds | 7th | Pat Misch (1) | Giants | 0 on, 1 out, 8-1 |
| Brandon Phillips (5) | Reds | 9th | Pat Misch (2) | Giants | 0 on, 1 out, 9-1 |
| Yuneisky Betancourt (1) | Mariners | 4th | Joe Blanton (3) | Athletics | 0 on, 1 out, 1-0 |
For the people who have not been introduced to the "Home Runs of the Day" yet, let me just clarify a couple of things:
The "situation part" (the part that states the score) is the score BEFORE the home run is it.

And, on a second note, the first part of the score is the score of the home run hitter's team. The second number represents the opponent's team.
The Battle of the Former 19 Game Winners
Six months have passed since Chien-Ming Wang and the New York Yankees faced the Cleveland Indians and C.C. Sabathia in Game 1 of the 2007 ALDS. A lot of things have stayed the same during those 6 months, while other things have changed radically. You can take a look at the aces of both of these teams for instance. Wang has dominated every game he has been in (except for 1 against the Boston Red Sox where he surrendered 8 runs in 4 innings), while C.C. has done awful (he surrendered 5, 4, 9, and 9 runs respectively in his first 4 games, and one good game after that, where he pitched 6 scorless innings with 11 strikeouts). However, since that only good outing Sabathia had, they have not lost a game, and were on 5 game winning streak going into the game. Was that game C.C. dominated in just a lucky victory against the slumping Kansas City Royals? Looking at his stats of the Indians/Yankees game, it appears that it wasn't. He matched Chien-Ming Wang nearly inning after inning; the key word there is "nearly".
This game was nothing more than a pitcher's duel, as only one run and eight hits (4 from each team) were surrendered during the entire game. That one run scored was right after Sabathia picked off Robinson Cano at first. The very next pitch by Sabathia was driven over the left field wall by Melky Cabrera (the best #9 hitter in the MLB right now, in my opinion), tying him for the team lead with Jason Giambi's 5 home runs. Cabrera's 5th home run last season came on July 25th, so you can tell that he's learning what pitchers are going to throw him in certain situations.
"I feel good," Cabrera said. "I've been lucky that I have five homers so far. I'm just paying attention to that I'm in the lineup every day."
Although C.C. Sabathia pitched a tremendous game, giving up only 1 earned run in 8 innings pitched, along with 8 strikeouts, and only one walk, that 1 run could make the difference in a win/loss (depending on which side you're on). In case you were wondering, Wang pitched 7 innings, with 9 strikeouts (which is not like him at all, as he's more of a groundout pitcher) and 2 walks. Not bad...
On a side note, Grady Sizemore's consecutive game streak came to an end today, as he sprained his right ankle the day before. Sizemore's streak, which had been the longest active one in the big leagues, ended at 382. He had not missed a game since August 22, 2005. Baseball's new reigning everyday go-getter is the Atlanta Braves' Jeff Francoeur, who [as of April 27th] played in 351 straight games. Sizemore's streak was the longest by an Indians player since Toby Harrah's 473 straight from 1979-83.
Also, Mariano Rivera pitched a perfect ninth with two strikeouts of his own to nail down his 7th save of the season (the 450th of his career), leaving him 28 behind Lee Smith for second place all-time. A late congratulations is deserved for us at AGM to Rivera for becoming the 3rd pitcher to accomplish this feat.
Gagne Pitches Scorless Ninth? Brewers Still Lose!?
There have been a lot of surprises going on so far this season. One of them happened on the 27th, when the king of blown saves, Eric Gagne, pitched a scoreless ninth inning, and the Milwaukee Brewers still lost to the Florida Marlins. Thanks to Wes Helms, who homered in the 10th against Seth McClung, the Marlins were able to beat the Brewers in extra innings, 3-2.
Both starting pitchers, Manny Parra (Brewers) and Ricky Nolasco (Marlins) weren't able to go through the sixth inning, as both managers relied more on their bullpens for the last 4-5 innings of baseball. Guys like Taylor Tankersley (who blew his second save in the game), Derrick Turnbow Eric Gagne, and Seth McClung, all of whom have ERAs above 6.00, were involved in the game. Overall, both bullpens did pretty well, as each team only surrendered 1 run.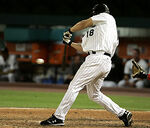 The 7th inning was pretty fun to watch, as Mitch Stetter was able to get the Brewers out of the inning 1, 2, 3, after Turnbow gave up two walks and a base hit to load the bases. In the bottom of the inning, with the score being 2-1 in favor of the Marlins, Bill Hall crushed one off Taylor Tankersley, driving it over the left field wall for his 7th home run of the season. 2 1/2 innings later, Wes Helms, a man who hasn't homered since August 10th of last season, hammered a pitch to give the Marlins the lead again. Kevin Gregg was able to pick up the save by striking out Craig Counsell, although there were runners on second and third.





Brett Myers: Two More to Add to his Collection
Philadelphia Phillies' Brett Myers still leads the Major Leagues in home runs surrendered. He added two more to his season total, breaking the tie he had with Texas Rangers' Jason Jennings earlier in the season. In only 37 innings pitched, he has surrendered more home runs than he did for the entire 2007 season; he pitched 68 2/3 innings last season. He's not starting off that great. I'm sure that if he did better, the Phillies would be first in the NL East by at least a couple of games, and they'd would have to battle for a .500+ winning percentage, like they're doing right now (they are 14-12 as of April 27th).
Remember, you can always have the privilage to cast a vote for the "Homer of the Day" in the comments section down below. Feel free to discuss who should win today or who should've won yesterday, or what I could've done to make the article better.
Homer of the Day (April 26, 2008)
And the Homer of the Day for April 26, 2008, goes to...
Click here for the details of the game, and the situation he was in when he hit the home run.
Others who received votes were:
Akinori Iwamura of the Tampa Bay Rays (1 vote)
Skip Schumaker of the St. Louis Cardinals (1 vote)
On Another Matter:
I apologize for procrastinating, once again. I've just been really busy with catching up on my APs. I can't tell you how much I appreciate you waiting for these. Thanks guys, for your support.
We need more than 3 votes. The more votes we have in these articles, the better. It makes it more interesting, and makes me feel better when I post these articles (in other words, it makes me feel like I'm not wasting me time). Thanks in advance.
If this helps, I give a thumbs up to all the votes, and almost every single comment on here; for all those people who desperately need those 15 points.