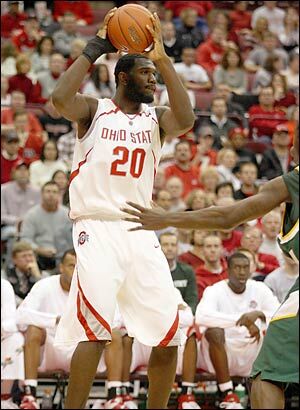 The Portland Trailblazers were flabbergasted to hear that No. 1 pick Greg Oden was playing a pick up game at a fitness center in Oregon. Oden is in the sixth month of his rehabilitation from microfracture surgery on his right knee. He is on schedule to return in time for training camp in October. Oden has been cleared to participate in light drills at practice and the team wants to control his running and jumping. Coach Nate McMillan made it clear that as valuable as he is, the last thing he wants to see him doing is playing basketball.
Oden was very limited during workouts at the Blazers facility so he went to another workout center where he would be free to do what he wished. Oden played in two pick up games, where he dominated and one of the players posted their account of the games on the internet and then a friend told a friend who told a friend and it eventually got to the Oregonian and then to McMillan. McMillan told reporters "Right now, these young guys don't know their value," McMillan said. "That's part of growing up and maturing. In a couple of years he will understand how stupid that was. I understand it, because I've done it.
So what do you think, I thought McMillan's quote was pretty foolish, like I had said about the NCAA, it has gotten to the point where these people are more like assets than humans. Its not like he was riding a motorcycle without a helmet, or in a strip club he was working out trying to get ready for the season. Not to mention until proven otherwise he's only 19 and will heal faster than most. The Blazers should be ecstatic that he looked as good as he did so soon.