The Giants suffered a rare home series loss this weekend, losing 2 of 3 to the Cincinnati Reds, and it was the pitching that couldn't hold the Reds down.
On Friday night, Tim Lincecum put together a pretty good start on paper, but if you watched the game, you know that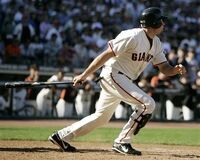 he did not quite have his best stuff with him. He allowed just 2 earned runs on 6 hits in 7 innings, and struck out 7 batters in the process, but he got into a little bit of trouble late and the Giants' bullpen couldn't hold on for him. The Reds scored 7 runs in the final two innings of that ballgame and ultimately blew out the Giants after entering the late innings down a few runs. Brian Wilson blew his 5th save of the year and Sergio Romo continued his struggles by allowing a run in just 1/3 innings pitched. The Giants bullpen has hit sort of a dry spell lately and I think it has to do with them not getting as much work, which is a good thing. The Giants starting pitching has been terrific lately, even without Randy Johnson, and it's really cut into some of the relievers work load. Merkin Valdez just went 9 days in between appearances, as threw in his first game since July 31st on Sunday, just to show how hard it's been to find innings. I wouldn't worry too much about their implosion on Friday Night though, they've been very solid throughout the year and should be solid down the stretch.
The Giants' bullpen wasn't great this weekend, but Barry Zito and Eugenio Velez continue to put on a show. Zito put together his fifth consecutive quality outing in which he's allowed 2 runs or less while Eugenio Velez had himself another crazy weekend at the plate. This is by far his best stretch of starts he's had since joining the Giants, and he couldn't have picked a better time to do it. We've talked at length here about how the loss of Randy Johnson has put a little extra pressure on the rest of the starting staff, and Barry Zito in particular has really answered the bell since the Unit hit the shelf. In his five starts since the All-star break, Zito's gone 3-1 with a 2.32 era and a 1.16 WHIP with 25 strikeouts in 31 innings. The dude has been absolutely dealing, and even though he's been a huge disappointment in his 2+ years here so far, he's still got plenty of time to make good, and he's on that track right now. He's approaching .500, which is something I would have deemed nearly impossible when he was 1-6 with on May 30th.
We've talked about Velez a lot here in recent posts, so I'm not going to get into him too much. But all he did this weekend was put together two more multi-hit ballgames, including a couple of home runs, which raised his average to .330 entering play on Sunday. The Giants seem to have different players stepping up at different times this year, which is really keeping their offense afloat. For much of July, it was Pablo Sandoval and Aaron Rowand who were carrying the offense, but right now, Velez is the guy who's getting everything going. The amazing thing about it is, many people didn't even thing Velez would be a serviceable utility guy up here, let alone someone who'd take a starting spot and not relinquish it.
The thing I am interested in seeing play out is how the playing time gets divided when Nate Schierholtz returns? Schierholtz was one of the Giants' hottest hitters when he hit the DL in late
July, and they're going to need his bat in there when he's ready. With Velez playing the way he is, and taking the reigns of the leadoff slot, it's going to be hard to just remove him from the lineup, or even start cutting into his playing time when Nate's activated. I think the guy who's playing time should be cut into is Randy Winn. I like Winn as much as the next Giants fan, but numbers don't lie, and he's the week link in the outfield right now. Winn is having, by far, his worst offensive season in his career, and just when you think things are on the up with him, he goes on another 2 for 19 stretch or something. What's making his low average and OBP even tougher to swallow, is the fact that he's hitting for zero power. An outfield of Velez in left, Rowand in center and Schierholtz in right is what I'd like to see take the field when Schierholtz is activate, at least until Winn heats up or someone else cools down.
Trevor Cole The Giants Baseball Blog