Just two years ago I wrote a eulogy of a dear old friend. The year was 2006 and a friend that I traveled through 14 seasons of baseball joy with was gone. The longest consecutive playoff run in the history of baseball had come to an end and the Atlanta Braves Dynasty was gone.
Today, I commemorate another friend's passing. The New York Yankees Dynasty officially ended. Yes, I said 'friend'.
Sure, we were never "tight" but we were always intertwined. I can't imagine baseball without having the villainous pinstripes at which to spew my special brand of witarcasm. From 1992 - when I renounced my California Angels allegiance - through the beginning of 2007 - when Matt Silverman "acquired" my services - I didn't have a favorite baseball team. I enjoyed some teams more than others but I had 25 (until '93), then 27 (until '98) then 29 "favorite" teams - every team BUT the Yankees.
The Yankees made me cheer for teams and players I had never otherwise considered root-worthy. And oddly enough the elimination of the Bronx Bombers happens today, the last game of Yankee Stadium is being played and it doesn't mean a damned thing. More odd is the fact that the Yankees are hosting the Baltimore Orioles – which happens to be the original name of the renowned franchise.
Some people differ on what is the true definition of a 'sports dynasty'. By definition a dynasty is a group in power for a length of time that spans generations. Personally, I believe that a dynasty should extend as long as the TV series Dynasty (Nine years). Three championships in 4 years does not meet that qualification, Patriots fans. But a 14 year playoff by the Atlanta Braves run did...
The New York Yankees had a chance to tie that record this season merely by extending their playoff appearance run just one more year. The Yankees booted their tenured manager Joe Torre and replaced him with Plan B, Joe Girardi. The seeds were sewn and now it is harvest time and the Yankees are closing their historic building with a big, fat "ABSENT" mark in the October roll call.
The Braves and Yankees of the 90's and 00's are akin to the Yankees and Dodgers of the late 70's and early 80's, the Yankees and Dodgers of the late 40's and 50's, the Yankees and Cardinals of the late 20's and the Yankees and Giants of the Early 20's. Point is, every time the Yankees have a serious run of success, there's an NL team there to counterbalance them and play victim to the tally of 26.
The New York Yankees run started auspiciously in 1994. After 12 straight years of toiling behind the Red Sox, Blue Jays, Orioles and Tigers of the AL East - the franchise's second longest absence from postseason (19 years from 1901 - 1919), they reached the pinnacle of baseball again, leading their league in wins when the "Death of Baseball" occurred - the '94 Player's Strike. Perhaps we can blame the strike on the Montreal Expos having baseball's best record or we can place blame on "The Curse of Donnie Baseball"... I prefer when given the choice to always blame the Yankees, who by definition "suck". Or we could blame the Texas Rangers who were leading their newly realigned AL West division with a record that was TEN games below .500... not THAT is sucking defined.
Either way, 1994 was the turnaround and without a doubt the beginning of a new era for the vaunted Yankees. They would have assuredly earned a playoff spot in 1994. It is because of that I believe the "Dynasty" rightfully began in 1994 and not 1995. But the streak of playoff appearances is all anyone will be willing to count.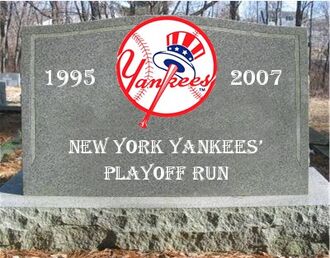 There's no doubting that the Yankees were a dominant team during their run, but there's also no doubting that their run needed a LOT of luck as well!
First, there's Jeffrey Maier's help. Secondly, there's George Steinbrenner to overcome.
Let's take a look at some other details:
During the Yankees run, they won FOUR World Series and appeared in another two. They were the Wild Card three times (unlike the Braves who were division champs every year but the strike season). The Yankees never advanced past the first round when they were the wild card, but were knocked out of the playoffs by a wild card team 3 times ('03, Marlins, '04 Red Sox, '06 Tigers).
The Yankees won 100 or more games FOUR times (or 4 more times than the Boston Red Sox have in the last 60 years) including a then-AL record 114 games in 1998. But in 2000 the Yankees won their division with a record of 87-74 (a .540 winning pct. - about the same as they have this season). That 87-74 was good enough only for 5th best record in the A.L. in 2000 as 90 win Cleveland was left out in the cold behind Wild Card Seattle.
Oddly enough, as the Yankees were churning out wins, the "supposed" Yankee faithful took a while to have their impact in the attendance. From 1994 to 1997, the Yankees were no better than 6th in the American league in attendance and it wasn't until 2003 that the Yankees finally led the AL in attendance for the first time since 1981. They have been tops in attendance in baseball ever since.
So here we are in 2008 looking at a playoffs with the longest consecutive appearance streak at a whopping TWO - Angels, Cubs and likely the Red Sox and Phillies are repeating as playoff participants. That's it!
From 1994 to 2007, the New York Yankees had a .602 winning percentage - that's a 97 win/season AVERAGE! In 2007, NO MLB team amassed 97 wins and in 2008 there might only be one team to reach that illustrious plateau. During that same span only the Braves (5), Cardinals (3) and Indians (3) had more than two seasons with 97 or more wins. For perspective, consider that SEVEN MLB franchises (Blue Jays, Marlins, Nationals, Brewers, Rangers, Rockies, and Rays) have never won as many as 97 games in ANY season and those teams are 4-2 in World Series play!
Will we ever see another run by the mystical, aura-drenched Big, Bad Pinstripes again - or any other team, for that matter? I don't know and truthfully, I hope not... but we - just as the loudmouthed Yankees fans who chant "26" - will always have the memories!
R.I.P. New York Yankees Dynasty 1994/1995 - 2008
Guys that were there for the whole run (1994-2007)
George Steinbrenner (supposedly)
Players who were there for the whole playoff run (1995-2007)
The main contributors
Players who were All-Stars for the Yankees during the Dynasty ('94-'07)
The other guys/names who slapped pinstripes on and joined the ride

That's quite a list of former all-stars and vagabonds. There's certainly a plethora of headcases and trainwrecks in there too!
Teams defeated by the Yankees Dynasty
1996 Texas Rangers
1996 Baltimore Orioles
1996 Atlanta Braves
1998 Texas Rangers
1998 Cleveland Indians
1998 San Diego Padres
1999 Texas Rangers
1999 Boston Red Sox
1999 Atlanta Braves
2000 Oakland A's
2000 Seattle Mariners
2000 New York Mets
2001 Oakland A's
2001 Seattle Mariners
2003 Minnesota Twins
2003 Boston Red Sox
2004 Minnesota Twins

Four times the Yankees were eliminated by the eventual World Series champions.

R.I.P. Yankees Dynasty! I won't lie and say I enjoyed your reign, but I definitely enjoy it today!
Community content is available under
CC-BY-SA
unless otherwise noted.