This is the fourth and final installment of this Spring Training Escapade. Go back to the beginning and catch up or just start the journey all over again...
While walking back to the car with a coffee and some bagels, take a look at the sky. Flawless. There is a shade blue unmatched by any other tint. The clouds are as pure a white as there never before has been seen. With a slight breeze and the tops of palm trees, stop moving for a second. Take in these sights. Feel the tingle of a slight breeze. Breathe in that fresh, pure air coming off the bay. The yellow sun shines down perfectly. It brightens the world but is not blinding to the eye. Today's weather... is perfect. Thank the heavens above for this flawless day.
Be wary opening the driver's side door. The cooling air will come out, smouldering the pores of the body. That is not the cautiousness that must be considered when approaching a man flinging himself around the passenger seat. "I'm not gonna write you a love song..."
The ears begin to bleed before the dial on the radio can even be reached. "Dude... What the fack? I mean... no, yeah, what the fack was that God-awful racket of noise?" Better throw on some Metallica now; it has become too unsettling and some hard rock will fix that and bring in the atmosphere and spirit necessary for Spring Training Baseball!!!
That is right ladies and gentlemen today is a day made for some baseball. Rolling into the same parking structure as the day before, take in every second because today is the final day of the trip. One last day and one last game in which the Houston Astros are in town facing the Tampa Bay Rays here in downtown St. Petersburg.
Sunscreen up and head for the elevator. When arriving at Progress Energy Park a few minutes earlier, an opening gate in the right field corner was easily noticed. So before the gates open to allow entry the field, take a stroll down and watch the Rays take some swings. Notice B.J. Upton working hard out in center field again. Evan Longoria is once again working with someone over at third base. What a beautiful sight it is watching professional athletes work.
The gates are opening up and a pack of fans begin to enter the stadium. Grab a hot dog and soda/beer and lay back in the section of seating over-top the Rays' dugout. Lean back and pick up your feet. Close your eyes, chillax in the vast of sunlight that is pouring all around. Take a second, letting the eyelids grow heavy. Just listen to the waves of sounds. The slight chatter of fans, the sea gulls above calling aloud, the crack of the bat... there it is again.
Enjoy the rest and relaxation? Good because the game is about to begin. Nobody would like to miss a second of this action filled game. With a combination of outstanding pitching and prolific offense, this is going to be a good one.
Astros Pitchers
Runelvys Hernandez started on the mound for the Astros. He escaped through two and a third innings only allowing one runs despite walking three and giving up four hits. He did strike out three to help stay out of trouble. (Strike-outs will be the Achilles Heel of the Rays this season.) Overall, the Astros got what they expected from Hernandez, a decent outing that won't happen too often. He is a guy they are hoping will "bend but not break" this up-coming season.
With Jack Cassel on the mound in the bottom of the fourth, he didn't get much help from his defense. They committed two errors allowing two unearned runs and relinquishing their lead in the contest. He allowed only one hit in two innings while staying composed even when the guys behind him were not getting the job done. It was an impressive performance, one definitely deserving of the decision.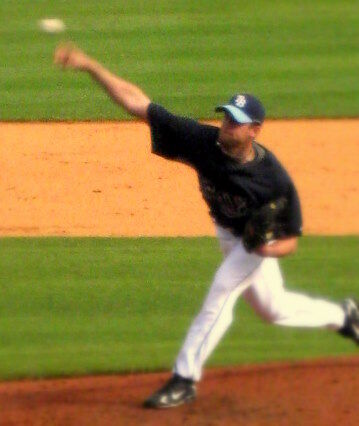 Rays Pitchers
Jason Hammel did not have a flawless start for the Rays, but it was effective none the less. Only one earned run in three innings and more importantly his command was very solid. He stayed ahead in most counts and kept the ball down and on the corners of the plate. He had a nice showing. Mitch Talbot looked the strongest of all pitchers on this day. He came in with a dominating presence. Working quickly, he set down three of the four batters he faced (two on strikes). With his hard fastball and good command Talbot looked like the guy who just owns every opponent he faces.
On the other side, Scott Dohmann had a day he would like to forget. In one inning he allowed four runs on four hits and one walk, blowing the slim two run lead the team carried at the time. He was getting hammered, line drive after line drive, base hit after base hit. Would someone please get up in the pen?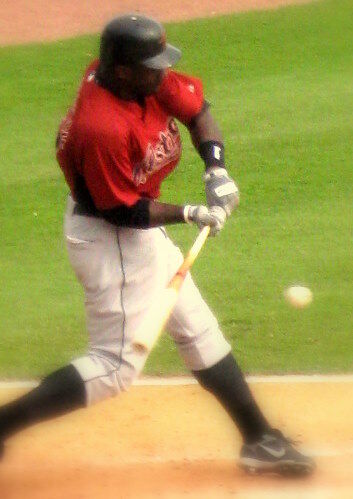 Astros Position Players
One name, Reggie Abercrombie. He did not get the start for the 'Stros, nor did he make much of an impact on the game but what he did do was make an impression not soon to be forgotten. The 6'3" 215 pound speedster showed some amazing power during batting practice. So what if it's only batting practice? Hitting the ball four hundred plus feet multiple times in a row is very impressive. All others on the roster failed in comparison to Reggie's display during the pregame.
A guy who did contribute to Houston's offense was Jose Cruz Jr. who is continuing a fine spring showing. He knocked in two runs on three solid hit singles. Unfortunately Hunter Pence (hitting behind Cruz) could not perform at the same level. His rough day landed him at the zero for three mark with five stranded runners.
Humberto Quintero had a good day as well. There still isn't any clarification that he remembers it though. During the fourth inning of play, B.J. Upton rattled a double down the left field line. Moving on the play Carl Crawford came flying home tying with the ball. Returning to his football playing days, C.C. went low and took out Quintero, sending the ball sailing by and allowing B.J. to follow in for another score. Quintero was down for a few minutes, but he got the Rays back by doing it on the scoreboard going two for two with one RBI and one runs scored.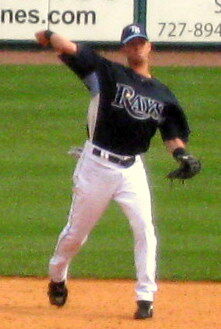 Rays Position Players
A dark-horse for this year's Most Valuable Player award had a strong showing. Bossman Junior stroked two doubles scoring two runners and crossing the dish once himself. During his only other at bat he did strike out, but that seems to be his only offensive flaw. While scaling center field, a long fly ball was hit into the right-center gap. Upton put on display his burning speed and caught it on the run. A very solid play, one of many he made on the day.
Reid Brignac finally received some action this game. He did not seem as if he belonged; walking around at times seemingly lost and over his head. Guess that is why he'll be opening up the year not on the big league roster. Although Reid's presence seemed to escape him, he did show good form and soft hands when taking ground balls. He also showed a decent eye at the plate and a solid swing. For a young shortstop who wasn't supposed to have much chance on making the big league roster he looked as good as expected.
The game would come to a close after Tampa Bay could not even close in on the four run deficit during the last three innings of play. There would be no dramatic ending, no celebration, and no more Spring Training. With one last look around, start walking slowly back to the truck.
It's Rout 275 East to Route 4 East. Take the turn-off for Route 95 North and home is only about 1000 miles from there. Don't look so gloomy either. Be thankful for this trip, don't be distraught that it is coming to an end. It may be the last day of escapading, but it won't be the last escapade...
Final Score: The Houston Astros take down the Tampa Bay Rays by a score of eight runs to four.