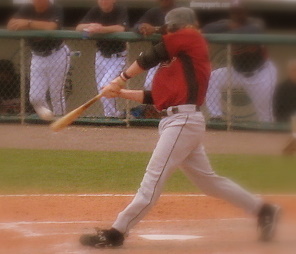 Rolling into Disney's Wide World of Sports Complex on Sunday morning, the air is light and refreshing.  The sun beats down strongly, but after experiencing ten degree Philly weather over the last couple weeks, the bright sunshine and eighty degree weather is soothing.  The smell of fresh cut grass, sunscreen, and hot dogs, the sound of the batting practice off in the distance, the roar of the crowd, the bright sun with sporadic cloud cover... this day was tailor made for one thing... baseball.
Spring Training has begun and there is little more that can be said than "It's time, for some baseball."  The Houston Astros are visiting Lake Buena Vista to take on the Atlanta Braves in Disney's famous sporting complex.  Both inside and out, this place has the Disney Park Trademark; it is majestic.  There is that Disney magic in the air (and the Angels aren't even playing).
The Rav4 rolls to a stop on the lawn, just at the end of the walk towards the stadium.  Trees are lined on each side of the pathway as a plethora of fans walk the stretch to the front gate.  Will call provides the Ticketmaster ordered seating, and it is up a short flight of steps to the front gate.  After flashing the pair of stubs at the entrance, the tunnel seemingly draws in the crowd, captivated by the thoughts of what they are about to see.  The light in the tunnel is dim, but after passing through it, the sunlight comes pouring down like water in a hurricane.
After a momentary second of blindness, a long awaited sight appears; Spring Training.  That is right! What some people call meaningless baseball games where the stars play once every now and then, others see as heaven. Baseball of any sort of any level with anyone playing is never meaningless and is always accompanied by an unworldly feeling of awe.
Houston is taking batting practice.  More specifically, Kaz Matsui, Jose Cruz Jr. and Yordany Ramirez are swinging the lumber.  There are guys are shagging in the outfield. Ty Wigginton is taking ground balls at third base.  It is simply a long awaited sight.  While captivated by the display at hand, consciousness of location escapes, and soon the sights have shifted to the visiting team's bull-pen along the left field line.
The pen is walled off from the field itself.  It is built into the hill where the Berm Grass seating is located.  Fans gather quickly when Astros starter Brandon Backe begins warming up; tossing the rock to young prospect J.R. Towles.  Batting practice had wrapped up at some point while Backe was putting on a fine display of his arsenal, looking good and repeating his mechanics soundly.
The Astros were a split squad today but the Braves were at full strength bringing Mike Hampton to the hill to face a depleted looking line-up. Basically, there are four projected starters in this line-up; Bourn, Matsui, Pence, and Towles.  Hunter being the only real "star" player for the 'stros on this day.  It ok though, because Atlanta showed up with their big names:
The only one really missing from this bunch would be Chipper, who will start at third base this season.  As mentioned before Mike Hampton is one the hill, injury free (?) for the first time in a long time as it appears. Now, let's not get into the play-by-play.  There are some things that need be touched on though:
Astros Position Players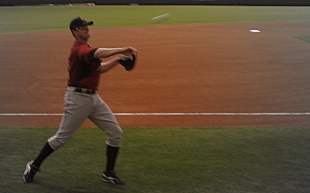 During warm-ups Hunter Pence short-armed every throws.  He looked really uncomfortable throwing.  Given that he has an... awkward way of doing things (IE: it looks kind of funny when he runs, throws, swings, etc) and it normally gets the job done, this little catch seemed like nothing.  When it came to infield-outfield drills that the team goes through though, Hunter showed absolutely nothing as far as arm strength is concerned.  It is shameful and disappointing.
Kaz Matsui put on a short little hitting clinic in batting practice.  He approached the situation like hitters want to do; take one round the opposite way, pull another, work going up the middle, and, as always, try to hit line drives.  He did this wonderfully, shooting balls in all directions on a line into gaps (or where gaps would be during a game).
Jose Cruz Jr. had a less than impressive batting practice.  He tried pulling everything on the outer half of the plate, grounding it right to Manzella who was fielding at shortstop.  Cruz must have worked it out though, because it did not translate to the game as he went two for three, one of which was the Astros only extra base hit of the day (double).
Astros Pitchers

Brandon Backe was strong. He worked at a steady, some-what fast speed, but he wasn't rushing or in a hurried manner.  He was composed on the mound and worked the count nicely while keeping hitters off balance with his change-up.  Despite a walk to Martin Prado in the first, Backe looked very strong, and judging from not only this game, he looks like he could have a very solid 2008 season.
Check the box score because it doesn't lie for Sampson and Paronto, they got raked; giving up eight hits and five runs in four innings of combined work.  Geary was even less impressive, yet he got away with some bad pitches and only gave up one run over two innings.  This game does not bode well for their futures with the club; not because they struggled, but because they appeared over-matched and in over their heads.
Braves Hitters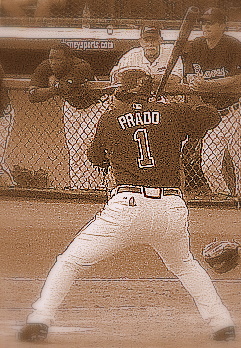 Martin Prado hit third in a fairly stacked line-up. This shows two things: Chipper Jones will be batting third come regular season play and Bobby Cox is confident enough in Prado's abilities to not change the line-up when Prado is playing.  Martin also looked like he gained some weight, making third base (not the assumed second base) the position he is more likely to fit at.
Yunel Escobar was impressive in his two at bats.  He fought off a couple of two strike pitches in the first inning, then laced a two RBI double in the bottom of the third.  Brandon Jones, Braves most major league ready prospect, finally got a hit this spring, bringing his average at the end of the game to the .125 mark.
Brayan Pena was solid after coming in to replace McCann.  He was one for two and defensively showed that he is more than capable.  He had some nice plays, one of which was throwing out Michael Bourn trying to take second base.  Pena needs to prove this season that he can back-up McCann at the catcher position because of last season when the Braves dealt away highly touted prospect Jarrod Saltalamacchia.

Braves Pitchers
Through two innings, Mike Hampton was solid. He allowed only one hit while keeping a fairly low pitch count.  Moss came in the eighth inning and got into some trouble in what was a one run game at the time.  He was able to pitch his way out of it though.  The Braves added one more in their half of the eighth before bringing in side arm hurler Carl Jung to close it out.  For a few minutes it appeared that extra innings would be in the future, but he was able to pitch his way out of trouble, allowing only one run after letting three runners reached base and picking up the save.
The sun lowers off in the distance as the home town crowd cheers for the home team's victory. This game, filled with it's share of big plays, big hits, and big time performances, is a great way to start off a short tour of Major League Baseball's Spring Training.  In reality, it is just nice to get back to playing some ball...
Final Score: The Atlanta Braves win over the Houston Astros by a score of six to four.