It was October 14, 2006 when Magglio Ordonez hit a deep fly ball into left field in the bottom of the 9th inning against Huston Street to defeat the Oakland Athletics in four straight games to advance to the World Series. They would eventually lose to the St. Louis Cardinals and lost the opportunity to become baseball champions for the first time since 1984. During the offseason (right before the beginning of the '07 season started), several baseball analysts and peers were quite confident that the Tigers could repeat what they did in '06, and maybe even win the World Series. Who could blame them? Most of the players from their productive lineup came back: Magglio Ordonez, Carlos Guillen, Placido Polanco, Curtis Granderson, Ivan Rodriguez, and many others. They also had the five pitchers in their starting rotation in Justin Verlander, Kenny Rogers, Nate Robertson, Zach Miner, and Jeremy Bonderman, as well as their closer (Todd Jones) and their set-up men (Joel Zumaya, Fernando Rodney, and Jason Grilli) all returned. Lastly, the [then reigning] Manager of the Year, Jim Leyland, was back and ready to somehow make this team better than it was in '06.
Unfortunately for Detroit's fans, they failed to win the World Series that year. In fact, they didn't even make the playoffs during the following season. Winning only 88 games compared to their 95 in 2006 (their best record since 1987 when they were last in the ALCS), the Tigers didn't do as well as people expected due to other teams' major improvements. The Cleveland Indians won the AL Central division, and the New York Yankees were able to clinch the wild card spot early with 6 more wins than Detroit that season.
Not making the playoffs was one thing that was hard to get over, but what was really saddening for Detroit was their 2008 season. The season didn't even start and many were picking them to win; who could blame them? The Tigers made two huge moves to improve what was already a decent offense: they acquired Edgar Renteria for Gorkys Hernandez and a fellow you might have heard of… Jair Jurrjens (who ended up notching 13 wins for Atlanta in 2008 with a 3.68 ERA), and they managed to get Miguel Cabrera and Dontrelle Willis from the Florida Marlins in exchange for Mike Rabelo, Eulogio De La Cruz, Burke Badenhop, Dallas Trahem, Andrew Miller, and highly-touted prospect Cameron Maybin. Although Miguel Cabrera did quite well with Detroit, adding 37 homers to the lineup in 2008 (not to mention a little unneeded weight), D-Train turned out to be a complete flop, finishing the season off with an 0-2 record, a 9.38 ERA, and a 2.208 WHIP. So those were two trades that backfired for the Tigers and showed the world that experience and stats from the past aren't always the best ways to go about trying to progress your team (not to mention the franchise). The only young talent they did keep in Armando Galarraga was the best pitcher in the Tigers' starting rotation… by a clear mile... with a 3.73 ERA, and the only starting pitcher with a winning record (13-7). Joel "Zoom Zoom" Zumaya, the fireballer, underwent surgery for AC joint reconstruction and was gone for half of the season, Justin Verlander's earned run average increased by over a run (not to mention he led the league in losses with 17), and Kyle Farnsworth and Casey Fossum were… well… Kyle Farnsworth and Casey Fossum. A team that was thought to win the division with two big acquisitions/signings within weeks of each other ended up losing their first seven games of the season to two AL Central adversaries in the Kansas City Royals and Chicago White Sox; they ended up in last place with a 74-88 record. It was the late '80's all over again: first they make it to the playoffs (and lose), then they don't make the playoffs with an identical 88-74 record, then they wrap up the third year with a last place finish.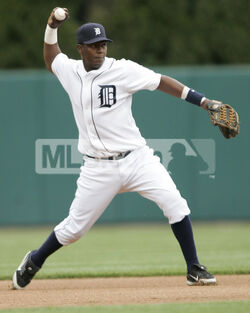 After a pretty disappointing season in 2008, the Tigers' management knew that things had to be changed for the better of the organization. They needed to clean their mess up and move forward, and they did just that. During the 2008-2009 offseason, the Tigers announced on September 29, 2008 that they would not pick up the option on shortstop Edgar Renteria, and he was released. They also hired a new pitching coach in Rick Knapp, a [former] Minor League pitching coach for the Minnesota Twins. He replaced Chuck Hernandez, who took part of the blame for the team's poor pitching. On December 10th, Detroit traded (then rookie) outfielder Matt Joyce to the Tampa Bay Rays and got Edwin Jackson in return. They also managed to get a new reliever in Brandon Lyon, the former closer for the Arizona Diamondbacks, who needed to prove he could pitch as well as he did in 2007. Also, Todd Jones, the Roller Coaster (which is a nickname given to him for a good reason), retired, and Fossum and Farnsworth were no longer pitching for Detroit (what a relief, literally). Last of all, in one of the biggest surprises in the offseason, right before the season started, Gary Sheffield was released by the organization, leaving him stranded at 499 career home runs. So, a lot was done. However, could the Tigers prove that they ''did'' have the talent and the chemistry to do well once again, or would it just be another unsatisfactory season for the Orange and Blue?
A whole new season has begun for these Tigers. There were a lot of expectations last year for Detroit, and surely there are much less this year, given that they aren't looking to repeat what they did in '08. Players who were essential to the Tigers' lineup before aren't doing so well. Magglio Ordonez has only hit 2 home runs and driven in 22 RBI's. Placido Polanco has only 3 home runs and 26 RBI's with a .264 batting average. Carlos Guillen is currently batting .200 with no home runs and 6 RBI's. Armando Galarraga is currently 3-7 with a 5.82 ERA. However, the players who were considered mediocre players within the two previous seasons have definitely picked up the slack. Brandon Inge got off to a great start this season, with his numbers currently being .274/16/44 (batting average, home runs, RBI's). Justin Verlander is looking like the pitcher who we all saw during his first two full seasons in the majors: 8-3, 3.31 ERA, 118 strikeouts.
On another note, the following players have been contributing for quite some time, but rarely get noticed (or at least should get a lot more recognition than they currently have).
Edwin Jackson has been lights out. He's currently 6-4, but that record is undermining how he's really doing: 2.39 ERA (2nd in the American League) and a 1.060 WHIP (3rd) [pretty much] explain that the Rays must've either thought Jackson wasn't going to do as good as this, or that Matt Joyce was going to become a very productive player. Look out, Zack Greinke...
Curtis Granderson is someone who hasn't been mentioned. He is on the verge of having a 30-30 season (or at least something close to it). He could work a little more on his batting average, but he is the Grady Sizemore who no one talks about, so to speak.
Rick Porcello, a twenty-year-old rookie, is someone who definitely has a lot of potential. Twenty years old, and he's 8-4 with an ERA of 3.54. All Tigers fans should be saying now is, "Thank God he didn't go to Florida."
It is has been over 2 1/2 years since Magglio Ordonez hit that tater in the left field seats to send the Tigers to the World Series. Detroit made a very good run that year, and it their pitching was one of the main causes of that. Here there are now, in 2009, in first place (38-31). It is still a tight battle for the AL Central division champs, and it's still anyone's game (even for Kansas City and Cleveland. However, the Tigers have a lot going for them right now, with a very productive batting lineup and a rather improving starting rotation. With this amount of talent, they need to take things one step at a time. They shouldn't get carried away, and keep working hard. "Clear eyes, full hearts, can't lose…"