The Celtics, the Patriots and the Sox all won a championship in my lifetime. So now what? Do I root for the Bruins and the Revolution? Nah, I would involve watching the NHL and MLS, and I just can't do it... I just can't. Anywho, what else is there to root for? Sure, I will root for the home team but nothing will ever top Game 4 of the Finals, or rallying from 0-3 or Vinatieri's game winner. As Bill Simmons already put it, I guess I'm suffering from Hugh Grant Syndrome: I seen it all so what next. Nevertheless here's my new list of wishes for the sports gods:
1. Allen Iverson wins a championship: KG finally got one so now who is the best player without the ring. Some would say its about time for LeBron, but he's 23, and he still has time, meanwhile the 32 year old Iverson its now or never. Iverson has always been my favorite post-Jordan, non-Celtics player and it sucks to see him fail. Now I don't want him to go the Spurs or somewhere and get a ring, I want him to lead the way, sort of like in 2001 but actually win this time. Iverson has more heart than just about anyone in the league and he nothing to show for it an MVP, an Eastern Conference championship, couple All Star MVPs, but not the ring that puts him amongst the greats.
2. Sox-Phillies World Series: Utley, Howard, Rollins, Hamels, Manny, Papi, Youkilis, Beckett. I've been hoping for this one for a while and both teams are off to a great start so it's not impossible I mean, the damn New York got a Subway Series, can I get this at least? As for who I want to win, I would say the Sox simply for the parade, they never get old, but if the Phillies pulled it off, it would be great to see Philly fans shut up for a while. Speaking of Philly fans....
3. Donovan McNabb stays healthy, wins MVP: It sucks when a career is ended by stupidity (Vick) or by injuries (McNabb). While Vick wasn't the greatest quarterback to begin with, McNabb went from being right up there with Brady and Manning to being one of the most tragic stories in the league. At first he couldn't get over the hump due to lack of help and now he can't even finish a season, however if 100% with the right offense, McNabb is one of the best QBs in the league. Its a long shot but how many people last year thought the Celtics would be the Champs...I thought so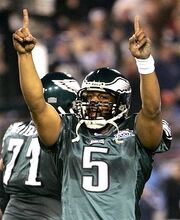 4. A Playoff in College Football: If they knew ANYTHING about sports, they would know a computer can't determine how good a team is on the field yet they base Championship games off a computer. How many times does OSU have to humiliate themselves before the BCS realizes that they have an easy schedule and aren't that good.
5. Jeff Gordon to win the Cup: I'm not the biggest NASCAR fan, but I have gotten into the chase these past couple years. While I like Johnson, I would rather see Gordon win. Growing up, the best racer was Jeff Gordon. Now it's like watching Jordan drop 12 points a game. He was so close last year too...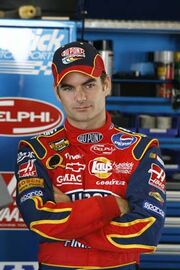 6. Bring an All Star Game to Boston: The NBA All Star game ORIGINATED in Boston, yet we couldn't even get the 50th anniversary game, while I don;t care for the All-Star game as I did back when I was a kid, I pay to see the Dunk Contest at least.
7. UConn to never win another championship: I had the grades and the test scores, how DARE they waitlist me....bastards lol
8. New Tyson: Yeah, I'm stealing this one from Simmons,. Really, boxing always centered around the heavyweight, and if they want to save the sport, they need a new dominant heavyweight like Tyson was back in the day. Well, actually, they should get two so they can go at it. It can be like the new Hulk movie (sick movie by the way). Is there even an American champion anymore?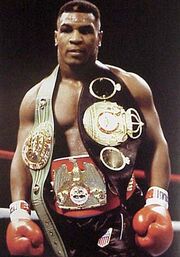 9. Bring Back NBA on NBC: Or at least give TNT the theme music.
10. Celtics win 9 more championships- According to Yankee fans, if you win 26 championships it doesn't matter how much you suck in the present day (yes I had to throw that in there)