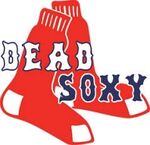 Going into Friday night's series opener between the Boston Red Sox and the New York Yankees, we opined that Boston would have a good chance to win if Clay Buchholz could deliver his first quality start of the season. Well, Buchholz had a quality start, all right. But it was a start of a much higher quality that had the Fenway faithful frustrated in the season's first matchup with the hated Yankees.
Chien-Ming Wang went the distance and gave up only a pair of hits tonight (one coming on a bunt single by Coco Crisp when the Sox were down to their last out), tossing only 93 pitches in the complete-game effort. The only real blemish on Wang's outing was the home run he allowed to J.D. Drew in the bottom of the 5th inning -- after that, it was smooth sailing for Wang, who wouldn't allow another hit until he was one out from victory.
Wang's counterparts on the mound didn't exactly play poorly, either. Buchholz went six innings and only allowed a single run, walking 3 and giving up 4 hits. Buchholz ran the pitch count high, though -- he threw 98 pitches in those 6 innings -- and Terry Francona had to turn to his bullpen, a move that hasn't exactly paid off for Boston so far this season.
It wouldn't on Friday night, either. When Mike Timlin entered the game to start the 7th, the game was tied at 1. Several pitches later, Timlin had served up a solo home run to Jason Giambi, making it 2-1 New York. After Timlin allowed a double to Jose Molina and Alberto Gonzalez sacrificed him to third, Hideki Okajima came in to pitch for the Sox, inducing a flyout from Melky Cabrera that was nonetheless deep enough to score Molina. It was suddenly 3-1, and the Yankees never looked back.
Meanwhile, Wang kept cruising, setting the potent Boston lineup down in order over and over again. By the time he allowed a runner (Crisp) to reach first base on neither a home run nor an error, NY had a 4-1 lead, it was the bottom of the 9th, and the Red Sox were one out away from a loss. There's really nothing else to say, except that it was a masterful pitching performance by Chien-Ming Wang tonight at Fenway Park: 9 IP, 2 H, 1 ER, 0 BB, 3 K, 1 HR. It's a line you won't see often, and you can bet that the Boston Red Sox never want to see it again.
Standings Watch
5-6, 4th in AL East, 1.5 games back
Up Next For The Red Sox
Template:PitchingMatchup
See the full series preview here.