A special joint Dead Soxy production by Davis21wylie and Tylersalt. Although D-Dubs did most of the work today.
Template:SeriesMatchup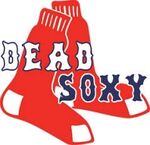 And so it begins... You know, we don't have to tell you that it's always special when the Yankees come to town -- there's a lot of history there, a lot of bad blood. This particular series should be no different, even though some of the faces are different and both teams have battled injuries to a .500 start through 10 games. For better or for worse, Joe Torre is no longer New York's skipper, so this is Boston's first look at the Yankees' new manager, Joe Girardi. On the Boston side, young phenom Clay Buchholz is going to get the start against Chien-Ming Wang in Game 1 tonight, which will mark his first foray into the maelstrom that is the Yankees-Red Sox rivalry. Then, on Saturday afternoon, it will be Josh Beckett taking the mound against Mike Mussina, and Sunday night's nationally-televised game will pit Daisuke Matsuzaka against New York's own pitching prodigy, Phil Hughes. It may only be mid-April, but it's never too early to fire up this rivalry. Game on!
Top Performers
BOS:
NYY:
Game 1
Template:PitchingMatchup
Buchholz pitched a no-hitter in his last start at Fenway Park... but somehow we don't think he'll repeat that performance tonight against the fearsome Yankees lineup (regardless of whether Derek Jeter suits up for NY or not). No, Boston will be happy if he can just snap his recent run of unsuccessful starts -- Buchholz sported a 10.03 ERA in the spring, and he wasn't exactly sharp in his first regular-season outing against Toronto, either. If Buchholz can give the Sox just 6 or 7 solid innings, they would be very pleased with him... and they might need just that kind of performance if they want to win tonight, because Boston's offensive output has been inconsistent at best so far this season. David Ortiz is hitting just .083/.267/.167 on the young campaign, and Mike Lowell will miss this entire series after spraining his thumb vs. Detroit on Wednesday. Still, you have to think Big Papi will bust out of this slump sooner rather than later -- and what better opponent to do it against than New York?
Taking the hill for the Yankees will be groundball machine Chien-Ming Wang, and he has pitched well in both of his 2008 starts, the most recent of which saw him allow zero runs in 6 innings against Tampa Bay. Wang is 5-5 with a 4.56 ERA lifetime against the Red Sox, although Ortiz and Ramirez have killed him head-to-head (Ortiz's career OPS against Wang is 1.416, Manny's is 1.518) and he has had his share of troubles at Fenway Park (Wang is 2-3 with a 6.17 ERA in six starts at the venerable old ballpark). As usual, Wang's success will depend on him inducing tons of grounders against Boston's lineup, which might be easier said than done -- the Red Sox have the 2nd-lowest GB% in the American League this year. Offensively, the Yankees will probably be missing Jeter again on Friday night, the product of a left quadriceps injury he suffered last week. Even if NY's captain doesn't play, though, the Yankees will have a field day if Buchholz isn't better than he's been so far in 2008. He says his stuff feels sharper than it did during the spring -- now it's time to put it to use in his toughest test yet.
Game 2
Template:PitchingMatchup
In his last start, Josh Beckett was knocked around a bit by the Toronto Blue Jays, but he was also pitching for the first time since he left a spring training game with back spasms a month earlier. Facing the Yankees at home on Saturday afternoon, the Red Sox ace says he feels completely recovered from the back problems he suffered in March, and he ought to be back to top form in no time. Despite the so-called "shelling" he suffered north of the border, Beckett was regularly hitting 98-99 MPH on his fastball against Toronto, and was changing speeds well, too -- what betrayed him in Toronto was his control come the fourth and fifth innings. So don't be surprised if that 9.64 ERA was more the product of rust than anything else... In fact, we expect Beckett to come out with his very best stuff on Saturday.
Facing the Sox will be Mike Mussina, who is 1-1 with a 3.09 ERA so far in 2008. Despite being 39 years old with declining velocity, Moose is still a wily veteran with plenty of tricks up his sleeve, and he knows Boston's lineup intimately -- he's faced the Red Sox more times than any other active pitcher (he's 19-15 with a 3.56 ERA in 56 career starts against them). Mussina may be nearing the end of his career (his 3.86 K/9 so far this year is beyond pathetic), and he can be wildly inconsistent from start to start at this point, but he still has the savvy to beat you on any given night. Can he beat Beckett, though? That will probably depend more on Beckett's performance than anything else, but if Mussina can at least contribute a quality start, New York will have a chance to win on Saturday.
Game 3
Template:PitchingMatchup
Seriously, how good has Daisuke Matsuzaka been so far this season? I mean, sure, he wasn't exactly great in his first start against Oakland, but that was understandable given the hype of his homecoming, and besides, he only allowed 2 ER anyway. And since the Sox have returned stateside, Dice-K has been lights out in his 2 starts, posting a microscopic 0.68 ERA and limiting opposing batters to a .413 OPS. I'm sure the Red Sox would love to see Daisuke be more efficient in the beginning of games, though, so he can go farther into the later innings to take some pressure off of the overworked and under-effective middle relief. Matsuzaka has yet to last more than 6 2/3 innings in a game this season. Cutting down on the walks (he's allowing 4.42 free passes per nine innings so far) would go a long way towards achieving that goal. Still, in last Tuesday's game against the powerful Detroit Tigers lineup (a group theoretically comparable to New York's big boppers), Matsuzaka allowed no runs and only 4 hits in 6-2/3 innings. Of course, the counterargument is that Dice-K struggled mightily against the Yankees as a rookie last year, putting up a 6.12 ERA in four starts (despite going 2-1 in those starts). So the best guess is that Matsuzaka's performance on Sunday will probably be somewhere in between the highs of his Tuesday outing against Detroit and the lows of his NY starts last season. Will it be enough to win?
Well, that depends on how well New York's own pitching phenom, Phil Hughes, handles the pressure-cooker that Fenway Park can be when you're wearing a Yankee uniform. Hughes stuck around for only 3 innings in a rough April 8th loss at Kansas City, allowing 3 runs, 6 hits, and 4 walks, and he has a 5.00 ERA in 2 starts this year. Hughes had a great finish to the 2007 season, but he's never faced the Red Sox and will be in a position similar to Buchholz in Game 1 of this series (except Buchholz has the benefit of playing before the home crowd). Hughes is a slight fly ball pitcher with a career GB/FB ratio of 0.83, which does not bode well for success in the cozy Fenway Park. He also is considerably worse against left-handed hitters, allowing a .273 BAA compared to just .212 for righties, as well as a 1.56/1.08 WHIP split -- a tough track record to overcome against the lefty-heavy Boston lineup. A quality start from Hughes could be enough to beat Matsuzaka, and stranger things have certainly happened when these two teams get together. But the way Dice-K has been pitching recently, it may all be a moot point.
Template:Dead Soxy Ticker