The reports from New York are that the Knicks are offering Mike D'Antoni a 5 year-30 million dollar contract. The Chicago Bulls are also expected to propose an offer to D'Antoni by Sunday, but odds are low it will be as lucrative, and word is that D'Antoni is leaning to the Knicks job as it is. 
Hopefully someone has outlined to D'Antoni exactly what coaching the Knicks entails…
They have 13 players on the books for next year already, with a salary of nearly 91 million dollars.  Assuming all players take their options, they'll have at least 6 players "earning" nearly 50 million dollars in 2009-2010, with 16 for Zack Randolph (!) and 10 a piece for Eddy Curry, Quentin Richardson, and Jamal Crawford.  Those numbers are staggering, especially considering that those players are back for yet another year after that, with a raise of a million dollars each, excluding Richardson whose contract expires.  For Mike D'Antoni, this means the nucleus of the Knicks isn't going anywhere, and that nucleus has led them to one of the worst showings the NBA has seen in quite some time.
The Knicks players were known this season for their uninspired, sloppy basketball, which is not only the responsibility of the players, but of the coach as well.  Sadly, for D'Antoni, these players don't look like they can be saved.  The New York media is known for being particularly brutal, and D'Antoni will have to deal with that.  The New York media doesn't like it when the Knicks lose either, but lose they will, and often.  An artist needs supplies to work with, but the Knicks will not provide D'Antoni any clay to mold.  Donnie Walsh comes in as the new president of the Knicks this year, and although he has a good reputation, this Knicks team obviously needs fixing, but it can't happen fast.  Any kind of plan by Walsh will take years to enact, particularly because the awful contracts don't even become enticing to move for years.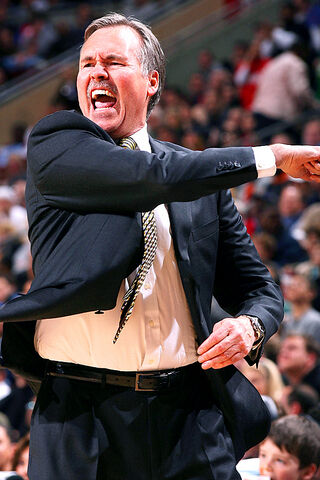 All things considered, Mike D'Antoni better be mentally preparing himself to hate, because he will.  He will hate practice everyday with this ragtag group of players.  He will hate the way he gets blamed for this team in the media.  Amongst other things he will hate working for the eccentric James Dolan.  D'Antoni is already 57, he'll be 62 when this contract runs out, and by then he'll likely hate basketball itself.  So far removed from the seven seconds or less era, and with such a bad career coaching record, it is possible he'll never coach again.  The grind of this position might even cost him years off the end of life!  This is going to be one of the roughest stints the NBA has ever seen, and as far as I'm concerned, 30 million dollars has never looked smaller.