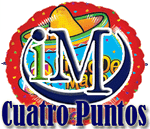 No, I'm not from Guadalajara or Monterrey, and quite frankly, my complexion wouldn't have anyone see me as one to celebrate Cinco de Mayo. But we've Americanized (or bastardized) it … and you know that's got its perks.
One of my earliest Cinco de Mayo memories was seeing the Ramones at The Boathouse in Norfolk, Va., when I was a sophomore in high school. Ah, the sounds of elegantly loud noise from a crew of aging punk rockers.
Freakin' great. Too bad The Ramones, and The Boathouse for that matter, are pretty much no more. Ah Dios Mio. One time, I guess this was my (first) freshman year in college, I bellied up to "Mr. T's Tacos" on 44th Street right across from campus and right behind the 4400 Club. What a dump this was, but hey, it was Cinco de Mayo and Wednesday, so that meant 44 cent tacos! (For those that might know the place, it also was called "Speedy's").
Aye Carumba! Well, that's what my mouth was saying after I doused my four tacos in "carrot sauce." Yeah, it wasn't made from carrots … I reluctantly pitted the gloriously fiery tacos and went off to an exam. Yes, I went to an exam wearing a sombrero. Seriously. Got a C+ I think. Who cares, it was a filler half-semester class in health or something. Got the B for the course and was out.
Once, when Cinco de Mayo coincided with the Downtown Hampton Saturday Block Party, which was a weekly occurrence when it got warm. I programmed my phone to play the Mexican Hat Dance when anyone would call me. I was also wearing bowling shoes and a sombrero.
Meet "That Guy." Nice to meet you. I sometimes miss those days.
Gas : DOWN …. to $3.57 (what a tease).
Weather : Magnifico! 19 degrees Celsius
Can't Miss Kentucky Derby Pick : Monba … bet the house on it!


Rankings update
Rather than do something with myself this weekend, well, other than the normal things, I spent much of Saturday toiling over high school rankings. I know I said I hated them, but there's something about discovering things you feel no one else realizes … well, up until someone points out a result from the Mumbo Gump Memorial with some obscure result Miss Cleo couldn't have come up with. (wow, what a run-on sentence). Hey, it's not a perfect scenario, but the crew that gives me another group of eyes does a good job. I'll trust their judgment when it's their state.
The difficulty comes down, in some cases, when I break away from the All-Class and go with the Class-specific rankings. I can only imagine what Dan Fickel does with this … I mean, are there that many decent sophomore heavyweights … I'm going to be clawing through some really small state tournament results to find 12. The lower weights, sure, the young guys dominate.
We shall see Wednesday or Thursday … whichever day InterMat releases the All-Class Rankings this week. It'll be one or the other.
Oh, I lied … I did do two things this weekend of note. I saw Iron Man and Harold & Kumar Escape From Guantanamo Bay. Both worthy flicks for completely different reasons.
Bad Headline Writing 101
First of all, I really have to apologize for writing such a campy, groaner headline for Cinco de Mayo. Campy headlines have a place in journalism, but we've had some doozies in my time. Some gems from the Daily Press during my tenure included "Beat Me in St. Louis" — this one didn't go over well with the boss. "SHAQUAKE" — probably the headline I hated the most in my eight years in the newsroom, and of course, "UConn in a Laugher."
Well, that wasn't really a bad headline, but our diversity people were all over us because they felt it was sexist. UConn had just beaten ODU's women's roundball team by like 50 points. Hey, call a spade a spade and quit being such a baby.
What also doesn't help is a headline that doesn't match the center picture. This routinely happens when the headline runs with the story wrapped around a centerpiece photo. Once while covering the Virginia Duals for my old rag, the headline read "Poquoson … barely." The picture was a less than complimentary picture of two heavyweights. I didn't want to think about the reader reaction to this.
Wrestling, unfortunately doesn't present the best opportunities for headlines … and websites have a bit more freedom, but in the case of today … don't expect to see anything this corny again on InterMat (at least until some guy named Boo signs an NLI on October 31).
Iowa team awards


Traci Wagner, one of the best SID's in the business, farmed out a release this morning announcing the award winners from the Iowa Hawkeye's 2007-08 season. A couple of releases have come through from various teams, but Iowa did win the NCAA Championship, so they get the props here.
Guys I'm happy to see awards go to were Matt Fields, Chad Beatty and Rick Loera.
Fields picked up three, but it was his J. Donald McPike Award that I took notice of. For a guy who was basically ridiculed by Hawkeye haters (well, and fans) his entire career, Fields' McPike Award should get noticed. It's for the highest GPA on the team. The guy ripped his knee apart, had lofty expectations and finally earned All-American honors, but personally, I think the McPike Award would be the best of the others.
Beatty won the Mike McGivern Award for most courageous … and I can't think of any match that would signify Beatty's accomplishment than his come-from-behind win which essentially gave the Hawkeyes the victory over Michigan late in the season. Gritty performance. Wrestling up two weights, too.
Rick Loera was pretty much in the same boat as Beatty, wrestling up two weights and he picked up the Coaches Appreciation Award along with Dan Dennis. Loera and Beatty were thrown into a wild world of Big Ten giants at 197 … hey, if you want to start in Iowa City, you've gotta be ready for just about anything.
Congrats guys.
Signings
The tide of big-time recruits signing or announcing their verbal commitments have slowed, but Iowa State picked up a commitment from Blair Academy's Anthony Valles. A scrapper who returned after an injury forced him out of most of his junior season, Valles will provide depth and bring a great work ethic to Ames. Also of note was Jake Bohn of Kentwood, Mich., signing with George Mason. One of the most unusual signings came from NAIA Missouri Valley College. The Vikings added Zach Nabors of Guam … yes, Guam. Pretty cool.
Penn State also got a verbal from Bryan Pearsall, a former Junior Freestyle All-American from Warwick H.S., right around here in Lancaster County. Good kid, glad to see he's gonna head to PSU.
A couple of local Division III teams (Gettysburg and Elizabethtown) had some commitments come through. Remember, since there is no scholarship offer in Division III (athletically), when soon-to-be students submit their deposit, this is good enough to count as a "signing," but since they don't sign, it's listed as a verbal, just to avoid confusion.