I was hoping Hank Steinbrenner would be a little milder version of his dad George, but so far, that hasn't been the case. I doubt that Joe Girardi appreciated the remarks of Hank as to how Joba Chamberlain would be used this season. That is the kind of decision that is made between the front office and the manager. It is almost like Steinbrenner is publicly telling Girardi to use Chamberlain as a starter immediately. To be honest, I am not sure Girardi will put up with this kind of interference for long. Brian Cashman tried to do some damage control by saying they are working on the same plan. After the original Steinbrenner statement was made, Cashman said after that he doesn't know what set Hank off a remark, which won't be forgotten by Steinbrenner regardless of what he says publicly.
Steinbrenner is remembering how the New York Yankees were 14 games under .500 before the end of May last season. However, the Yankees are not even close to being that bad despite the bad starts by the bottom three of the rotation: Mike Mussina, Philip Hughes, and Ian Kennedy are a combined 1-8 this season, with Hughes and Kennedy still winless. Taking Chamberlain out of the setup role may create another problem if they they don't have someone that can step in and take the place of Chamberlain. Brian Bruney may be the first to get a shot at filling the role since he has a 1.64 ERA and has struck out 11 in 11 innings.
Armando Galarraga: Whats Happens To Him When Willis Rejoins the Starting Rotation?
http://mlb.mlb.com/images/players/mugshot/ph_425883.jpg vs. http://mlb.mlb.com/images/players/mugshot/ph_451482.jpg
Armando Galarraga has pitched extremely well for the Detroit Tigers in his first two starts that it could be a downgrade when Willis comes back from the disabled list. Galarraga is ahead in wins (2) and in ERA (1.50 ERA); compare that to D-Train's winless season so far, not to mention his 7.20 ERA. The most glaring difference in their statistics is that after two starts, Willis hasn't posted a strikeout, but he has walked 9 in 5 innings while Galarraga has 10 strikeouts and 4 walks in 12 innings.
It is highly unlikely that Willis would lose his spot in the rotation since he is making $7 million, while Galarraga is probably making the rookie minimum of $390,000. The Tigers made a very good move by trading for Miguel Cabrera, but they really didn't need to acquire Willis, knowing he is not the same pitcher he was in 2005 for the Florida Marlins when he recorded a 22-10 record with an ERA of 2.63. Since then, his ERA has been progressively worse by allowing at least a run more year after year. In 2006, it was 3.87, then in 2007 it was 5.17. Maybe the Marlins insisted to include Willis in the trade to rid themselves of his huge contract.
It will be interesting to see how the Tigers handle the situation when Willis is able to return to the team. If Galarraga was to have a couple of bad games in a row, it would make the decision much easier for the Tigers, but right now he is showing he deserves a spot in the rotation.
Around the Bases
Dustin Nippert, who filled in for an injured Kason Gabbard (who left the game with back spasms), may have bought himself a one way ticket to the Minor Leagues after his performance yesterday. The score was tied 0-0 when he entered the game, but by the time he left (2 1/3 innings later), the Boston Red Sox had crossed the plate 8 times, hammered out 9 hits, and walked 4 times. When you allow 13 runners to get on base in two innings, bad things are going to happen. Nippert left the game with a 16.62 ERA. The Red Sox won the game 8-3 over the Texas Rangers.
The Atlanta Braves were happy that Chipper Jones was able to play one day after injuring his right quad. His RBI last night placed him in a four way tie for the NL RBI lead with 19. Now, after their win last night, they will send John Smoltz (3-0) to the mound tonight, needing 4 strikeouts in his quest to reach 3000 strikeouts. The Braves are tied with the Red Sox for the longest current winning streak, with both teams winning 5 games in a row. The game will be shown on Sports South at 7:00 PM Eastern time.
Matt Morris (0-3 with a 9.15 ERA) continued his tailspin since leaving the St. Louis Cardinals. He was 29-20 during his last two seasons with the Cardinals, but since then, he has been 20-29 and has allowed 35 hits and 21 runs in 20 innings this season. The Pittsburgh Pirates are last in the Majors with a 5.93 ERA. The Tigers are the only other team with an ERA over 5.00 with their 5.45 ERA. The Pirates have also given up the most hits (221), while the Arizona Diamondbacks have allowed a Major League low of 131 hits, a difference of 90.
Kerry Wood had an ERA of 27.00 after his first appearance this season. Since then, his ERA has been 0.90 and he has lowered his ERA to 3.27. With 9 games played so far this season, he has allowed only 3 hits in 10 innings and has struck out 8 and walked one. Kosuke Fukudome (.328 batting average) and Geovany Soto (.306 batting average) lead all Major League rookies with at least 50 at bats in batting average.
Speaking of rookies, allow me to talk about the rest of the categories (rookies only): J.R. Towles and Joey Votto lead the Majors in home runs by a rookie (4). Soto leads in RBI's (13), with Votto next (11). Jacoby Ellsbury leads all rookies with in stolen bases (8). Nick Blackburn leads all Major League rookie pitchers with a 2.49 ERA.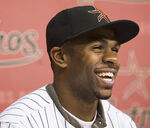 Justin Germano brought a 1.35 ERA into his start for the San Diego Padres against the Houston Astros but by the time he left the game it was 5.01 after allowing 10 runs and 10 hits in 3 1/3 innings. He had allowed only 3 runs in 20 innings prior to his start last night.
Chase Utley hit a home run in his fifth consecutive game. In those 5 games he has hit 6 home runs, giving him a Major League leading 9 home runs. In those 5 games, his batting average has climbed from .310 to .354. His slugging percentage has risen from .621 to .823, and he has driven in 9 runs during the 5 game home run streak. Before the streak, he had failed to hit a home run in 11 games. According to ESPN.com, at this rate, Utley will have 227 hits, hit 73 home runs, and drive in 146 runs by the end of the season. It is unlikely he will reach any of those numbers, but it gives an idea of how great a start he is off to this season.
Micah Owings (4-0) not only won his fourth game of the season without a loss, but he also was 2 for 3 at the plate, and raised his average to .308 in the Arizona Diamondbacks' win over the San Francisco Giants. Owings, Brandon Webb and Dan Haren have made 12 starts combined, and have won 11 of those starts, with Webb and Owings both 4-0 and Dan Haren 3-0. Haren has an ERA of 1.80, Webb has a 1.88 ERA, and Owings has a 2.35 ERA.
The Diamondbacks lead the Majors in runs scored (120), while the Giants and Kansas City Royals are last with 63, which is slightly over half of the Diamondbacks' total. The D-Backs are also hitting .280, which is second best in the NL. They also lead the Majors in ERA (2.93). As mentioned earlier, the Pirates have the worst ERA in the Major Leagues, which means that they're allowing 3 more runs a game than the Diamondbacks.
The Cincinnati Reds have allowed the most home runs this season, allowing 29 roundtrippers. The Chicago White Sox have only allowed 5 home runs for the least home runs allowed. Diamondbacks also lead in least runs allowed with 55 while the Pirates have allowed 116 runs to cross the plate.
Minor League Roundup
International League
Jerry Hairston Jr., who was leading the International League in batting with a .421 average, has been called up by the Reds. That leaves Barbaro Canizaro of the Atlanta Braves (Richmond farm club) the new leader at .407. Clint Sammons, also a Braves farmhand, is second with a .395 average. If Sammons keeps hitting like this, the Major League Braves may have to decide whether to keep Corky Miller on their Major League roster and let Sammons assume the position as one of the backup catchers if he is called up.
Jason Lane, who is currently in the New York Yankees organization, leads the IL in home runs (6).
George Kottaras, a Red Sox catching prospect, is leading the IL in RBI's (16).
Darrell Rasner, who pitched for Yankees last season (and is still in their organization), and Homer Bailey are among 11 pitchers leading the IL in wins (3).
Jo-Jo Reyes leads the league in ERA with a perfect 0.00 allowing no runs in 14 innings.
Pacific Coast League
29 year old Terry Tiffee is leading the PCL in hitting with a .493 average. He is playing with Las Vegas of the Dodgers organization. He hit .226 when playing for the Minnesota Twins in the 2004-2006 seasons, but hasn't been in majors since then. Fernando Tatis, who is famous for hitting 2 grand slams in the same inning against the Dodgers on April 23, 1999 (both coming off of Chan Ho Park, is now the PCL home run leader with 8, with Brandon Wood, who has been unable to hit in the Majors, is next with 8. Matthew Brown, who is an Angels prospect, leads in RBI's with 19.
Angels' prospect Shane Loux, who will be 29 in August, and Texas Rangers' prospect Doug Mathis,lead the PCL in wins with, both posting 4-0 records.
Max Scherzer is leading the PCL in ERA with a perfect 0.00 ERA. He has pitched 17 scoreless innings and has allowed only 7 hits while striking out a PCL leading 29 batters and is a pitcher Diamondbacks fans would like to see in the Major Leagues someday if they could work him into their rotation.
It would take too long to post the stats in all the other leagues, so I will only post the stats leaders in the local Southern League where our hometown Tennessee Smokies play.
Southern League
Diamondbacks prospect Yunesky Sanchez is leading the SL in batting (.404).
Rene Rivera (a 24 year old Dodgers prospect) and Matt LaPorta (a 23 year old Brewers prospect) lead the SL in home runs (4).
Mariners prospect Thomas Hubbard, a 26 year old, is leading the SL in RBI's (17).
Derek Rodriguez, a White Sox prospect, is leading the SL in wins with a 4-0 record.
Leading the SL in ERA is Tampa Bay Rays prospect James Houser (0.42).
Tennessee Smokies Leaders
Tyler Colvin, the first pick by the Chicago Cubs in the 2006 amateur draft, and the 13th overall pick, is leading the Smokies in home runs (3). He was also the first outfielder chosen in the 2006 draft. Colvin is also tied for team lead in RBI's with Ryan Harvey tied with him at 9 apiece. Matt Craig is leading in batting with a .360 average.
Jeff Samardzija, Chris Shaver, and Jesse Estrada lead in wins with 2 each. Matt Avery leads in ERA with a 1.50 mark. Donald Veal leads in strikeouts with 15 in 17 innings.