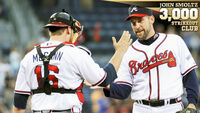 Atlanta Braves' John Smoltz (3-1) notched the 3000th strikeout last night before the hometown crowd last night in Atlanta. However, he lost the game, putting a damper on the 3000th strikeout celebration. Smoltz pitched 7 innings and allowed 1 run, 5 hits, striking out 10, and walking none. John Lannan (1-2) took the win for the Washington Nationals, but his strong pitching performance was overshadowed on this special night for Smoltz.
Jorge Campillo relieved in the ninth inning for the Braves, but his throwing error helped Nationals score 5 runs; 4 of them were unearned. The Nationals won the game 6-0, but John Smoltz will remember this game the rest of his life, as the 3000th strikeout should insure his entering the Hall of Fame even though he probably won't reach the 300 win mark by the time his career is over. He wasn't a starter for 4 years, so that kept him from being much closer to 300 wins and he has 210 wins presently.
Smoltz, with 3006 strikeouts, should pass Pedro Martinez and Curt Schilling if they don't return from the disabled list this season. Next on the list would be Bob Gibson, who has one more strikeout than Schilling. So he could move from his current 16th position to the 13th position on the list by the end of this season. Smoltz needs 187 more strikeouts this season to move into 12th positon and pass Ferguson Jenkins.
I can't help but wonder why Bert Blyleven continues to be overlooked in the Hall of Fame voting since he has 287 wins and 3701 strikeouts. Only Nolan Ryan, Roger Clemens, Randy Johnson, and Steve Carlton have more strikeouts.
Brewers Win 5th Extra Inning Game
The Milwaukee Brewers have played 20 games this season, and over 1/4 of their games had to be decided in extra innings. They have won 5 of the 6 games they have played in extra innings so far. Since last Wednesday, the Brewers have played in four extra inning games and have won 3 of those 4 games. Five different relievers have won when the Brewers won in an extra inning game this year.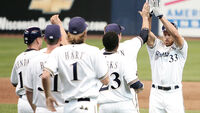 Prince Fielder's batting average jumped from .215 to .250 after his 3-for-3 game yesterday. Gabe Gross scored the winning run on Gabe Kapler's single, and Gross kept on running until he got to the airport to take a plane so he could join the Tampa Bay Rays after being traded for a Minor League pitcher. It was ironic that Kapler would drive in Gross with the winning run since Kapler is the one that is staying with the team and Gross is now with the Rays. The decision was a no-brainer though, with Kapler hitting .382 and Gross hitting .209. With Mike Cameron returning from his 25 game suspension next week, somebody had to go. Unfortunately for Gross, he was the odd man out. Another factor was that Tony Gwynn is back on the roster after minor league rehab so they are playing with four outfielders as of today.
C.C. Sabathia finally registered his first win of the season against the Kansas City Royals, but it is nothing to get too excited about since the Royals are one of the worst hitting teams in the majors. Next Sunday, he will face Chien-Ming Wang (who became the second pitcher in the American League to have a perfect 4-0 record) and the New York Yankees, which should be a better indicator of how Sabathia fares against a top notch team. Casey Blake drove in 6 runs last night for the Cleveland Indians, giving him 16 for the season and a lot of run support for Sabathia in Cleveland's 15-1 win.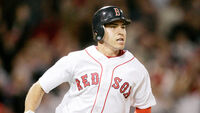 .
Jacoby Ellsbury hit two home runs last night and raised his batting average to .308 (after hitting .212 only five days ago) the Boston Red Sox's 7-6 win over the Los Angeles Angels. Three of the top five hitters in AL are with the Red Sox: Dustin Pedroia leads the AL (.364), Kevin Youkilis and Manny Ramirez are third and fifth (.354 and .342, respectively).
A win by the Tampa Bay Rays today could move them into fourth place in the AL East ahead of the Toronto Blue Jays, and if the Yankees lose today, they would be only a half game behind the third place Yankees.
The Detroit Tigers, who started the season with a 2-10 record, have been 6-3 since the horrific slump. Yesterday, Justin Verlander (1-3) put together a well pitched game, and a rejuvenated offensive attack, including home runs from both Miguel Cabrera and Magglio Ordonez, helped the Tigers win 10-2 over the Texas Rangers. The 8-13 Tigers are only a game and a half behind the third place Royals in the AL Central. Royals are slumping with a 5 game losing streak. Josh Hamilton now leads the American League in RBIs, as he picked up his 20th of the season during the game. He is currently tied for second place with Chase Utley for the MLB lead in the RBI category; only Pat Burrell has more to lead the majors with 22.
Not many Oakland A's fans would bet money before the season that after the first 21 games of the season that Dana Eveland would be leading the starters in wins with 2 or that Joe Blanton (1-4) would be the only starter with a losing record. On top of that, they have 8 home runs as a team, while Chase Utley has hit 9 by himself. With that being said, the A's are still tied for first in the AL West with the Angels. Despite the few home runs, they are 6th in runs scored in the AL, and have scored more runs than the Yankees and Indians.
Ichiro Suzuki is currently hitting .258, which is 74 points below his lifetime average of .332. Just when you think he won't have 200 hits, he will get hot and wind up with over 230 hits. Will he be able to 177 hits in 141 games to get a solid 200 hits? We will find out by the end of the season.
Ted Lilly (1-3) became the last Chicago Cubs pitcher to record a win this season, as the Cubs won their 5th straight game and their 8th win in their last 10 games. Ronny Cedeno hit a grand slam homer and drove in 5 runs, while Kosuke Fukudome was 3-for-3 and raised his average to .357.
After giving up 36 runs in their last 3 games, the Pittsburgh Pirates ended their 6 game losing streak with a win over the Florida Marlins. With the season about 1/8 over, they are on a pace to win 64 games this season, which is much less than the 82 wins they need to end 16 years of sub .500 seasons, but only 4 games worse than their last season with 68 wins.
With all the early season buzz about Johnny Cueto, an even better Edinson Volquez reminded who the best pitcher for the Cincinnati Reds really is. It is Volquez with a 3-0 record, and it is Valquez with an ERA of 1.21, much better than Cueto's 3.42 ERA. The other 4 Reds starters only have 3 wins combined. He is 3rd in the NL in ERA, only behind John Smoltz and Ben Sheets.
The Houston Astros blew a 7-3 lead, but held on to defeat the San Diego Padres 11-7. Hunter Pence homered for the first time in the victory, and also improved his batting average to a (still) below average .230; it was .160 on April 16. What a difference a year has made for Pence though. The sophomore jinx has hit Pence hard after having a great debut season in 2007. Last year, he hit 17 home runs and drove in 69 runs in and hit .322 in 108 games.
The Philadelphia Phillies have to be disappointed in the hitting of Pedro Feliz, who has 3 homers and 8 RBI's. He is projected to hit 23 homers, which would be about average for him but ESPN.com, projects him to have only 62 RBI's. One encouraging stat is that he has an on-base percentage of .303, which is two points less than his .305 percentage of 2004, his highest OBP mark and the only season where he went over the .300 mark.
Is Barry Zito Going to Win a Game This Year?
Yesterday, the San Francisco Giants staked Barry Zito to an early 3-0 lead, but 4 innings later, he was trailing 5-3. With his 0-5 record, he can no longer be considered the ace of the staff. Tim Lincecum (3-0) is the new ace as far as I am concerned, since he is only starter with a winning record and Zito and Matt Cain are a combined 0-7 this season. Zito is projected to finish the season with an 0-39 record by ESPN.com and is projected to give up 262 hits in 193 innings. I can't see how they could project him to lose 39 games since most starters who don't miss a start finish with 34-36 starts.
Arizona Diamondbacks' Brandon Webb won his fifth game without a loss in the game. Webb didn't win his fifth game last season until June 1st enroute to an 18 win season. ESPN.com projects him to have a 29-5 record, but that is not likely to happen.
Chase Utley's home run streak ended at 5 games, but he still drove in 2 runs in the Phillies' 8-6 win over the Colorado Rockies. Pat Burrell's newly added 2 RBI's puts him in the Major League lead (22). Last season on this day, Burrell had 2 home runs and 7 RBI's, while he has 7 home runs and 22 RBI's this season. Last year, he didn't hit his 7th homer until May 20th and didn't drive in his 22nd run till May 17th.
Last Pitchers to Win 25 Games
Steve Carlton is the last NL pitcher to post 25 or more wins in a season when he won 27 for the Philadelphia Phillies in 1972 (36 years ago). Bob Welch was the last AL pitcher to win 25 games or more when he posted 27 wins for the Oakland A's in 1990 (18 years ago).