Cubs Drub Brewers 19-5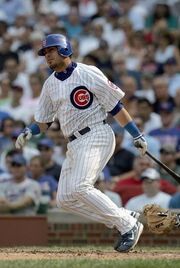 Jeff Suppan (1-1) was having a good season until he faced the Chicago Cubs yesterday. The Cubs scored 11 runs with 8 earned runs and had 11 hits against Suppan in 3 2/3 innings. Then, the Milwaukee Brewers' bullpen entered the picture and made things even worse by letting the Cubs score 8 more runs. Derrick Turnblow... I mean Turnbow... once again led the bullpen in shoddy work allowing 6 more runs with 4 hits and 4 walks in only 2/3 of an inning.
By the time the game had ended, Suppan's ERA changed from 3.48 to 5.19, and Turnbow's had risen from 7.94 to 15.63. Turnbow has walked 13 in 6 innings. Suppan and Turnbow combined to allow 17 runs, 17 hits, and 5 walks in a total of 4 1/3 innings. Ryan Dempster (4-0), who predicted a Cubs World Series win, pitched the five innings he needed for the win.
Geovany Soto led the offensive charge by the Cubs homering twice and driving in 6 runs. It has been a long time since a Cubs catcher has had a game like that. Soto is winning the Triple Crown for rookies this season leading all rookies in the Majors in hitting (.333), along with his teammate Kosuke Fukudome second with a .327 average. Soto is also leading in the home runs category with 5; Joey Votto is second with 4.
Soto also has 20 RBI's, 5 more than David Murphy's 15 for second place. He is also second behind teammate Fukudome in on base percentage with Fukudome having a .436 OBP and Soto at .427. Soto also leads in slugging among Major League rookies with a .621 mark, with Fukudome second at .480. Soto is only rookie with an OPS over 1.000 (1.048), and Fukudome is second at .915.
The Cubs win tied them with the St. Louis Cardinals for first place in the NL Central with the Cubs 9 points ahead in winning percentage. The Brewers fell 2 back with their loss. Cubs ace Carlos Zambrano (4-1) will start this afternoon for the Cubs and Yovani Gallardo (0-0) will take the mound for the Brewers. The Brew Crew needs to forget yesterday's game and come away with a win behind Gallardo, who has a 0.64 ERA.
Polanco Powers Tigers To 6-2 Win Over Yankees
Placido Polanco, who had not homered in 74 at bats, homered twice yesterday to lead the Detroit Tigers to a 6-2 win over the New York Yankees. Jeremy Bonderman (2-2) took the win over Andy Pettitte (3-3). Pettitte and Mike Mussina both have identical 3-3 records, leaving Chien-Ming Wang (5-0) as the only Yankee starter with a winning record.
It will be interesting to see how the Yankees play with Alex Rodriguez out of action, but if today's game was an indication, it doesn't look good, since the Yankees had only five hits in the game. On the other hand, Rodriguez was not off to a great start anyway with only 4 home runs and 11 RBI's. Even David Eckstein has 11 RBI's, so that is not too impressive, and even less impressive when considering that the AL leader, Josh Hamilton, has 32 RBI's.
Twins Win Battle of Nicks Defeating White Sox 4-3
Minnesota Twins' rookie Nick Blackburn (2-1) defeated Nick Masset and the Chicago White Sox 4-3. Masset didn't receive the decision in only his second Major League start. Carlos Quentin tied his teammate Joe Crede for the home run lead in the AL with his 7th roundtripper this season.
Cliff Lee Pitches Worst Game of Season: Indians Still Defeat Mariners 8-3
Cliff Lee (5-0) didn't pitch as well as usual, and saw his ERA climb from 0.28 to 0.96, but he still emerged victorious as the Cleveland Indians pounded the Seattle Mariners 8-3. He allowed 5 more hits and struck out 6 less batters than he did in his last start. Lee has an amazing 32 strikeouts to 2 walks ratio this season. In 37 innings, he has given up 19 hits.
Rookie Wladimir Balentien picked up where he left off last season for the Mariners when he batted only three times, but hit a home run and drove in 4 runs. Last night, he batted 4 times, hitting a home run and driving in 3 runs. In his 7 Major League at-bats in his career, he has a double, 2 homers, and 7 RBI's. Jeff Clement, another Mariners prospect, was recently called up. He was 1 for 1 in his first game of the season. It will be interesting to watch the progress of these two players as the season progresses.
Ichiro Suzuki was 0 for 4 last night, ending his 8 game hitting streak. His batting average tumbled 9 points down to .252. Suzuki may still get 200 hits by the end of the season but if he only has 30 hits like he does now in the last five months of the season he would only have 180.
Sonnanstine Dazzles Orioles in 8-1 Win
Andy Sonnanstine (4-1) pitched 8 innings of one run baseball to defeat the Baltimore Orioles 8-1. Since being rocked by the Yankees for 7 runs and 9 hits in 3 1/3 innings on the 14th of April, Sonnanstine has won his last three starts. After the Yankees game, his ERA was 8.80, but after the win yesterday it dropped down to 4.42. He leads the Tampa Bay Rays' starters in wins (4), and is tied with Matt Garza for the least amount of walks (8), but has pitched 25 more innings than Garza.
Eric Hinske hit his 6th homer of the season placing him in a eight way tie for second in homers in the AL. Carlos Pena picked up 2 RBI's in the game after going without an RBI in the last 14 games.
Red Sox - Blue Jays: Another Pitching Duel Another Walkoff Single Second Day in a Row
For the second day in a row, the Boston Red Sox and Toronto Blue Jays starters battled in a pitching duel. Daisuke Matsuzaka pitched seven strong innings and allowed no runs and 2 hits, while his mound opponent, Dustin McGowan, pitched 7 1/3 innings and gave up one run and 4 hits.
Then, for the second day in a row, a Red Sox hitter not named Manny Ramirez or David Ortiz hit a walkoff single to win the game. This time, the hero was Jason Varitek, who singled in the winning run. Ortiz hit his 5th homer of the season, and with the league leader only having 7 homers, he is close enough to make a run for the leader of home runs this season. Big Papi was hitting .070 as recently as April 12th, and is now hitting .184. As you can tell by looking at his current batting average, he still needs to get his average over the Mendoza line.
Rangers Slam Royals 11-9 Behind Hamilton Grand Slam
Josh Hamilton hit his sixth homer of the season, hitting a grand slam in the second inning. That grand slam and four other homers by the Texas Rangers enabled the Rangers to defeat the Kansas City Royals 11-9. After 6 innings, the Rangers led 9-1, but Kevin Milwood (2-2) unintentionally got the Royals back in the game when he allowed 4 runs to score in the 7th. The Rangers' bullpen made matters worse by allowing 4 more runners to cross the plate.
Ervin Santana Pitches Angels Into First With 6-1 Defeat of A's
Ervin Santana (5-0) may not be making $16,984,216 like the other pitching pSantana, but Ervin, who is making only $420,000 so far this season, has won one more game than the other Santana and his ERA of 2.48 is better than the 3.12 of Johan. It looks like the Mets just wasted a whole lot of money on the wrong Santana, but it is a long season. Last year, Ervin was 7-14 for the Los Angeles Angels and made only $425,000 in 2007, despite having a 16-8 record in 2006. The win over the Oakland A's moved the Angels a game ahead of the A's.
Pirates Pulverize Mets 13-1 LaRoche Strikes Out Twice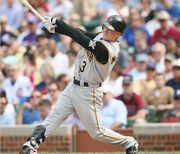 The big guns of the Pittsburgh Pirates, Nate McLouth and Xavier Nady, went 3 for 3 and drove in 3 runs to pace the Pirates in their 13-1 shellacking of the New York Mets. The Mets only had 2 hits in the embarrassing loss. Tom Gorzelanny (2-3) allowed one hit in 5 innings to take the win, while Oliver Perez (2-2) took the loss after giving up 7 runs, but only 2 of them were earned, and the real shocker was that only 4 of the 13 runs against the Mets were earned. Even on a day when the Pirates score 13 runs in their 13-1 win over the Mets, Adam LaRoche still was a recluse and refused to join the party with a 1 for 4 day and two strikeouts. Last year, I could understand him getting off to slow start after the shocking trade that sent him to the Pirates, but by now in his second season with the Pirates, he should be hammering the ball the way he did later in the season last year. At the end of the first month of the season, LaRoche is hitting .174, and has one homer, 5 RBI's, and is slugging a minuscule .244. ESPN.com projects him to hit 7 homers, drive in 33 runs, and have 99 hits at the end of the season.
Billy Wagner called out his teammates after the loss, but I am not a big fan of players calling out their teammates. Just the day before Wagner had blown a save that cost Johan Santana a victory, so I think he should have not brought attention to himself. I think only a manager has the right to criticize the players since that is part of his job but a good way to fracture a clubhouse is for players to point fingers at other players instead of being supportive of them.
Looper Pitches Cardinals To 5-2 Win Against Reds
Braden Looper (4-1) defeated the Cincinnati Reds 5-2, as the St. Louis Cardinals moved to within 9 percentage points of the Cubs. Aaron Harang (1-4) took the loss for the Reds. Rick Ankiel was 3 for 3 and drove in 2 for the Cardinals and raised his average to .290. Jason Isringhausen picked up his ninth save of the season.
Micah Owings Hits Pinch Hit Homer In 8-7 Defeat of the Astros
Micah Owings hit a pinch hit homer that tied the game between the Arizona Diamondbacks and Houston Astros in the sixth inning and the Diamondbacks went on to win the game 8-7. Owings is hitting .421 with an on-base percentage of .450, a slugging percentage of .632, and an OPS of 1.082.
In 2005, Owings had a 12-4 record and hit 18 homers and drove in 63 runs and hit .355 for Tulane. He only hit one home run in 61 minor league at bats, but he drove in 14 runs and hit .377.
The Astros scored 6 runs in the first two innings against Randy Johnson, who was on way to losing the game before the Diamondbacks rallied from a 6-2 deficit to win the game. After 4 starts, Johnson still needs 15 more wins to reach the coveted 300 win mark. With him turning 45 in September, time may be running out for Johnson. His dream of winning 300 games may never materialize unless he can win more than one game out of every four starts.
It was a very important game to win for the Diamondbacks, with the Dodgers winning their last five games. If the Diamondbacks lost yesterday, the Dodgers would have been 4 1/2 games out of first in NL West.
Giants Nip Rockies 3-2 Behind Castillo Homer
Jose Castillo homered in the seventh inning to give the San Francisco Giants a 3-2 win against the Colorado Rockies. Jonathan Sanchez wasn't effective as he was in his last start, but he kept the game close enough for the Giants to win. The win moved the Giants another game ahead of the last place Rockies.
Nationals Defeat Braves 3-2 In Bottom of Twelfth Inning
Felipe Lopez singled in the winning run for the Washington Nationals in the bottom of the twelfth inning after the Atlanta Braves had scored once in the top of the twelfth. Jair Jurjjens and Shawn Hill were locked in a pitchers duel with Jurjjens allowing 1 run in 7 innings and Hill allowing 1 run in 8 innings. Chipper Jones was 0 for 5, which dropped his league leading average to .410. The loss was the fourth loss in a row for the Braves, which is the current longest losing streak in the Majors.
Young Outpitches Moyer In 4-2 Win Over Phillies
Chris Young (2-2) outpitched Jamie Moyer (1-2), as the San Diego Padres defeated the Philadelphia Phillies 4-2. Luckily for the Phillies, the loss came on a day when only the Nationals won in the NL East. Chase Utley extended his NL home run lead hitting his 11th homer of the season. Ryan Howard is continuing to struggle this season. On April 21st, he reached the Mendoza line, and was hitting .200. Since then, he has been 2 for 24 and his average has dipped to .172, his lowest average since April 2nd when he was hitting .167.
Dodgers Pound Marlins 13-1: Kemp, Loney Both Drive in 3 Runs
Matt Kemp and James Loney both drove in 3 runs to lead the Los Angeles Dodgers to a 13-1 win against the Florida Marlins. Rafael Furcal was 5 for 6 in the contest, while Blake DeWitt, who was just called up from the Minors, drove in 4 runs. Chad Billingsley (1-4) struck out 8 enroute to his first victory of the season. He currently has 40 strikeouts in 27 innings this season.
Andruw Jones was the party pooper for the Dodgers, like LaRoche was for the Pirates in their 13-1 win, going hitless in 3 at-bats, as his average fell to .159. Jones is hitting .115 against righthanders (which is a real problem since a majority of pitchers are righthanded)m while hitting .159 against lefthanders (which is not much better). Jones only has 5 extra base hits this season, with one homer and 4 RBI's in 88 at-bats. The most glaring stat is that he has only 1 hit in 20 times with runners in scoring position with a .050 average.