Longtime reader Ron Sayles of Milwaukee, Wisconsin has written the following article today. He was there during most of the Milwaukee Braves tenure in Milwaukee and often got to see the Braves greats of the past like Hank Aaron, Eddie Mathews, Warren Spahn, who went on to be in the Baseball Hall of Fame. The Milwaukee Braves were in Milwaukee for only twelve years before they followed the money to Atlanta. The Milwaukee version of the Braves was the only major league team to play that that long and never have a losing season.
Who Was the Better Player: Mays or Ruth?
Asking who is the greatest baseball player of all time is like loading a gun, putting to your head and pulling the trigger. Do you shoot through the right temple, the left temple? There is no right answer. But, after a lifetime of observing and reading, I have narrowed the field of all the great ballplayers down to two. Just two, you may ask, when there are many who could qualify. Yes, I don't think there can be an argument over the two names I picked. Babe Ruth and Willie Mays. Now comes the task of narrowing those two names down to one.
Willie Mays. Why Mays over Ruth? I think that Mays was the more complete ball player. Yes, I know that Babe Ruth, besides his prodigious output as a hitter, was also a great pitcher. But, even with that I will still go with Willie Mays. Mays could do it all, hit with power. His 660 career home runs attest to that. If not for the Korean War, he would have hit over 700. He had speed, stealing 338 bases, and could lay down a bunt when needed. In today's game bunting is a lost art, like the drop kick in football. And his defense? There was no one better in center field than Willie Mays. Who can forget the fly ball he caught off the bat of Vic Wertz in the 1954 World Series. With his back to home plate running flat out he made a spectacular over the shoulder catch to retire Wertz. But, that wasn't the end of the play, he stopped on a dime, whirled around and threw a clothesline shot to home plate... on the fly. There is no one in baseball who could have done that. I stand by my selection of Willie Mays as the greatest player baseball has ever seen. If he has a fault, and who doesn't, he is the Godfather to Balco Bonds.
Billy Consolo, Former Red Sox Player Dies at 73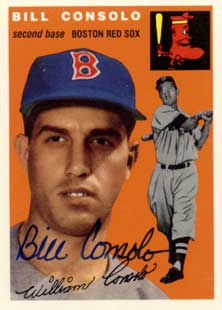 Billy Consolo, who played 10 years in the majors, only hit 9 home runs and drove in 83 and hit .221 while batting 1178 times. He was a former bonus baby who spent the first two years of his career mostly on the bench for the Boston Red Sox since bonus babies had to spend two years exclusively in the majors if signed for more than $4,000 and he was signed for over $50,000. The rule was later rescinded since being on a major league team at the age of 18 is not a good way to start a career in most cases.
He was on same American Legion team in the Los Angleles area that won the national title, with Sparky Anderson being one of his teammates. Anderson would later hire Consolo as a coach with the Detroit Tigers when Anderson became the Tigers manager. Consolo was barbering at the time, so he was happy to get back into baseball. Consolo may not have had impressive stats, but he was in major leagues ten years longer than most of us so deserves respect for being up there that long.
Real Opening Day Baseball Notebook:
Zimmerman Hits Walkoff Homer: Nationals Win
The ending of the Atlanta Braves/Washington Nationals game reminded us of one of the things we missed during the winter watching Ryan Zimmerman hit walkoff home runs. Zimmerman hit his home run in the bottom of the ninth after the Braves had tied the score at 2-2 in the top of the frame.
It was the fourth walkoff home run of his career. Both starters pitched well when excluding Tim Hudson's first inning when he gave up 2 runs; fortunately for the Braves, he settled down and kept the Braves in the game. Odalis Perez pitched five innings and allowed a home run by Chipper Jones, which was the only run he allowed.
Jon Rauch (1-0) may have blown the save when his pitch got by Paul Lo Duca in the top of the ninth inning but then got the win when Ryan Zimmerman hit his walkoff home run to win the first regular season game in the new park.
Torre Sends Pierre to Bench: Ethier Wins Left Field Spot
I have been a Juan Pierre fan since he played high school baseball about seven miles from where our house is located while we were still in Louisiana playing for Alexandria Senior High School Trojans in Alexandria, Louisiana. After the Florida Marlins defeated the New York Yankees in the World Series, Alexandria had a day for Pierre in his honor.
Having said all of that, I concur with Joe Torre that Andre Ethier deserves the chance to play everyday. Ethier will never say that spring training stats mean nothing since he needed those stats to oust Pierre from left field. The Dodgers could use Pierre's speed, but they should still have one of the best hitting outfields in baseball with Andruw Jones, Matt Kemp, and Ethier in the outfield.
Pierre can also attest to the importance of spring training stats since his bad stats this spring are why he has been placed him on the bench. He was not happy with the decision of Torre, but he is in the second year of a $44 million contract and should have known his job was in jeopardy when he had such a poor spring. Jason Repko, also another Dodgers outfielder who hit well this spring, hit .350, but was also sent to the minors. With Pierre hitting .188 this spring and Andruw Jones hitting .214, Torre didn't want to take a chance with those kind of numbers into the regular season.
Pierre is a two tool player at best. He is not known for his fielding or throwing and definitely doesn't hit for power. He does have speed and hits for average, but not as well as he did in the past. He hit over .300 in four of his first five seasons, but hasn't hit above .300 since 2004.
For What They Are Worth: Spring Training Leaders
Hitting
Hits: Mike Morse, Hunter Pence (32)
Home Runs: Ivan Rodriguez (8)
Runs Batted In: Jose Cruz Jr. (20)
Total Bases: Hunter Pence (59)
Walks: Andre Ethier (16)
Strikeouts: Corey Hart, Rickie Weeks (26)
Stolen Bases: Eugenio Velez (16)
On Base Percentage: (Minimum of 50 at-bats) Mike Morse (.538)
Slugging Percentage: (Minimum of 50 at-bats) Ivan Rodriguez (.847)
Batting Average: (Minimum of 50 at-bats) Mike Morse (.492)
Pitching
Wins: Jered Weaver (5)
Losses: J.D. Durbin, Adam Loewen (4)
Saves: Joe Nelson (6) (next pitcher had 3)
Hits: Matt Morris (45)
Earned Runs: Woody Williams (26)
Home Runs: Erik Bedard (9)
Walks: Adam Loewen (19; in 16 innings)
Strikeouts: John Maine (33; in 29 innings)
Last Minute Transactions
Major league teams have been scrambling to pare their rosters to get to the required 25 they need to start the season. In a surprise move, Matt Murton has been sent to the minors by the Chicago Cubs. He has been a player without a position to play regularly while with the Cubs. The Cleveland Indians have placed Shin-Soo "Chattanooga Choo" Choo on the disabled list. The Indians also sent Andy Gonzalez, who had a great spring, to the minors. Gonzalez was in a tie for the lead in home runs this spring among Indians players with 5 and led in runs batted in with 17. He was second in slugging with a .694 mark but his .250 batting average may have prevented him from being on the opening day roster.
Jay Gibbons has been released by the Baltimore Orioles. He hasn't played in more than 100 games in three out of the last four seasons. The role steroids may have played in his career is not known at this time. In a no surprise move, the Houston Astros purchased the contract of Jose Cruz Jr., who if he plays regularly and hits as well as he did this spring should give the Astros a potent outfield offense to go with Carlos Lee and Hunter Pence.
Chan Ho Park has been sent back to the minor leagues by the Los Angeles Dodgers despite pitching well this spring with a 2.41 ERA. The Dodgers also sent Clay Kershaw, who may be the best pitching prospect in baseball, to the minors despite his 0.64 ERA allowing one run to score in 14 innings and struck out 19 and walked only three this spring. Kershaw has struck out 217 in only 159 innings in the minors. Kershaw was 20 on March 19th so that probably had more to do with his being sent down than with any other factor and he has only pitched 24 innings as high as AA ball.
It was no surprise that Orlando Hernandez was placed on the 15 day disabled list by the New York Mets. If Hernandez was paid by how many times he has been on the DL he would be a rich man. Shannon Stewart will be playing for the Toronto Blue Jays since his contract was purchased yesterday.
The Atlanta Braves placed John Smoltz and Chuck James on the disabled list on Saturday and sent down Joe Borchard who was having an excellent spring, but has never hit well in a major league season. It was a no-brainer that Brent Lillibridge would be sent down after the Braves picked up Ruben Gotay on waivers from the Mets. The Astros decided to literally cut their losses by deciding to pay off Woody Williams rather than let him contaminate the mound for other Astros pitchers this season, but there is no reason to worry for Williams since he has over $6 million coming to him to add to the $50 million he has made in his career. Williams will be 42 in August.
Time may be running out for Brandon Wood, who didn't hit well when called up last season or this spring. Since Wood had his great year with Rancho Cucamonga in A ball in 2005 he has not done that well again. In 2005, he hit 43 homers, 51 doubles and 4 triples for a total of 98 extra base hits then was sent to Salt Lake City in Triple A where he hit 2 doubles and a triple to give him 101 extra base hits in one season.
Last season, he only had 51 extra base hits for Salt Lake City. Since 1977, he is one of four players to have led the minor leagues in home runs at the age of 20 and hit more in that season than any other player that age. Ron Kittle and Ryan Howard hit the most in any of those seasons since 1977 with Kittle hitting 50 and Howard hitting 46 both at the age of 24.
Last week, the Philadelphia Phillies sent down J.D. Durbin, and he can't be too surprised after the terrible spring he had. I am surprised that the Phillies didn't trade to acquire another reliable starter during the offseason. Eleven Phillies pitchers started games this spring but only Brett Myers and Ryan Madson had ERA's of under 4.00. Both of them had ERA's under 2.00. It is whole new ballgame now and the poor spring stats of Chase Utley and Jimmy Rollins can be laid to rest, and they are the kind of players that play their best when the games mean something. So I will not be surprised to see both of them hit well right out of the gate. Kyle Kendrick, who has been predicted by espn.com to have a bad season and Adam Eaton may hold the key to the success of the Phillies in 2008. Pedro Feliz will provide some power and drive in a lot of runs but his lifetime on base percentage of .288 will mean he more than likely that he won't be batting in front of any of the Phillies sluggers.
Players From the Past: Harold Baines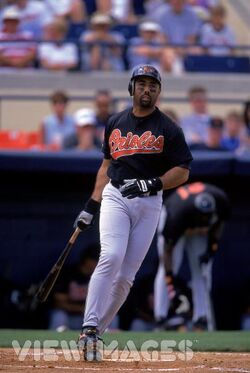 Harold Baines may be one of the best baseball players that hasn't gained entrance to the Baseball Hall of Fame... yet. It is a travesty that Baines received only 29 votes in 2007 and 28 in 2008 with only 5.3 percent of the votes in 2008 while Andre Dawson received 358 votes and garnered 65.9 percent of the votes.
Dawson leads in home runs over Baines with 438 to the 384 Baines has hit. Baines has a better lifetime batting average with a .289 mark while Dawson hit .279. Baines is listed at baseball-reference.com as being 382nd in batting average while Dawson is listed as 602nd. Baines is 40th in major league history in hits with 2866 hits while Dawson is 45th with 2774. Baines has the most hits of any player eligible for Hall of Fame. Craig Biggio has more hits, but is not eligible at the present time for admission to the Hall of Fame.
Baines is 26th in runs batted in with 1628 while Dawson is 32nd with 1591 runs batted in. There is no reason that Dawson should be getting almost 60 percent more votes than Baines. The problem for Baines was that he was the quiet type of player that just went out and did his job without getting the recognition nationally he deserved.
Nobody can say the Chicago White Sox haven't recognized his contributions since the White Sox having retired his number while he was still playing and have now built a statue in his honor. He has better stats than Tony Perez, who is in the Hall of Fame already, but for some reason none of the voters have noticed. Even Tim Raines, who had a good career but not anywhere near the career of Baines, had 132 votes and 24.3 percent of the vote.
Other players who received more than the 28 votes Baines received include Alan Trammell (99), Dave Concepcion (88), Don Mattingly (86), Dave Parker (82), and Dale Murphy (75). Then there is a huge jump to the next player on the list: Baines (28).
Frank Thomas is the only other White Sox player with more runs batted in than Baines for the White Sox franchise (1674). Sammy Sosa had 1667, but only played two full seasons and part of a season with the White Sox.
Unless voters start looking at stats more closely deserving players like Harold Baines will never see their plaques on the wall of the Baseball Hall of Fame and that is compounded by the players who have already been voted in that didn't deserve to be admitted.
Why is Rick Ferrell in the Baseball Hall of Fame? He hit .281 and hit 28 home runs and drove in 734 runs. He had 1692 lifetime hits, stole only 29 bases, and slugged .363. His main claim to fame was that he caught more games as a catcher than any other American League player at one time and was good at catching the knuckleball.
That brings us back to Baines, who has to look at the numbers of players like Ferrell who have no business being in the Hall of Fame and has to know in his heart that his chances of ever being admitted to the Hall of Fame are slim and none. I think it is safe to say that if Baines had played for the New York Yankees, he would already be in the Hall of Fame. Playing so many years as a designated hitter has probably hurt Baines in the Hall of Fame voting. However, he should not be punished for a rule that has skewered the records of baseball almost as badly as the use of performance enhancers have. It was a shame his career wound down before he could get the 3000th hit, which would have forced voters to recognize him like it did when another DH Paul Molitor was admitted into the hallowed museum in Cooperstown, New York.
Despite being the kind of player that hasn't been given the recognition he deserves he has an interesting background. At the age of 12, Bill Veeck discovered him while watching Baines in a Little League game in Maryland where Veeck had retired to at the time.
Baines was signed by the White Sox as No. 1 pick in the 1977 amateur draft. He played three different times for both the White Sox and Orioles. He was part of the trade that sent him to the Rangers while the White Sox got Sammy Sosa and other players in return.
Terrible Trades in Which Baines Was Given Away
The Texas Rangers traded him to the Oakland Athletics for Joe Bitker and Scott Chiamparino. Then, the Athletics traded him to the Baltimore Orioles for Bobby Chouinard and Allen Plaster. Later in his career, the White Sox traded him to the Baltimore Orioles for Juan Batista. Then, the Orioles traded him to the Cleveland Indians for Juan Aracena and Jimmy Hamilton. He was traded back to the White Sox by the the Orioles with the Orioles sending him and Charles Johnson to the White Sox for Brook Fordyce, Jason Latman, Juan Figueroa, and Miguel Felix. For the most part, whenever Baines was traded, the other team was going to get stuck with players that would have mediocre careers at best excluding the Sammy Sosa trade when he went to the White Sox and later to the Cubs.
One of the highlights of his major league career was when Baines ended a 25 inning game with the Milwaukee Brewers when he homered to give the White Sox a 7-6 victory on May 19, 1984. The game lasted eight hours and six minutes.
On June 7, 1997 Baines hit a game winning single witnessed by 425 dogs on Canine Day in Comiskey Park that ended an 11 inning game with the Orioles by a 1-0 score. The dogs were glad he ended the game before they suffered heat prostration.
Only seven players have hit more walkoff home runs than Baines in their career which includes some of the biggest stars in baseball history:
Jimmie Foxx, Mickey Mantle, Stan Musial, Frank Robinson, Babe Ruth, and Tony Perez (12)
Dick Allen (11)
Harold Baines, Reggie Jackson and Mike Schmidt (10)
Jerry Reinsdorf made the following quotes at baseballpage.com about Baines:
"What really has bothered me for a long time is that if we hadn't traded him, he would have his 3,000 hits, and he would be a lock for the Hall of Fame," said White Sox president Jerry Reinsdorf, who oversaw Baines' trade to Texas on July 29, 1989, and to Baltimore on July 29, 1997.
"We traded him twice - and into bad situations where he was a platoon player.
"If he stayed with us, he would have gone over 3,000 hits. If he doesn't get in [to the Hall of Fame], it would really bug me. I talk to him about it, and he just shrugs it off."
Paul Richards, the White Sox GM, said after making Baines the first pick in the 1977 amateur draft that Baines was on his way to the Hall of Fame.
Baseballpage.com also has this quote from Jimmy Piersall about Baines:
"The Sox signed him out of high school and Bill [Veeck] asked me to work with him. I said 'how much?' Bill named a figure so I did. Harold was very quiet and if you didn't know better you'd think he wasn't taking it in, but he was. It was the first time I ever tried to teach a player and I learned something about myself. I showed him the type of glove to use, how to set up in the outfield for hitters, how to think when he was hitting.. just about everything. Harold was quiet but he always talked to me. He turned out to be a great outfielder with a tremendous arm. He may have been the best player the Sox ever had." — Jimmy Piersall, from an interview with Mark Liptak
Baines was born in Easton, Maryland on March 15, 1959. He played his first major league game on April 10, 1980 and his last game on September 27, 2001 at the age of 42.
If not for a knee injury that relegated him to being a DH for the last years of his career he may have already been voted into the Hall of Fame or at the least be getting more than 28 votes like he did this year.
Baines led by example and was a quiet leader but to me he is one of the best players to don a uniform. I am sure he would trade his retired number and statue to be admitted to the Baseball Hall of Fame but they may have to do since it seems like the voters are ignoring Baines as they continue to elect less than deserving players leaving Baines on the outside looking in.