Johnny Marzano Dies at 45
John Marzano died after reportedly falling down a flight of stairs on Saturday. Marzano played for the Boston Red Sox for six years from 1987-1992. He spent the next two years in the Minor Leagues before surfacing in 1995 with the Texas Rangers. Marzano also played with the Seattle Mariners during his last three years in the Major Leagues.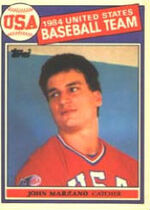 Before he died, Marzano was working as a host for MLB.com. He was a graduate of Temple University and was a catcher on the 1984 Olympic baseball team. He was the prototype of a backup catcher having never played more than 52 games in a season and never hit more than 5 home runs in a season. In 794 career at-bats, he hit 11 home runs in his 10 year career, drove in 72 runs, and hit .241. He was chosen as the first pick by the Red Sox in the 1984 amateur draft, and was the 16th overall pick. In the final year of his career, he made only $300,000, which was far short of the minimum rookie salary of today ($390,000).
Marzano may not have had great statistics but will be remembered by those who knew him as a fun loving man who loved baseball.
Around the Bases
Frank Thomas is no longer with the Toronto Blue Jays after being released yesterday. He was told by manager John Gibbons that he would be benched and the team knowing the displeasure of Thomas at being benched gave him his release.
Now he can try working out a deal with an AL club that would use him as a DH. The best fit to me would be for him to play for the Oakland A's since the team has only 7 home runs in their first 20 games. With Jack Cust hitting .157, one home run, and 6 RBI's so far, the A's need help in the power department and Thomas could be the one to help provide that power.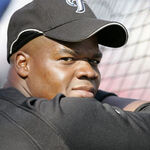 Thomas, who will be 40 next month, played in 155 games last season for the Blue Jays. So it is still capable for him to play regularly and contributing. ESPN.com is projecting him to hit 30 home runs and drive in 110 runs this season. It will be interesting to see what teams express an interest in signing Thomas.
Jeremy Bonderman leads the Detroit Tigers in best ERA among their starters with a 4.37 mark, but the next is Kenny Rogers with a 6.33 ERA. Justin Verlander, Dontrelle Willis, and Nate Robertson have ERAs over 7.00. Among the hitters, Gary Sheffield (hitting .192 with one home run and 2 RBI's) and Placido Polanco (hitting .148 with no homers and 4 RBI's) have been the biggest disappointments. Placido is a lifetime .303 hitter.
Even though the hitters have not been hitting as well as they should, I think the pitchers deserve more of the blame for the slow start by the Tigers. It is difficult for any offense to score enough runs to win when four of the starters are giving up over 6 runs a game.
Alex Rodriguez, who strained his right quad yesterday, has batted 23 more times than Derek Jeter, but Jeter leads the New York Yankees in RBI's with 11, while Rodriguez is tied with Bobby Abreu for second place on the team with 10.
Last Thursday, David Ortiz was hitting .111 with one homer and 4 RBI's. After finishing the three games series this past weekend against the Texas Rangers, he is hitting .160 with 2 homers and 12 RBI's. When he drives in 8 runs in 3 games, we know that David Ortiz is back.
After starting the season with a 2-0 record and a 0.64 ERA, Edwin Jackson of the Tampa Bay Rays has lost his last two starts and his ERA now stands at 4.63. He gave up one run in his first 14 innings pitched this season, but since then, he has given up 11 runs in 9 innings. His next start Saturday against the Red Sox will be a test as to how well he handles the pressure in that game.
Chicago White Sox' Jim Thome is 19th on the alltime home run list when he hit No. 512. That home run ties him with Eddie Mathews and Ernie Banks. He needs 10 homers to pass Ted Williams and Willie McCovey, who each have 521.
Ichiro Suzuki, hitting .259, is currently sixth on the Seattle Mariners in batting average. ESPN.com is projecting him to have 178 hits this season, which would be the first time he has not had 200 hits in one season in the MLB; he has collected 200+ hits for seven conecutive seasons. He is hitting 73 points below his lifetime .332 average.
Dana Eveland is 2-1 and has an ERA of 1.90 for the A's after his win over the Kansas City Royals yesterday. The A's have three starters with an ERA of under 2.00, but two of them are on disabled list; Justin Duchscherer has a 1.80 ERA and Rich Harden's ERA stands at 0.82. Harden, who seldom has a short stay on the DL, has not pitched since April 2nd.
Eric Gagne blew his third save of the season as he allowed the Cincinnati Reds to score three times in the bottom of the tenth inning after the Milwaukee Brewers had taken a 3-1 lead in the top of the tenth. From 2002 to 2004 with the Los Angeles Dodgers, he had only 6 blown saves. He has already blown 3 this 18 games this season, and only 7 innings of pitching. It is alarming that he has given up 4 home runs in 7 innings. This is definitely not what you would expect from a closer. His 8.22 ERA is 357th among Major League pitchers.
Chipper Jones, like A-Rod, injured his right quad muscle yesterday, but shouldn't miss many games. Jones, who is hitting .458, is leading the majors in batting average, and is 67 points ahead of second place Rafael Furcal, who is hitting .391. The Braves, who swept the Dodgers, now host the Washington Nationals. Tim Hudson and John Smoltz are expected to pitch against the Nats in this two game series. On Tuesday, Smoltz will need 4 strikeouts to reach 3000 strikeouts, making him the 16th pitcher to reach the mark. It will be another accomplishment to go in his resume for Hall of Fame consideration. He was a reliever for four seasons, which has left him with 210 wins. So even though he has little chance of winning 300 games, he stands a good chance of being voted into the Hall of Fame.
Chase Utley homered twice last night to give him the Major League lead with 8 homers, while Derrek Lee didn't hit any last night and dropped to second, standing at 7 homers. Six players are tied with 6 home runs, including Manny Ramirez, who leads the MLB in RBI's with 20. On this date last season, Ramirez had 8 RBI's and was hitting .193, while this year he is hitting .338. What an April turnaround it has been so far.
Not many fans would have predicted that John Bowker would be tied for the lead in home runs for the San Francisco Giants (3), or that he would be second on the team in RBI's (9). Bowker is not only producing that much for the team, but he is also leading the team in batting average (.364), on-base percentage (.400), and slugging percentage (.864). The Giants started the season 1-6, but have been 7-5 since then.
The Pittsburgh Pirates closed the gap to 5-3 after trailing 5-0 to the Chicago Cubs, but then the Pirates' bullpen entered the picture and it was all downhill after that. In two innings, Franquelis Osoria and Damaso Marte combined to allow 8 runs and 9 hits to put the game out of reach.
The chances of Randy Johnson winning the 16 games he needs to reach the 300 wins plateau are looking slimmer after he failed to win either of his first two starts. He almost certainly will have to return to pitch in 2009 to reach 300 wins. He will be 45 in September, but I think he will return in 2009 if he is a few wins short of 300. He probably could get in with less than 300 wins because of his overwhelming strikeout total, and the fact that he has some Cy Young awards in his trophy case.
Chase Utley is making a strong case in the early going to win the NL MVP. He is leading the Philadelphia Phillies in almost every offensive category, although Pat Burrell currently leads in slugging percentage. Now if only the Phillies can get Ryan Howard to turn it up a notch, they could have a great shot at winning the NL East.
Brandon Webb (4-0) will try for his 5th win against Barry Zito and the San Francisco Giants on Tuesday. Zito is still seeking his first win of the season and is 0-4.
Looking at the Standings
The Boston Red Sox and Atlanta Braves have the current longest winning streaks in the Majors with 4 consecutive wins each. The Pirates have a five game losing streak, which is the longest current losing streak. Pirates starters are 3-8 this season with Zach Duke, Matt Morris, and Paul Maholm still looking for their first win. Nate McLouth and Xavier Nady are having a good offensive season so far, but Jason Bay has only 5 RBI's in 17 games ,while McLouth and Nady have 16 and 15, respectively. The Pirates have been outscored 48-12 in their current five game losing streak.
In the last ten games, the Red Sox are a Major League leading 8-2, while the Washington Nationals and Texas Rangers are 2-8 in their last 10 games for the major league worst record.
The Boston Red Sox and Arizona Diamondbacks are both 7-2 at home to lead in home wins. The Chicago White Sox are the best road team with a 7-4 record. The Texas Rangers and Detroit Tigers have the worst home record with both teams being 2-6 at home. The Los Angeles Dodgers are the worst road team so far with a 2-7 record.