Best Hitting Pitchers
Home Runs (At least 20 Home Runs):
Wes Ferrell - 38
Bob Lemon - 37 (Former infielder)
Red Ruffing - 36
Warren Spahn - 35 (1872 at bats)
Earl Wilson - 35 (720 at bats)
Don Drysdale - 29
Walter Johnson - 24
John Clarkson - 24
Bob Gibson - 24
Jack Stivetts - 21
Dizzy Trout - 21
Milt Pappas - 20
Runs Batted In (200 or more):
Red Ruffing - 273
Walter Johnson - 252
Walter Johnson is the all-time leader in these hitting categories for a pitcher in the modern era:
Hits: 542
Doubles: 93
Triples: 41

Not counting Babe Ruth, it is safe to say that Wes Ferrell was one of the best hitting pitchers pitchers ever. His brother, Rick Ferrell batted 6028 times to hit 28 home runs, while his brother Wes, the pitcher, hit 38 home runs in 1176 at bats. Wes Ferrell also had a 193-128 record but guess who made the Hall of Fame. His brother, of course, who never drove in more than 77 runs in a season, never hit more than 8 home runs in a season, had a lifetime .281 average, did have a good OBP of .378 and drew 931 walks while striking out only 277 times in his 18 year career. It makes you wonder why players like Andre Dawson and Jim Rice, who have better stats, are not in the Hall of Fame.
Worst Hitting Pitchers
In 1962, Bob Buhl was 0 for 70, Hank Aguirre was 2 for 75, and Roger Craig was 4 for 76. They combined for 6 hits in 221 times at bat. Buhl would have been near the top in worst batting average, but in 1960, he messed up and had 14 hits that season ruining his chances to have the worst career batting average of all time for a pitcher. Buhl had 76 hits with 2 doubles to go with his 76 singles. He finished his career with a .089 batting average.
Joe Torre said Buhl was such a bad hitter he tried being a switch hitter batting from both sides of the plate, but he still struck out so much he was more of a swish hitter than a switch hitter.
I could not find any list online of the worst hitting pitchers all-time, so for right now, I will say that Ron Herbel, who hit .029 for his career, is the worst hitting pitcher I could find.
Better Hitting Pitchers Today:
Carlos Zambrano, Micah Owings, and Mike Hampton are some of the better hitting pitchers playing today. Zambrano had 20 hits last season, including 2 home runs and has hit 8 home runs over the last two seasons. Owings also had 20 hits last season including 7 doubles, a triple, and 4 home runs, not to mention the 15 runs he drove in as well. He hit .333 last season and slugged .683 and had an OPS of 1.032. Owings hit .371 in the minors. Last season, after being traded to the Chicago Cubs, Jason Kendall had twelve extra base hits, but it took him 174 at bats while it took Owings only 60 at bats, which explains why the Milwaukee Brewers are considering having Kendall bat ninth in 2008.
Hampton didn't hit a home run in his first seven major league seasons, but in the last five seasons he has hit 15 and but hasn't been in a major league game since 2005 when he batted only 25 times. With him healthy, as this is being written he should have plenty of chances to add to his 15 home runs.
When making lists like this, it is easy to leave someone out, so readers are encouraged to mention names of players that should have been mentioned.
Spring Training Notebook
The Los Angeles Angels of Anaheim have gone from one of the strongest starting rotations in baseball with John Lackey, Kelvim Escobar, Jered Weaver, and Jon Garland to a rotation of only Weaver and Garland and pray for three days of rain. It is not really that bad yet since Joe Saunders has an ERA of 1.00 this spring, and Dustin Moseley has an ERA of 3.00, but they still need a fifth starter, who may be either Ervin Santana or Nick Adenhart, who has not pitched above the AA level.
Buck Coats became the first Toronto Blue Jays player to have two home runs this spring. They still have eleven players with one home run each this spring. Vernon Wells and Alexis Rios only have two home runs combined in 99 at bats. Bronson Arroyo (2-0) hopes he can carry his 1.89 ERA into the regular season for the Cincinnati Reds.
Adam Eaton may have blown his chance of being a starter for the Philadelphia Phillies after giving up 6 earned runs and 11 hits in 4 2/3 innings, and finished the game with a 7.41 ERA. Eaton could still be in the rotation by default since J.D. Durbin has an 0-4 record and a 12.33 ERA this spring. Brett Myers, with a 1.13 ERA, is clearly the best Phillies pitcher this spring. Hopefully, the Phillies pitchers will fare better when the season starts for them next week since these spring numbers will mean even less then than they do today.
Carlos Pena hit his fifth home run of the spring for the Tampa Bay Rays in their 9-7 win over the Cleveland Indians. Andy Gonzalez, who hit .185 for the [Chicago White Sox]] in 2007, is leading the Indians in home runs and RBI's this spring with 5 home runs and 17 RBI's but is hitting only .250 yet has a slugging mark of .694 and an OPS of 1.019. Kyle Lohse (1-0 with a 1.80 ERA) pitched five shutout innings yesterday in the St. Louis Cardinals' 2-0 shutout win over the Florida Marlins.
Troy Tulowitzki hit his sixth home run and Kip Wells (2-1) took the win in the 6-2 victory over the Los Angeles Angels. Wells should do much better this season with the explosive Colorado Rockies' offense backing him up. It seems like it wasn't that long ago since the Los Angeles Dodgers and San Francisco Giants moved to California, but it has been 50 years already. The move robbed New York of two of their three teams, and the New York Yankees had New York to itself until 1962 when the laughing stock of baseball Mets moved to New York.
1962 Mets: 40-120...60 1/2 Games Out of First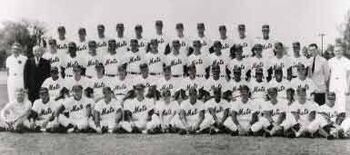 When baseball fans think of the worst teams in the history of baseball, the 1962 New York Mets are usually the team that first comes to mind. The 1962 Mets had the lowest batting average in the NL (.240), the fewest hits (1318), which was 244 hits fewer than the San Francisco Giants, who would play the New York Yankees in the World Series that year.
They hit 105 home runs (compare that to the Giants' 204). The team ERA was 5.04, and of the 17 pitchers who pitched for the Mets in 1962, only Ken Mackenzie had a winning record, and it was barely a winning record with a 5-4 mark.
The first four starters on the team were Jay Hook (8-19), Roger Craig (10-24), Al Jackson (8-20), and Bob Miller (1-12). The fifth starter, Craig Anderson was even worse with a 3-17 record. After defeating Milwaukee on May 12th, his record was 3-1, but he never won again the rest of the season while losing 16 straight decisions. Anderson led the team in saves with four.
Richie Ashburn, who was later to become a Hall of Famer, led the team in batting average with a .305 mark, but he never played again even though he was only 35, which is considered young these days. If he had played to 39 or 40, he may have reached the 3000 hit mark, but he retired being 426 hits short. Ashburn played in the majors for 15 years, never struck out more than he walked and in 1952, he struck out only 30 times in 613 at bats. Ashburn was the only Met to make the. He was inducted into the Hall of Fame in 1995 and died in New York two years later. I have an idea if he was with a better team he may have played a few more years.
Frank Thomas was the slugger on the team leading in home runs with 34 and RBI's with 94. Marvelous Marv Throneberry was next in home runs with 16. Throneberry was an atrocious fielder making 17 errors in the 97 games he played at first base. Comparing to the 2007 season, Prince Fielder made the most errors as a first baseman with 14 errors in 153 games last season.
Marvelous Marv Throneberry provided comic relief for Casey Stengel, the manager who really didn't want comic relief, but wanted wins instead. Once Throneberry hit a triple, but had failed to touch second base and Stengel went out to argue with the umpire, but the umpire told him "Don't bother arguing, Casey; he missed first base too." There is another variation on this story circulating that says one of the Mets coaches had told him about Throneberry missing first base too. Anyway the next batter after Throneberry hit a home run and Stengel followed him around the bases pointing at the bases to make sure he didn't miss touching a base.
As was mentioned earlier, Throneberry was known for making a lot of errors. When Stengel had a birthday cake for his birthday, Throneberry complained about not getting a piece of cake and Stengel said "We would have given you a piece, but we were afraid you would drop it." Throneberry was second in home runs with 16 in 1962, but he batted only 14 times in 1963 before the Mets decided they had seen enough of Mr. Throneberry and released him at the age of 29, ending his major league career. His brother Faye also had a nondescript career playing mostly for the Boston Red Sox and Washington Senators. In 1957, the Senators stole only 13 bases all season, and Jayson Stark in 2005 created the Faye Throneberry Award for teams with fewest stolen bases. Faye like his brother retired at an early age lasting one more year than his brother and retiring at 30.
Choo Choo Coleman was another immortal Met from the 1962 team. Once Casey Stengel was trying to teach the inept Mets the basics of baseball and held up a baseball, Choo Choo said "Wait...you're going too fast." Duke Snider once asked Choo Choo if he knew who he (Snider) was and Choo Choo said "Yes, you're No. 4."