New York Yankees' Chien-Ming Wang found out how much an earned run average can fluctuate early in the season when he came into the game last night with an ERA of 1.23 and left the game four innings later with a 3.81 ERA. His mound opponent, Clay Buchholz, saw his ERA go from 3.27 to 6.75. The winning pitcher, LaTroy Hawkins, has an ERA of 7.00. After last Sunday's game, Alex Rodriguez was hitting .260, but by the end of Wednesday's 15-9 win over the Boston Red Sox, his batting average increased to .313.
David Ortiz picked up one hit in five at bats to raise his average to .121. After 58 at bats, he has only one home run and 4 RBI's. It has been 54 years since the Red Sox allowed this many runs in a game at Yankee Stadium. Josh Beckett (1-1) faces Mike Mussina in today's game.
After being outscored 17-0 last Saturday and Sunday, the Detroit Tigers have come back to score 30 runs in their last 3 games as they posted their third straight win. A big part of the resurgence has been the hitting of Miguel Cabrera, who has hit 2 homers and has driven in 8 runs in those 3 wins. His average has jumped from .175 after Sunday's game to .264. In that time span, his slugging percentage has changed from .275 to .472, and his OPS was .558 to .822 as well. The win over the Cleveland Indians yesterday moved the Tigers into a tie for last place with the Indians. The division has been turned upside down this year with the Tigers and Indians looking up at the first place Chicago White Sox, the second place Kansas City Royals and third place Minnesota Twins. The Tigers got a boost from the performance by Armando Gallaraga, who replaced Dontrelle Willis and gave up one hit in 6 2/3 innings to win in only his second major league start.
The Texas Rangers and Toronto Blue Jays played for 14 innings in Toronto before the Rangers won the game 7-5 with two runs in the top of the 14th inning. Milton Bradley was 2 for 3 with 5 walks, but only scored once as the Rangers left 19 on base.
The Tampa Bay Rays need Scott Kazmir and Matt Garza back soon since they are 3-7 in their last ten games. Edwin Jackson leads Rays starters with 2 wins. Jose Contreras (1-1) won his first game of the season in his 3-1 win over the Baltimore Orioles yesterday.
It took five starts, but Gil Meche finally won his first game of the season. If the Royals can get Meche, Brian Bannister, and Zack Greinke to pitch well throughout the whole season, they have a chance to contend in the AL Central. They are now 9-6, while a year ago on this date, they were 3-10.
Felix Hernandez (2-0) pitched a complete game win over the Oakland A's and allowed only one run.
Brandon Webb (4-0) became the first 4 game winner in the Majors this season as he defeated Barry Zito (0-4) and the San Francisco Giants lost to the Arizona Diamondbacks 4-1. Last season, Webb didn't win his fourth game until May 26th.
Roy Oswalt (1-3) pitched the Houston Astros to a 2-1 win over the Philadelphia Phillies. He had allowed 13 earned runs combined in his last two starts. The win tied the Astros with the Cincinnati Reds for last place in the NL Central with identical 6-9 records. Kyle Kendrick (1-2) pitched well giving up only 2 runs and 4 hits in 7 innings. If he pitches this well for the rest of the season, he should have 15 wins by the end of the year (that is, if he gets more support from the offense).
Tim Hudson (2-1) only lasted 3 innings last night as the Atlanta Braves lost to Mark Hendrickson (3-1) and the Florida Marlins 6-5. Mike Jacobs hit his 6th home run of the season for the Marlins, which ties him for the Major League lead with Derrek Lee and Carlos Pena in the "Home Runs" category. Jacobs didn't hit his 6th home run last season until July 13th.
Carlos Zambrano (3-1) pitched and hit the Chicago Cubs to a 12-3 win against the Cincinnati Reds. Zambrano allowed 2 runs in 7 innings and was 3 for 4 at the plate, driving in a run. Derrek Lee hit his 6th home run of the season. Josh Fogg (1-2) won't be in the Reds' rotation for long if he continues to pitch like he did yesterday; he pitched 2 innings and gave up 9 runs and 7 hits as his ERA balloned from 7.00 at start of the game to 13.09 at the end of the game.
Adam Wainwright (2-1) pitched and hit the St. Louis Cardinals to a 5-4 win over the Milwaukee Brewers as he gave up 2 runs in 7 2/3 innings and hit his first home run of the season. The Brewers could have used Gabe Kapler, but he injured his shoulder when he hit the wall in batting practice before the game. Jason Kendall, who was hitting .538 on April 10th, is 1 for 18 since then, lowering his average to .341.
The Colorado Rockies blasted the San Diego Padres 10-2 behind the pitching of Mark Redman (2-1) and a 15 hit attack. Redman allowed 2 runs and 3 hits in 5 innings, and the bullpen threw 4 innings of scoreless and hitless relief.
Brad Penny (2-2) gave up no earned runs in the 8-1 shellacking of the Pittsburgh Pirates. After 15 games, Andruw Jones has no home runs and only 2 RBI's. However, he is showing some signs that he may be breaking out of the slump with 4 hits in his last 11 at bats. He had only 3 hits in his previous 36 at-bats and has raised his average from .100 on Sunday to .157 after the game yesterday.
Players From the Past: Ron Necciai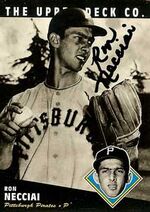 Ron Necciai
Born: June 18, 1932 in Gallatin, Pennsylvania
Major League Debut: August 10, 1952
Final Game: September 28, 1952
On May 13, 1952 Ron Necciai pitched one of the best games in the history of organized baseball when he struck out 27 batters in a nine inning game for Bristol in the Class D Appalachian League. Four hitters for Welch (the opponent that day) reached base. One walked, one got on base by an error, one got hit by a pitch, and one reached first with the catcher letting a third strike get past him (in the 9th inning). So he struck out four batters in the ninth inning. The passed ball gave Necciai the chance to record his 27th strikeout of the game.
In his next start, he struck out 24 batters, which gave him 51 strikeouts in 2 games. Before being promoted from Bristol, he had 109 strikeouts in 43 innings while with Bristol and had an ERA of 0.42.
In 1952, he was called up the Pittsburgh Pirates late in the season and had a 1-6 record with a 7.08 ERA. In 54 2/3 innings, he gave up 43 earned runs and 63 hits. He struck out 31 and walked 32 while in the Majors and he never pitched in the Majors again after sustaining a rotator cuff injury at a time when Tommy John surgery was unheard of.
The following link leads to the best article I have found about Necciai:
http://vault.sportsillustrated.cnn.com/vault/article/magazine/MAG1066032/1/index.htm