The Chicago White Sox are not built for speed this year. With Jerry Owens rehabbing, the White Sox have only one stolen base in their first 13 games, but they seem to be going for power rather than speed since Carlos Quentin is second on the team in RBI's (13), while Owens had only 17 RBI's last season in 93 games. It looks like Owens will be on the outside looking in if and when he returns to Chicago. Owens did have 32 stolen bases last season, but Ozzie Guillen understandably is leaning toward keeping the lineup the way it is now. Brian Anderson and Alexei Ramirez have only 24 at bats combined this season, so even if Owens does arrive in Chicago, it is highly unlikely any of those three players will be playing everyday.
The Detroit Tigers, who were on the brink of falling nine games under .500 on Monday, are now six games under .500 and only a game behind the Cleveland Indians. The Tigers only had 8 home runs this season before the 4 home run barrage of yesterday. A third of their home runs for the season were hit yesterday. Today, Armando Galarraga starts in the place of injured Dontrelle Willis. John Bale (0-3) is the weak link of the Royals' rotation, along with Gil Meche (0-2). Bale has an ERA of 7.63 while Meche has a 7.13 mark.
Jose Lopez tied a major league record by hitting 3 sacrifice flies in one game; it had only been done 11 times before. Yuniesky Betancourt added 2 more sacrifice flies tying the Major League record for the most sacrifice flies in a game. The Seattle Mariners defeated the Kansas City Royals 11-6. Jacoby Ellsbury was hitting .176 six days ago, but since then, he has raised his average to .280. His .424 on base percentage is only bettered by Kevin Youkilis (.452). Jacoby played in the place of J.D. Drew yesterday, who is in the midst of a 1 for 13 slump, and didn't fare well against Paul Byrd last season. While Ellsbury has been hitting better, Drew has seen his average plummet from .440 to .316 in the last 6 days.
Steve Trachsel started the game yesterday for the Baltimore Orioles with a 3.00 ERA, but after giving up 5 runs in less than 3 innings. it rose to 5.65. Randor Bierd has pitched 10 scoreless innings of relief for the Orioles. The Orioles starters this season are 3-4 this season, while the bullpen has a 5-2 record. The starters are going to have to start winning more since there is no guarantee that the starters can keep them close enough for the bullpen to win as often as they are now. I look for the Orioles to start slipping in the standings very soon. After their 6 game winning streak, they are currently 2-4 in their last 6 games.
After giving up only one run in his first 14 innings, Tampa Bay Rays' Edwin Jackson allowed the New York Yankees to score 5 times in 5 innings, which rose his ERA to 2.84 after starting the game at 0.64. Troy Percival has the only save posted by a Rays pitcher this season. Looking at all of Tampa Bay's wins, the Rays have won by scores of 6-2, 13-4, 6-3, 7-0, 10-5 and 6-2. So the 6-3 win was the only save situation for Percival. Al Reyes has one blown save when he snatched defeat from the jaws of victory on April 2nd. He was supposed to setup Percival for the save, but instead allowed the Orioles to score four times, and instead of dousing the flames he poured lighter fluid on the smoldering fire and will never be voted "Fireman of the Year" for that disaster. So instead of a 6-5 victory, the Rays were saddled with a 9-6 loss. After a 3-1 start, the Rays have been 3-7.
Micah Owings is now 3-0 after 3 starts. In 2007, he had 27 starts and won only 8 games. He does need to work on his hitting though. After hitting .333 last season, he is struggling at the plate with only 2 hits in 9 at bats for a .222 average. Brandon Webb is also 3-0, Dan Haren is 2-0 and Randy Johnson is 0-0 with a 0.00 ERA. The first four starters for the Arizona Diamondbacks are 8-0. The D-Backs are currently 1st in hitting in the NL with a .277 average, and are 2nd in pitching with a 3.12 ERA. They are leading the majors in home runs (24) and in runs scored (89), and are 18 runs ahead of the Pittsburgh Pirates, who are the closest NL team (71).
The Philadelphia Phillies staged an impressive ninth inning comeback as they scored 4 times to erase a 3-0 margin the Houston Astros carried into the frame. Adam Eaton, who has yet to have a decision this season, kept the Phillies close enough for them to take the win. Eaton has pitched at least 6 innings in each start and has given up 3 runs each time. Jose Valverde. the Major League leader in saves last season, blew his second save of the season for the Astros. Pat Burrell, who was off to a horrific start last season, is now tied for the NL lead in home runs and RBI's with 5 and 15 respectively.
The Atlanta Braves lost 4-0 yesterday, as they could only muster 6 singles in the loss to the Florida Marlins. Scott Olsen (2-0) took the win. David Wright homered and drove in 5 runs to tie him for the NL RBI lead (15). Mike Pelfrey is 2-0 and has allowed only 2 runs in 12 innings with a 1.50 ERA. Ken Griffey Jr. hit his 595th home run of his career, as he edges closer to the 600 home run mark. Derrek Lee tied for the NL lead in home runs when he hit his 5th home run of the season.
The St. Louis Cardinals, along with the Diamondbacks, became the first teams to post 10 wins this season. Braden Looper (3-0) held the Milwaukee Brewers to 3 hits in 5 innings, and the bullpen pitched scoreless and hitless baseball the last 4 innings of the game for the Cardinals. Randy Wolf (1-0) allowed the Colorado Rockies only one hit in 7 innings while striking out 9 in the San Diego Padres' 6-0 shutout of the Rockies. Jeff Kent hit his 368th home run as the Los Angeles Dodgers defeated the Pittsburgh Pirates 11-2.
Tennessee Smokies 3 Montgomery Biscuits 2
It was a chilly 49 degrees by the time the Smokies had posted a 3-2 win over the badly named Montgomery Biscuits. That name makes the Lansing Lugnuts sound like a great name. Even worse may the Albuquerque Isotopes. How can a fan cheer for a team with a name like that when I, for one, don't even know what an isotope looks like and can't imagine an Isotope mascot walking around the stands and what does a Lansing Lugnut mascot look like.
Sorry to digress from the game but the idea of a Lugnut, Biscuit or Isotope mascot roaming around the stands scares me and I would like to see what a Carolina Mudcat looks like. Cats and mud just don't go together as cats are usually very fastidious about their appearance and I can't see them having anything to do with mud.
Back to the game. Jeff Samardzija (2-0) didn't get the decison since he left the game with the score tied 2-2 after 5 innings. Jeff was not as effective as he was last Thursday night when he pitched 7 innings of scorless baseball with only 4 hits allowed. Last night, he pitched 5 innings and allowed 2 runs and 5 hits, while giving up a home run. Still, I give him credit for being able to work out of jams or the game may have been won by the Biscuits.
Wade Davis (2-0) also pitched well for the Biscuits, who are a farm club of the Tampa Bay Rays. He also gave up 2 runs and 5 hits like Samardzija. On a side note, Clay Kershaw (0-3) lost to the Carolina Mudcats by the same identical 2-0 score he lost by last Thursday night when he was beaten by the Smokies and Jeff Samardzija. However, he lowered his ERA from 3.38 to 2.57 yesterday and pitched six strong innings and allowed only one run and four hits.
The Smokies were overaggressive in their baserunning with two runners thrown out at second when trying to advance an extra base. The Smokies have a player worth watching in Doug Deeds. He has only played in 5 of the 12 games and leads the team in home runs with 2 and 2nd in RBI's with 5.
In a major surprise to me, the DH was being used even though the Smokies are an NL team while the Rays use the DH in the majors. I was thinking the home team had the choice of whether to use the DH.
It was buck night at the game with soft drinks, popcorn, hot dogs and programs being sold for $1. I would love to see what Major League teams are selling these same items for. So this is what my final tally for the night was:
Parking $3
Ticket $8 (55 and older discount of $1); the seat was on second row between home plate and Smokies dugout so really had a great view of the action.
2 Hot Dogs $2
1 Popcorn $1
1 Soft Drink $1
Grand total: $15
Some Major League teams probably charge $15 just to park. I would like to get an idea from readers of what it costs them to go to a Major League game.
Players From the Past: Ned Garver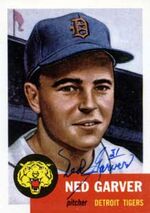 Ned Garver:
Born: December 25, 1925 in Ney, Ohio
Uncle of Bruce Berenyi RHP of the Cincinnati Reds and New York Mets (1980-1986)
Major League Debut: April 28, 1948
Final Game: June 4, 1961
Ned Garver is best known for being one of only seven pitchers in the modern era to win 20 games with a last place team, (Nolan Ryan and Steve Carlton have also accomplished the feat). Garver was 20-12 for the 1951 St. Louis Browns, who finished with record of 52-102. While he was winning 20 games, the rest of the staff only won 32 games. No other pitcher on the team won more than 6 games and no other pitcher on the Browns even had a winning record in 1951. Garver is the only one of those seven pitchers to have hit .300 while winning 20 for a last place team. He even batted sixth in the lineup sometimes. When he hit .305 in 1951, he had 29 hits. He had 7 homers and 72 RBI's in his career.
He finished his career with a 129-157 record and had 881 strikeouts and 881 walks while pitching for the Browns, Detroit Tigers, Kansas City Athletics, and the [[Los Angeles Angels|California Angels.
On June 30, 1950, Garver made a crucial baserunning mistake when he didn't touch third base when scoring what would have been the winning run and he eventually lost the game in 13 innings by a 3-2 score to the Chicago White Sox.