Evan Longoria Making Impact Already
Evan Longoria may have been with the Tampa Bay Rays for only a couple of days, but he is hitting .444 and hit a double and home run last night. His home run came in a five run seventh inning that tied the score with the New York Yankees 7-7. For him to hit this well off the Yankees shows he is destined to be a star for the Rays. The Yankees took the 8-7 win after a Robinson Cano solo jack against Al Reyes.
Carl Crawford finally hit his first extra base hit of the season in the thirteenth game of the season. All four Yankees homers were solo homers. Andy Sonnanstine was hammered by the Yankees giving up 7 runs and 9 hits in 3 1/3 innings. Ian Kennedy pitched well enough to win, but the Yankee bullpen couldn't hold the lead. There were 7 home runs hit, but those home runs accounted for only 9 runs in the game. Tonight, Edwin Jackson (2-0) will try for his second defeat of the Yankees in ten days.
Red Sox Stage Comeback to Defeat Indians 6-4
The Cleveland Indians were beating the Boston Red Sox 4-1 after 6 innings but gave up 5 runs in the last three innings to lose 6-4. Manny Ramirez delivered in the clutch in the ninth inning by hitting a two run home run, which was part of the 3 run ninth. David Ortiz was 2 for 5 after entering the game with a 3 for 43 season, with 40 percent of his hits so far coming in one game, but he is still hitting .104, which is just over halfway to the Mendoza line.
Tigers May Look Back on This Game As the Game That Turned Them Around
The Detroit Tigers were trailing 5-0 when they came to bat in the bottom of the sixth against the Minnesota Twins last night. However, they scored 11 runs in the last three frames of the contest. Ivan Rodriguez, Gary Sheffield, and Miguel Cabrera saw their batting averages go above the Mendoza line during the game. Rodriguez came into the game with only 2 RBI's but drove in 3 runs last night.
This game could be a momentary blip for the Tigers or it could be the beginning of the road back to respectability. The 16 hit attack had to be a big boost for the Tigers. A loss would have made them 2-11, but the win made them 3-10, which put them seven games (instead of nine games) under .500. It will be interesting to see if this 11-6 win may be the starting point in the reversal of fortune for the Tigers.
Albers Wins First Start of Season
Matt Albers (2-0) won his first start for the Baltimore Orioles in a 4-3 defeat of AL East rival Toronto Blue Jays. Last season with Houston Astros, Albers was 4-11 with a 5.86 ERA, but this season is a completely new start, as he currently has an ERA of 0.79, allowing one run in 11 1/3 innings.
Ervin Santana Pitches Angels to 7-4 Win Over Rangers
Ervin Santana (2-0) is taking advantage of a chance to start because of the injuries to other starters. Last year, Santana was the weak link in the Los Angeles Angels rotation with a 7-14 record, but this year he has helped keep the Angels in the race until the other starters return. Jason Jennings (0-3) continued to struggle for the Texas Rangers giving up 6 earned runs in 4 2/3 innings. The 7-4 win kept the Angels a game back of the surprising Oakland Athletics.
A's Win Behind Pitching of Greg Smith
Greg Smith (1-0) won his first major league game as the A's defeated the Chicago White Sox by a 2-1 score. Smith, the former LSU pitcher from Alexandria, Louisiana, had much better command of his pitches and walked only one after walking five last week in his Major League debut. White Sox had scored a total of 18 runs in their last two wins over the Tigers, but they only managed to score one run yesterday. The win enabled the A's to hold on to their one game lead over the Angels in the AL West. Dana Eveland (1-0 with a 0.68 ERA) starts today against John Danks (0-1 with a 8.00 ERA). Lefthanded batters are hitting .400 against Danks this season.
Greinke Now 3-0 As Royals Defeat Mariners 5-1
Zach Greinke (3-0) 0.75 ERA is finally fulfilling the promise the Kansas City Royals expected when they signed him as the sixth player overall in the 2002 amateur draft. Starting with the 2005 season, his ERA has gone from 5.80, to 4.26, to 3.69, and now to 0.75 of the 2008 season so far. He has allowed only two runs to score in 24 innings this season. The 5-1 defeat of the Seattle Mariners gave the Royals sole possession of first place in the AL Central.
McLouth's Three Run Homer Paces Pirates to 6-4 Win Over Dodgers
Nate McLouth hit a three run homer in the ninth inning to lead the Pittsburgh Pirates to a 6-4 win over the Los Angeles Dodgers and Takashi Saito, who gave up the game winning shot. McLouth and Xavier Nady finished the game with 14 RBI's each, which leaves them one RBI behind NL leader Mark Reynolds. McLouth leads the majors in hits (23), doubles (8), total bases (39), and extra base hits (11). Andruw Jones picked up only his 2nd RBI of the season. His only extra base hits have been a double and a triple, and is currently hitting .214, slugging .182, and has a .402 OPS.
Randy Johnson Strikes Out Seven In 2008 Debut Against the Giants
Randy Johnson (0-1) struck out 7 and walked 4 in his 2008 debut and didn't receive the division after pitching 5 innings. He gave up 3 unearned runs. Johnson was hoping to win the first of the 16 wins he needs to reach 300 win mark. The San Francisco Giants scored twice in the 7th inning to take a 5-4 win. The Giants' win moved them into a 3rd place tie with the Colorado Rockies, with both teams being 3 1/2 games back of the Arizona Diamondbacks. The Dodgers, who are 3-7 in last ten games, found themselves in last place and 4 games behind first place after their loss to the Pirates.
Last night, MLB.com was showing the debut of Randy Johnson free of charge. This was the first time I had ever seen a game on MLB.com and was impressed with the sharpness of the picture, the camera angles, and the camera work in the stands showing fans enjoying the game and the food from the concession stands. The picture was much better than I have seen on a regular television screen.
Taking the First Pitch
I know there must be a good reason for taking the first pitch, but to me, I can't see letting the pitcher get ahead in the count. If the next pitch is fouled off or missed the batter who took a first pitch, he is already behind 0-2 in the count. It seems like there would be less chance of striking out if the batter swings at the first pitch. On the other hand, if a batter has a reputation for swinging at the first pitch, a pitcher could probably work that in their favor. I would be interested in knowing what others with more baseball knowledge than me think of batters taking the first pitch.
Players From the Past: Ferris Fain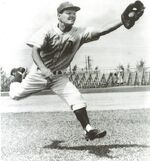 One of the readers of these articles suggested I write about Ferris Fain: the most anonymous two time batting champion.
Ferris Fain (March 29, 1921 - October 18, 2001)
Born in San Antonio, Texas Died in Georgetown, California
Major League Debut: April 15, 1947
Final Game: September 24, 1955
In 1951, Ferris Fain won the AL batting title with a .344 average playing for the Philadelphia Athletics. In 1952, he won the AL batting title again with a .327 average; he broke his hand in a brawl in 1952, but still won the batting title. In 1953, his average dipped to .256, which was a 71 point drop. He also broke his hand again in 1953 while in another bar fight.
In his 9 year career, he walked 904 times while striking out only 261 times. In 1954, he hit .302, the highest average he attained after the two batting title seasons. He was voted to AL All Star team five times with the first three times as an Athletics player and the last two as a member of the Chicago White Sox.
He had an OBP of over .400 every year except 1954 when it was .399. Fain was not a good fielder and made 22 errors in two different seasons at first base. He hit only 48 home runs and drove in 570 runs while hitting .290 for his career.
His father, Oscar Fain, was a jockey whose horse came in second in the 1912 Kentucky Derby. Fain had to place paper inside his shoes to hide the holes as a youngster.
In 1985, he was placed under house arrest for four months for growing marijuana. Not learning his lesson, he was arrested again in 1988 for growing 400 marijuana plants and was sentenced to 18 months in prison.
Two of his former Athletics teammates remembered Fain as having problems. Gus Zernial said Fain always wanted to fight someone and Eddie Joost said that Fain was his own worst enemy. Fain may have played only nine seasons, but he will be best remembered for his two AL batting titles and his proclivity for drawing walks and his .424 lifetime on base percentage.