Around the Bases
The New York Yankees took a 3-2 win behind the pitching of Chien-Ming Wang (1-0). Melky Cabrera, the No. 9 hitter, hit the only home run of the game. The Yankees are the only team that compares with the lineup the Tigers will be putting on the field when Curtis Granderson returns. The Yankees have Jorge Posada, Hideki Matsui, and Cabrera at the bottom of the batting order.
Final Score: New York Yankees 3, Toronto Blue Jays 2
The Los Angeles Angels, behind the pitching of Jon Garland, 1-0 blasted the Minnesota Twins by a 9-1 score. The Angels pounded out 15 hits, including 3 each by Vladimir Guerrero, Garret Anderson, and Howie Kendrick. The Twins have to be worried if their No. 2 starter, Boof Bonser, can't get the job done and then have three relievers allow more runs to put the game out of reach. In a bit of a statistical oddity, Garland pitched eight innings without recording a strikeout.
Final Score: Los Angeles Angels 9, Minnesota Twins 1
Daisuke Matsuzaka (1-0) pitched a lot better last night than he did in Japan, as he gave up only 2 hits in 6 2/3 innings while striking out 9 against the Oakland Athletics. Joe Blanton pitched well for the A's, but only got one run in support. David Ortiz is 0 for 11 on the season, Travis Buck is 0 for 14, and Mark Ellis is 1 for 14 with his only hit being a home run hit in Japan. Jack Cust hit his first homer of the season for the only run by the A's.
Final Score: Boston Red Sox 2, Oakland Athletics 1
Josh Hamilton hit a two run homer in the top of the ninth to give the Texas Rangers a 5-4 win over the Seattle Mariners. Ichiro Suzuki had three hits in a losing cause. Vicente Padilla and Felix Hernandez both pitched well with Padilla allowing one earned run in six innings and Hernandez allowing no earned runs in seven innings.
Final Score: Texas Rangers 5, Seattle Mariners 4
Robert Andino, who had batted 81 times in his four year career without hitting a homer, hit a walk-off homer in the tenth inning for the Florida Marlins in their 5-4 win over the New York Mets. He had not even driven in a run since the 2006 season. In worse news for the Mets, may have lost Pedro Martinez to a left hamstring injury.
Final Score: Florida Marlins 5, New York Mets 4 (10 innings)
Kip Wells and Kyle Lohse, who both had losing records last season, pitched well in the 2-1 victory by the Colorado Rockies over the St. Louis Cardinals. Wells gave up one run in 5 1/3 innings while Lohse gave up no runs in 5 innings. Jayson Nix walked with the bases loaded to force the winnng run across the plate.
Final Score: Colorado Rockies 2, St. Louis Cardinals 1
Chris Young (1-0) had control problems but still was the winning pitcher in the 2-1 win which saw the San Diego Padres defeat the Houston Astros for the second straight time this season. Young walked 5 while striking out 3, and Scott Hairston hit a two run homer for both Padres runs.
Final Score: San Diego Padres 2, Houston Astros 1
The San Francisco Giants were the first team to score after they and the Los Angeles Dodgers were scoreless after six innings, collecting two runs in the top of the seventh. The Dodgers then scored twice in the bottom of the seventh to tie the score. Matt Cain, who gave up no runs in the game and allowed only three hits, had to watch his team lose the 2-0 lead in the seventh, and then lose on an infield hit by Delwyn Young that gave the Dodgers a 3-2 win. The Giants had 10 hits, but all of them were singles.
Final Score: Los Angeles Dodgers 3, San Francisco Giants 2
Home Runs of April 1, 2008
| Batter | Team (B) | Inning | Pitcher | Team (P) | # on base | Outs |
| --- | --- | --- | --- | --- | --- | --- |
| Melky Cabrera (1) | Yankees | 6th | Roy Halladay (1) | Blue Jays | 0 | 0 |
| Dan Uggla (1) | Marlins | 1st | Pedro Martinez (1) | Mets | 1 | 0 |
| Luis Gonzalez (1) | Marlins | 2nd | Pedro Martinez (2) | Mets | 0 | 0 |
| Robert Andino (1) | Marlins | 10th (GW) | Matt Wise (1) | Mets | 0 | 0 |
| Mike Napoli (1) | Angels | 5th | Boof Bonser (1) | Twins | 0 | 0 |
| Casey Kotchman (1) | Angels | 8th | Brian Bass (1) | Twins | 0 | 0 |
| Yadier Molina (1) | Cardinals | 5th | Kip Wells (1) | Rockies | 0 | 0 |
| Jack Cust (1) | Athletics | 2nd | Daisuke Matsuzaka (2) | Red Sox | 0 | 0 |
| Scott Hairston (1) | Padres | 4th inning | Brandon Backe (1) | Astros | 1 | 1 |
| Josh Hamilton (1) | Rangers | 9th | J.J. Putz (1) | Mariners | 1 | 1 |
A-Rod Makes More Than Marlins in 2008
Alex Rodriguez will make more than the entire Marlins team in 2008. He will make $28 million, while the Marlins payroll will be only $21.8 million. What is even more alarming is the fact that Kevin Gregg makes the most on the Marlins with a $2.5 milion salary, which is not even close to the $3.15 million the average major league player makes. The Marlins' payroll is less than half of the team with the next to lowest payroll. The Tampa Bay Rays' payroll is $43.8 million for 29th place.
There are now 434 millionaires in baseball. I would ask where the money is coming from, but I know that the owners will pass on their costs to the fans. The owners didn't get rich by absorbing the costs themselves. The Yankees, as usual, have the highest payroll at $209.1 million which is over nine times as much as the Marlins payroll.
It amazes me that baseball still attracts fans in record setting numbers. I can't see how fans can afford attending these games since it has to cost at least $100 or more for a family of four to see a game. According to the Yankees website, the cheapest tickets are bleacher seats for $14. The most expensive tickets are the seats behind the dugout, which are $325 in advance and $400 on gameday.
The Yankees are not having trouble selling the best tickets, as season tickets are sold out for the first ten levels of seating for the 2008 season. The true season ticket price for 81 games would be $21,275, which is more than my wife and I made all of last year combined, and that is just the price for one freakin' seat. Still, if a season ticket is purchased, saving $125 a game for the same seat a gameday ticket buyer would pay $400 for, while a season ticket holder would save $10,125 over a season.
A fan who doesn't mind sitting in the bleachers could either pay the full price by buying tickets for $14 each on the day of the game for a total of $1,134 or buy them in advance for $972. A-Rod alone will earn $345,000 per game, or about $70,000 an at bat if he bats five times. He will make roughly $32,000 per inning for a nine inning game. He will make more in two innings than an average worker may make in two years.
Players From the Past: Dick Stuart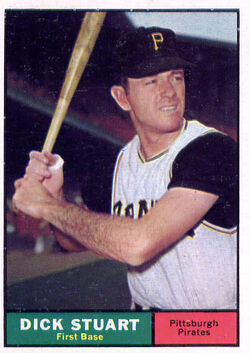 When I think of Dick Stuart, I think of two things:
He hit 66 home runs in the Western League in 1956.
He was one of the worst, if not the worst fielder in major league history.
He was born in San Franicisco, California on November 7, 1932. He played his first major league game on July 10, 1958 and played his last game on May 27, 1969. He died at the age of December 15, 2002 at the age of 70 in Redwood City, California.
Dick Stuart once said that when he fielded a hot dog wrapper during a game in Pittsburgh, 30,000 fans gave him a standing ovation. He was known as one of the worst fielders ever. He made 29 errors at first base for the Boston Red Sox in 1963, (setting a record that stands 45 years later), and 24 errors in 1964 the following year. Present day Red Sox first baseman Kevin Youkilis made no errors all last season, so that shows how bad a first baseman Stuart was. Stuart was nicknamed Dr. Strangeglove for his ineptness as a fielder. He once even had a license plate that had E3 on it.
Below are a couple of paragraphs from his New York Times obituary:
His first major league hit was a home run. His second was a grand slam. In 1963, he led the American League in runs batted in with 118, and in his two years with the Red Sox he hit a total of 75 home runs.
Still, he could never shake his image as a bad fielder. When the public-address announcer at Pirates training camp once told the spectators, Anyone who interferes with the ball in play will be ejected from the ballpark, Danny Murtaugh, the Pirates' manager at the time, said, I hope Stuart doesn't think it means him.
Stuart played ten seasons in the major leagues and hit 228 home runs and drove in 743 runs while hitting .264. Stuart was on the 1961 NL All Star team and was the batter waiting on deck when Bill Mazeroski hit his game winning home run over the Yankees in the seventh game of the 1960 World Series. He was 3 for 22 in World Series play for the Pirates and Dodgers and hit only .136 with no home runs.
In 1122 games, he stole a total of two bases and was caught stealing seven times. Bill James of Baseball Statistics Fame called Stuart the worst percentage player ever since he was not good at drawing walks, running or fielding.
His 66 home runs in 1956 in the minors should place him near the top of minor league season home run record list. Joe Hauser and Bob Crues hit 69 in one season and Joe Bauman has the record with 72. When Barry Bonds hit 73 home runs in 2001, it made him the all-time leader in homers in a single season in organized baseball in United States.
(One a side note about Crues before getting back to Stuart, he hit 69 home runs in 1948, drove in 254 runs, he scored 185 runs and hit .404, but didn't finish in the top 3 in batting average that season. He also was third in hits with 228.)
Stuart's personal best home run season was when he hit 42 home runs for the Red Sox in 1963. His last good season was in 1965 when he hit 28 home runs and drove in 95 runs for the Philadelphia Phillies. He had 33 years of retirement before succumbing to cancer in 2002.