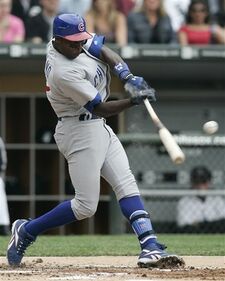 Since the turn of the 21st century, there have been only four times where an American Leaguer joined the 30-30 club. Of those four times, Alfonso Soriano did it three times. Soriano joined the club in 2002 and 2003 with the New York Yankees, and in 2005 with the Texas Rangers. Jose Cruz Jr. is the only other American League player to become a member of the club in this century when he became a member of the 30-30 club with the Toronto Blue Jays in 2001.
It is a different story in the National League with with nine players joining the exclusive club. One of those players is also Alfonso Soriano, who had 30-30 with the Washington Nationals in 2006. Since the turn of the century, Vladimir Guerrero joined the club in 2001 and 2002 with the Montreal Expos, and Bobby Abreu did it in 2001 and 2004 while playing for the Philadelphia Phillies.
Preston Wilson was the first player in either league to join the 30-30 club this century when he joined the club in 2000 while with the Florida Marlins. The other three players to reach 30-30 did it last season when David Wright of the New York Mets, Brandon Phillips of the Cincinnati Reds and Jimmy Rollins of the Phillies. Soriano is the only one of the club to also be a member of the 40-40 club when he had 46 homers and 41 stolen bases.
Baseball-almanac has a list of 30-30 players:
http://baseball-almanac.com/hitting/hi3030c.shtml
With the season a third over by the end of the week, a player would need 10 stolen bases and 10 homers to be on a pace to have 30-30 this season. The only player this season to have 10 homers and 10 stolen bases is Lance Berkman with 16 homers and 10 stolen bases. Hanley Ramirez is the only other player close to having a chance right now to join the 30-30 club, since he has 9 homers and 13 stolen bases.