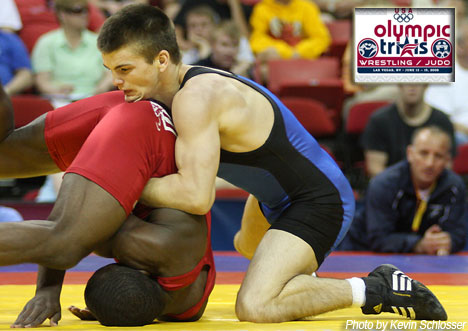 Illinois high school junior Jimmy Chase (blue) plants a five-point move on eventual 2008 Olympian Spenser Mango during the semifinals of the 121-pound challenge tournament at the Olympic Trials in Las Vegas on Friday.
In December of 2005, Jimmy Chase was a freshman wrestling at 112 pounds for Illinois powerhouse Glenbard North High. Splitting time with older sister Caitlyn in the GBN line-up at The Clash, one of the nation's best high school wrestling events, Jimmy picked up a fall with what he thought was his trademark cradle.  "That's all I really know," he said back in 2005.
Well, he's picked up a few things and he's also picked up more than his share of opponents.
Flash forward to the Thomas & Mack Center in Las Vegas, Chase has made a name for himself at the 2008 U.S. Olympic Team Trials, but cradles are no where to be found.
Chase is wrestling Greco-Roman … and he's pretty good at it.
One of three Greco qualifiers who haven't entered college yet – Eric Grajales and Jake Deitchler are the other – Chase has been trying to shed the image of being "Caitlyn's brother."
But the two have a unique distinction neither wishes to rid the other of. They have both qualified for the Olympic Team Trials while they were in high school.
Caitlyn qualified for the 2004 Olympic Trials in Indianapolis in women's freestyle as a sophomore in high school. Jimmy, a rising senior and Illinois state champion, follows four years later.
While Caitlyn's wrestling career is on hold due to chronic back problems, Jimmy appears to be emerging as a serious Olympic candidate … in 2012.
"Caitlyn's starting to get a little jealous," said Jimmy, following an opening round win over fifth-seeded Josh Habeck, a former two-time Division III All-American at UW-La Crosse.
But it wasn't the draw he'd had initially planned on preparing for.
After Jermaine Hodge, the third seed, missed weight and moved up to 60 kilos, Eric Grajales followed, moving up to the weight as well. Hodge, the third seed, and Grajales, the fifth, enabled Chase to move from his pre-tournament #6 to the #4.
After the win over Habeck, he met U.S. Nationals champion Spenser Mango, one of the tournament favorites.
"I feel like there's no pressure," said Jimmy. "I'm just going to come in here and attack – I think I can lift anybody."
But instead of lifting anybody, he lifted somebody – and that somebody was Mango.
After a scoreless first minute, Chase got the chance for his reverse lock and quickly scooped Mango skyward, planting him to the mat for a five-point, crowd-wowing throw and a first period victory.
"It … did hurt," said Mango following the bout, which he went on to win in the final two periods.
"He's pretty tough, I didn't know what to expect," continued Mango, not discounting Chase's age.
After cooling down and then dispensing with Ohio State's Nikko Triggas, Chase had time to think about his bout with Mango.
"I wrestled tough," said Chase. "He figured out my lift and knew how to attack me and he got it done. He's a tough competitor."
Chase's victory over Triggas has been a pattern. While Triggas is the starting 125-pounder in Columbus, it was a bout between the two in Fargo that changed the high schooler's thought process.
"He beat me in the pools in Fargo and he got in the finals and I ended up going for fifth … I used that and I've beaten him five straight," he said.
Chase does realize his draw has had a lot to do with his run the Olympic and National Teams, but he also points to one of the most fundamental actions in wrestling.
Making weight.
"I figured this was my chance to get a good spot in the bracket and make some noise," said Chase. "I mean, I made weight."
But even after he wrestled his final match on Friday evening in Vegas, the battle still remains with Caitlyn.
"I'm very jealous," she said. "We have our inner-family competition. A lot of people are proud of him. He's well-controlled, he's got a good head on his shoulders so he knows what to do.
"He's stayed focused, so I didn't have to say anything," she said.
With some prior experience, Caitlyn hasn't had to implore any of her Trials experience.
Jimmy finished fourth, falling to veteran Lindsey Durlacher 7-1, 6-0 in the consolation final. Afterwards, Durlacher left his shoes on the mat indicating his retirement from active competition.
"You've got these young kids like Chase coming after you … they're some of the factors that are causing me to call it quits," said Durlacher.
Chase came away a winner despite picking up two losses along the way.
"It was really fun, there was no pressure and I just went out there to wrestle … and being half someone's age."
And when 2012 surfaces and guys like Mango and Sam Hazewinkel are still in the mix at 121 pounds, what does Chase expect in his second Trials trip?
Chase's answer is simple: "Gold – Olympic Gold."
The race is still on between Jimmy and his sister. She won't concede defeat yet.