With the NFL combine wrapping up in Indy and the free agency period looming, news around the NFL is getting juicier by the minute.  The next month or two is arguably the most interesting (and sometimes head-scratching) time of the offseason.  Who will be buyers, who will be sellers.  There's just so much to talk about around the NFL.  But, today I am here to talk about rumors on free agents, trades, etc.  Not, I repeat, NOT the NFL Draft.  I will save that for another time/place.
It's time to talk free agency!
First off, it's official, the Indianapolis Colts have agreed to release the 36-year old, eight-time Pro Bowler and one-time Super Bowl champion Marvin Harrison.  The aging wideout had asked the Colts front office for his release yesterday after contract negotiations fell through.  Who will take a stab at Harrison?  Well, I would say Seattle since it's rumored that they are leaning towards drafting an offensive tackle at the four spot this year (likely draftee, WR Michael Crabtree, reinjured himself during the Combine this weekend).  So, if Seattle can find the money and are willing to sign Harrison to a short-term contract, I say why not?  If they are going to pass as much as they do, why not bring someone in who can catch the ball?
Seattle I'm sure is eying Harrison, but so are the Philadelphia Eagles. Quarterback Donovan McNabb has said he will wait to negotiate a contract extension after seeing how his team improves this offseason. But if Philly signs Harrison, you can call McNabb's extension a done deal. Two play-makers (DeSean Jackson and Harrison) at the WR position is a dream-come-true for McNabb, and I don't think he would have anything more to complain about if this happens.
Another guy will be leaving Indy, as well. The longtime Colt, Jeff Saturday, the three-time Pro Bowl center who played for the Colts his entire ten-year career says he will test the free agent market this offseason. And he sure won't be out there for very long. There are plenty of teams that are willing to snag this undrafted 33-year old from Atlanta.
As far as Baltimore's veteran LB, Ray Lewis?  Lewis will be a Dallas Cowboy in '09.  The Ravens have already chosen to keep Terrell Suggs over Lewis by placing the franchise tag on him.  Jerry Jones (Dallas' owner) has the money to spend on Lewis, and I don't think Baltimore has enough to keep both Suggs and Lewis.  Jones has already expressed interest in trading T.O., so why not replace Lewis with Owens?  That sounds like a GREAT plan to me.  Out with the bad, in with the good.  Lewis is such an inspiration, and good-hearted man, he will do nothing but good for this team.  Can you imagine Ware and Lewis in the same defensive backfield, roaming the field, causing opposing QB's to piss their pants?  I know I can, and it's not a pretty sight..for offenses, that is.  Besides, Lewis' childhood dreams were to be a Cowboy.  His time has come.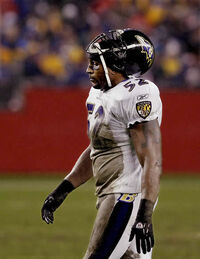 Bart Scott, yes, another Baltimore LB, could be seen in a different uniform next season, as well. The New York Jets, who already seem to be over the Brett Favre retirment, are reportedly interested. Scott would be a welcome addition to the Jets' LBing core, and would be an instant leader for young defensive players like David Harris and Darrelle Revis. I say, go for it New York!
The Minnesota Vikings are reportedly very close to a deal with Houston Texans 30-year old QB Sage Rosenfels.  That would fill their biggest hole, and could put them atop the division again in '09.  But personally, I believe the Vikes should've taken a stab at Jeff Garcia, the former Tampa Bay Buccaneers QB.  He has some experience in the playoffs, and it appears that if they can just get consistency at the QB position, they could go far in to January in '09.  Is Sage really the guy who's gonna bring them home a Vince Lombardi trophy?  No, I don't think so, but I guess we'll see.
Other recent NFL offseason rumors/happenings include, but are not limited to:
Steelers place franchise tag on offensive tackle Max Starks, signing him to a one-year, $8.45 million contract. It's a good start to the offseason.
Jason Taylor's agent says he will return to play for the Redskins in 2009. Will he still make an impact on defense in '09, or is he aging too quick?
The Denver Broncos will be "big" spenders this offseason. HA! I will believe that when I see it.
Don't worry, more to come from me as the offseason progresses.
Sources: NFL.com, ESPN.com
Community content is available under
CC-BY-SA
unless otherwise noted.