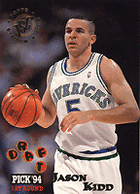 THIS JUST IN!!!!!!!!!: Devean George blocks the Trade...saying he doesn't want to be part of it...so now Dallas has to reconstruct another package without George....

The Dallas Mavericks have got back Jason Kidd for, get this...24 year old Devin Harris, veteran swingman Jerry Stackhouse, the expiring contracts of center DeSagana Diop, Devean George and guard Maurice Ager, 2008 and 2010 first rounders, and an additional 3 million dollars. (Oh, and they get Malik Allen, too!) Bear in mind these are the same guys that thought Steve Nash was washed up and wanted youth at the point. New Jersey said thanks but no thanks to Stackhouse and will buy out his contract when the deal is finalized. So the Mavs pass on Kobe, pass on Shaq, but go after Kidd in the 3rd blockbuster trade this month.
Now for analysis:
Dallas: Its hard to count out a 4 man core of Kidd,Dirk, Terry, and Josh Howard. In a Western Conference flooded with great guards, Parker, Paul, Nash etc. Dallas decided to go for some veteran leadership. Kidd is quietly having a great season nearly averaging a triple double, something that hasn't been done since Oscar Robertson. Stackhouse is free to come back with his tail between his legs after 30 days and it's a nice counter to the Suns Lakers transactions.
New Jersey: So you dished your star guard for a Mark Cuban pupu platter but you get a young point guard, 2 first rounders and lets not forget Richard Jefferson has been a problem this year. This season is just about done and it's time to look ahead. Devean George could be a solid player off the bench as he was with the Lakers. And if Harris evolves into a top tier PG, they might look back at this deal as the biggest steal since they traded for Kidd in the first place
Jason Kidd: Jason Kidd can come in and not lose a step. I like Kidd and Howard together as Kidd will get him the ball and Howard will produce. Only downside is that Dirk might disappear in the playoffs. So, like I said if he can make the players around him better it could work.
Rest of the League: Lebron is a little pissed but I think the gap is growing between the East and West again. The Southwest division has got that much tougher and the Atlantic has got that much easier(not like the C's don't have it wrapped up already). I for one am hoping for a Suns-Mavs WCF, Kidd versus Nash would be epic. Not crowning anyone yet though. As for the East, its same as before Celtics, Pistons, Cavs and the rest(not sold on the Magic yet).
Opinion: If not already implied by the title I think the Mavs gave up way too much. Do they not realize when a player wants out you can get him for just about anything. Like the Shaq trade, if it works they are geniuses if it fails they are fools.