"The Stream of Consciousness is the process of the chain of thoughts that occur in one's head. Simply put, the thought of one thing in the mind leads to the next thought and the next through association. It is how the thoughts flow. It is how you can go from thinking about baseball to wondering if the stove is turned off at home. It is that stream that flows..."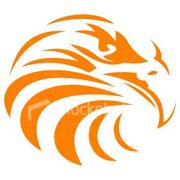 So I was sitting in the dentist office the other day
wondering
why the fack I always hated these visits...
"Dentist clean teeth, check for cavities, and tell you to floss, what is so bad about that? Well, unless you are Michael Strahan. Every time he goes to the dentist he is probably lectured about that stupid looking gap. Actually, what kind of dentist person would lecture a professional football player about something that is uncontrollable...
"Well, I don't have to hear about that facker Strahan much more. He is retired and I could not be happier. All this means is Jon Runyan won the war. Think about it, the Run-Dog is the one still out on the field. Strahan finally pussy-footed away. Then again, the gap-toothed, giant baby is the one with a Super Bowl ring now. Shit... The Eagles need to win one so that the Run-Dog can win the war."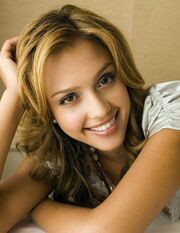 A cute looking Latina receptionist turns the corner and calls for me... to come see the dentist. Darn, I was hoping it might be for... something else...
While following this fine behind down the hall, my mind began to drift again...
"Whoa, it is bright in this place. White walls with lights that seem to be pumping at a thousand watts, not a good combination. It is blinding, I should have brought my sunglasses inside. Actually, sunglasses with a radio on them would be just perfect. I know they exist too. Manny wore them during Spring Training a few years back. They would be just perfect now...
"Manny Ramirez, not that is a guy who knows how to swing the bat. A true student of the art of hitting a baseball. He has one of the sweetest strokes in history. I could watch him take batting practice all day long. Which righty would I rather watch, Pujols or Ramirez? Good motherfacking question."
By this time, one of the dentists assistants (are they called nurses?) comes in and starts cleaning my teeth. This is when the memory of why I hate dentist visits gets recalled. They clean your teeth (which to me is nails-on-a-chalk-board, but in my mouth) with this nasty bubble-gum flavor product. Then tell you not to swallow as they ask questions and expect you to answer. It's pisses me the hell off...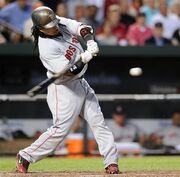 "I can't answer her, so I am just going to ignore her and maybe she will stop talking... So where was I? Oh yeah, my favorite guys to watch hit. Along with Pujols and Ramirez, I'd include
Chipper Jones
,
Brian McCann
(not the 2007 version),
Akinori Iwamura
, and...
Junior Griffey
. Junior is (in my opinion) the best hitter of this generation. I would say player, but that title belongs to
Greg Maddux
. Boy can that guy
pitch
. I wonder what the match-ups were like between Junior and the Mad Dog?"
Anyway, my thoughts soon drifted off to some personal matters. I'm not sure how, but soon hockey was on the mind...
"Chris is right about most his hockey stuff, but he is wrong about Upshall. Scottie is full of potential and I wouldn't want to see him go. Yes, he can make some bone-headed moves. Yes, he can get caught on the wrong end of the ice. Yes, he did make some stupid plays last year. He just brings such a high intensity to the team. Plus, you can't teach speed, but you can teach discipline. The Flyers aren't asking Scottie to be an All-Star (just yet), just to be a solid winger on the third line...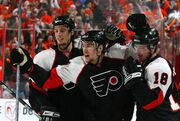 "DiFran does deserve credit when it is due. He kept saying
Richards
would be good. Now look, he is (my opinion) one of the top five skaters in the league. Set him as the first line center and throw
Gagne
and
Hartnell
at the wings and this line is going to put many goals in the back of the net. Plus, with
Carter
and
Umberger
as the second and third line centers, the Flyers may just be the best in the league at winning face-offs. Teams are going to be knocking at the door for R.J. though, and Carter is going to want a big contract. How are they going to manage around the salary cap? Well, I trust
Holmgren
. He will do what is right for the team for both the long and short terms."
As I left the dentistry (thanking the good lord that my visit was over), I realize that I already miss hockey. For once I am not looking forward to the fall because of the Eagles, but for the hockey, for the ice, and for the Flyers. Until then, I am just going to have to watch the Greatest Sport Ever, deal with the annoying ESPN coverage, change the channel when something boring comes on, and pray for Opening Night because in 2009, I truly believe that a team from Philly will be hoisting the greatest trophy in sports history...

Today's Lesson: One thing worse than visits to the dentist is waiting for hockey to begin...
Community content is available under
CC-BY-SA
unless otherwise noted.