"The Stream of Consciousness is the process of the chain of thoughts that occur in one's head.  Simply put, the thought of one thing in the mind leads to the next thought and the next through association.  It is how the thoughts flow.  It is how you can go from thinking about baseball to wondering if the stove is turned off at home.  It is that stream that flows..."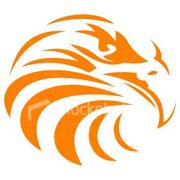 Again... English 102 may just be the end all be all of sleeping pills.  So there is nothing better to do than drift into the thoughts of the
falcon
...
"Davita actually brought her laptop to class. She did say she would bring it to entertain herself, but I didn't think she was serious.  What the hell is she looking up?
"The NJ Department of Corrections... why? Pacman Jones needs some correction. He doesn't deserve another chance to play in the NFL.  Goodell best keep him and his tarnished image out of the league.  What team would be interested enough to pick him up anyway?
"ESPN (ugh) ran a promo for Sports Center saying that they were going to talk about the situation.  Isn't worth watching.  Pacman isn't even worth putting in the news.  Anyway, the promo showed clips of Dallas.  They better not be involved.  Pacman is talented, no doubt.  Even with his bad image he would actually help the Cowbabies.  DALLAS SUCKS.  If they were to win only one game per season, it would be too many. Mr. Woodworth (English 101 professor) said it best:"
"The Dallas Cowboys and their fans should all just walk out into shark infested waters until there are none left of their kind.  It is just that I dislike Dallas and their fans, I just don't believe that they are people." ~Mr. Woodworth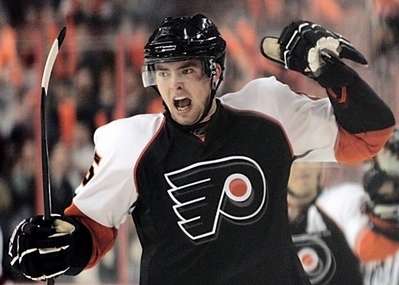 "Can't worry about Dallas right now.  A Philly team other than the
Eagles
is more important at the moment.  The
Fly Boys
are in the
playoffs
!!! The series with the
Crapitals
is tie at one game a piece. 
Alexander Ovechkin
has been almost nonexistent this series.  It must be because
Kimmo Timonen
is doing a great job manning-him-up.  Seriously though, as much as the Flyers need to win this series, A.O. must show up.  He cannot become the
A-Rod
or
T-Mac
(the
former
self of
Peyton Manning
) of hockey; get it done in the regular season but not the playoffs...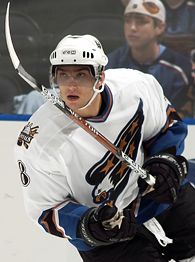 "Not a huge fan of A.O. but he
is
better than
Sid-the-Kid
(seriously, a
little kid
with the way he
falls down dives
). Unfortunately, if the
Penguins
advance and the Ovechkin doesn't make an impact on his series all that is going to be said by Little Kid Sid's supporters is, "that is why Crosby is the better player."  That would be nothing more than a false statement because looking at it objectively (putting personal feelings aside) A.O. plays two way hockey and doesn't have any other great talents on his team to take pressure of the big guy. 
The Great One
himself even
confirmed Ovechkin
as being
Alexander The Great
."
Take a cut from the land of hockey... The teacher is rambling about some play (it seems).  After a (failed) attempt to pay attention the words, "...Nora wants money for Christmas..." send the mind up into the clouds...
"It may not be Christmas, but some guys are receiving their presents.  The Diamondbacks are dishing out some monies due and Chris B. Young is collecting.  Byrnes got his due last season, deservingly so.  The D-Backs know they need to lock up these players to be competitive down the road as well as right now.  Bringing in Danny Haren is one big move that should pay off.  There is already a plethora of young talent on the big league roster, that losing all those prospects in the trade shouldn't hurt the franchise.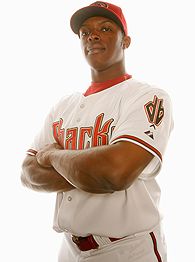 "They do have some serious talent...
Stephen Drew
,
Conor Jackson
,
Chris B. Young
...
Justin Upton
.  How about the
young slugger
?  He is tearing the league up.  After a bad showing during his call-up last season, he is proving that he
is
all
that
... and a bag of chips...
"His older brother B.J. is doing fine for himself so far as well.  Playing for the Rays... wait... Rays = Longoria (the names will come to be as synonymous as Derek Jeter and the New York Yankees).  The Future was called up on Friday.  How is he been doing?  It seems as if he may just be eligible for free agency a year sooner than expected (unless he is sent down upon the recovery of Willy Aybar).  When that time comes around, he is going to have earned his money anyway... pay the boy!"
Reminiscing about other things (non-sports related)... Pretending to pay attention... Explaining to Davita that she isn't the only one who doesn't know what the story is about... Back to somewhat sports related thinking...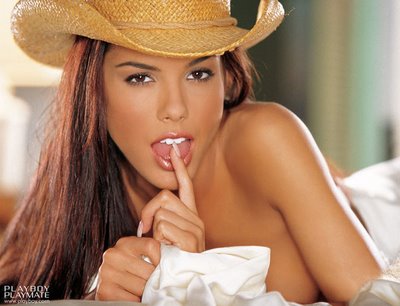 "Other than the
Flyers
Series and
Tiger
losing the
Master's Tourney
, sporting events/occurrences were not of the mind this weekend.  Did anything significant happen? How are the
Rays
doing? Did
Longoria
tank in his first game?  Hopefully not.  Did the
Sixers
play?  What is going on at the
Chair
?  Did another user try to break the Chair in pieces?  Who is winning the
Hottest Sports Wife
competition?  The bracket is in pieces, but at the last check
Carmella
was still alive. She better win... she must win... how could she not win?
GO CARMELLA!!!
Today's Lesson: Use a laptop to vote for Carmella DeCesare...
Community content is available under
CC-BY-SA
unless otherwise noted.