After reading and thoroughly enjoying the articles sharing their experiences with the Rays, and some (oldies but goodies), I thought it a good idea to give our two resident experts a chance to rap on the Rays free-style. No writing for votes, no pressure to be good or credible, just two baseball dudes talking about the game, and the team they've adopted.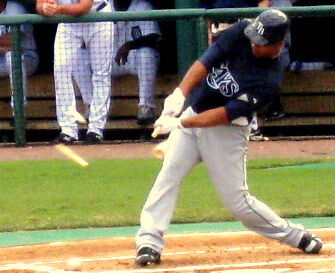 With their overwhelming support (Manny: Fuck yeah!!) and enthusiasm on the project, and their encouragement to throw in my two cents when deemed appropriate, I sent them several questions/scenarios via private email, and what follows is the end result. So, without further adieu, I present Manny and Falcon, rappin' on the Rays;
Kelsdad: Interesting sidebar in the pissing contest the other day with the Yankees, I was shocked at the lack of reaction from Iwamura. A player intentionally tried to hurt him and all he did was point at the spike mark on his pant leg and cry like a little schoolgirl to the umpire. Guaranteed his respect level in the clubhouse took a hit. On the other hand, the respect level for Jonny Gomes went up significantly. The Rays in recent years have been known as pansies, they just show up and get beat down. Do you think Gomes' reaction and the Rays willingness to mix it up, especially with the almighty Yankees, has caught the attention of the rest of the league?
Manny: Aki is as chill as they come and probably, being Japanese and not American, not as concerned with ego, testicles and bravado of anything other than making the out, thus, the lack of reaction. I know for a fact all his teammates like and respect him. I witnessed one awesome exchange between he and some of the Spanish speaking players including Carlos Pena and Dioner Navarro where he was ripping off blue words in Spanish, and the Spanish guys were coming right back with Japanese words, which, judged by the reaction of Aki and his personal media contingency, were blue as well.  
Gomes and Aki are actually pretty close, as he is with the rest of the team, coaches and fans. He's overcome a lot, growing up in a tough environment, and I commend him for just shoving Duncan and not actually hitting him. And, I heard his teammates paid his fine.  
Kelsdad: Most people don't know, or remember about Gomes' having a heart attack when he was 23 years old too, on Christmas Eve, no less.  
Falcon: Applause to Aki for reacting the way he did. Fighting would not have gotten him anywhere and he did not stoop to the low level of professionalism (or lack thereof) that some of the Yankees showed. Gomes did retaliate, he gave Duncan a shot without getting into a full scale battle. Not that Jonny was right in the situation, but it's morally right when someone gets what they deserve. As for battling the Yankees, it is perfect. Let the whole world know the Rays aren't pushovers anymore. They have fire, a fight that is here to stay. They will be competitive for the next decade, it is good to see them mixing things up and creating rivalries. Now if someone would just run into Varitek…..
Kelsdad: Another factor in the incident was the Rays decision to get a bit "older" during the off-season. Their expansion brothers, the Arizona Diamondbacks, have had some postseason success with a lot of that tied into having a veteran team. In recent years, however, the Dbacks have gotten significantly younger, but have countered the trend by signing veteran players with proven character, such as Carlos Baerga and Tony Clark to balance the clubhouse. The Rays have appeared to take a page from the Dbacks book with the addition of Troy Percival, Eric Hinske and Cliff Floyd. How do you guys view the clubhouse now going into the season.
Manny: Ok, Tony Clark is a great dude no matter how you slice it, cheap, vet, crafty and experienced. But as far as Cliff Floyd is concerned, he was brought in for two reasons, as a lefty power bat off the bench and a mentor to Carl Crawford. I think the Rays were a little uncomfortable with CC associating with noted hothead and Tampa native Carl Everett.  
Falcon: I agree, Cliff Floyd is a huge sign if he can stay healthy. He is a power guy in the middle of a solid nine, a good leader, a good mentor and he brings the bling of a World Series ring with him.  Troy Percival is another solid addition. He brings a great attitude to a young club, but will he be able to regain the dominance from his early years? If he does, then Al Reyes, (not quite closer material) will remain in the set up role, in which he is perfect.  
Manny: Right. Percy is a longtime friend of Joe Maddon from their days with the Angels. Troy is more of a lead by example guy with steely nerves and experience, and, let's face it, a great addition to any clubhouse. Percy also pushes up Maddon's formulaic approach to the 'pen up by an inning. A great fit all around.  
Manny: Hinske? I didn't really like it when I heard he had been invited to camp. It screamed, "we're not bringing Longoria up until June", and let's face it, Hinske isn't the type of guy who produces well. He has played great in the spring so far, so I can learn to warm up to him. I hope they brought him in as someone who will lend insight to the clubhouse of division rivals like Boston and Toronto. I'm not banking on him and just hope he plays well enough to be trade bait by the All-Star break.  
Falcon: Eric Hinske bothers me a little. This is because I have not heard anything good about his character, potential or talent. He isn't really that good of a player and combined with that little "incident" in Toronto, (whether or not his fault) doesn't bode well for him. I'm with Manny on this one, play well enough to cause someone to want him in a trade. And the clubhouse is the best its ever been. The Rays are doing an phenomenal job with building the franchise. They have players with character and talent. With vets like Reyes and Dan Wheeler, who can lead young talent without holding the kids back and lighting up the scoreboard. 
Kelsdad: Update. Hinske is still in camp and has continued to play well all spring, he has not yet been added to the roster. A story early Tuesday (3/25) indicates switch hitting infielder Elliott Johnson has opened a lot of eyes with his performance in camp and has a shot to make the roster, which would put Hinske's status in question. With Evan Longoria having been sent down, with puts reserve Willy Aybar at third base, and with Ben Zobrist being DL'd today, the possibility exists both players will make the team and head north.
Kelsdad: People I've talked to and stories I've read are unanimous in the fact there is a zero percent chance David Price pitches in the Major Leagues this season. So, let's play devil's advocate here for a second. The postseason is out of the question for the Rays this season, but let's say with a month left in the season they have a legitimate chance at a .500 record for the first time and maybe to sneak in a third place finish. Do the Rays stay the course and resist the temptation to promote Price for the final month, or do they take a chance and use him the last four or five weeks similar to how the Yankees used Joba last year?  
Manny: Postseason out of the question? No, no it's not. Worst to first has happened before, there is a precedent. Perhaps it will take the work of asteroids taking out the other teams, but it's a definite possibility.  
Falcon: The words "hypothetically speaking" are missing before the line, "The postseason is out of the question." If, and I mean if, the postseason is out of the question and all they are fighting for is the .500 mark, then no, I don't foresee Price being called up. The Rays place in the standings will have no effect on when Price gets the call unless it's to help get to the playoffs. When he is ready he will be here but in the rotation, I can't see him coming out of the pen.  
Manny: If the Rays need him to get into the postseason, he will be better off for the experience and so will the Rays, think Todd Worrell in '85 and K-Rod in '02. And really, the only adjustment he'll have to make is to life in the bigs.  
Falcon: Right. Physically, he can probably pitch in the majors now, but adjusting to the major league lifestyle is something else. This is a whole other monster he'll have to attack before he can be considered for the 25 man roster.  
Kelsdad: Another sign of a good team is having a set roster BEFORE spring training starts, and that looks to be the case this year for the Rays. A couple bench spots, the bullpen rotation and maybe fourth and fifth starter appear to be the only positions where there is a battle. And with the Rays stacked at Triple A, a slow start or an injury they have replacements who are just as good or maybe better. Despite losing 90 something games last season, its pretty clear now the Rays are no longer are the worst team in baseball. As Rays fans, how frustrating is it knowing they could likely win the NL Central or West yet in the AL East it will be a struggle to finish fourth?  
Falcon: Personally, there is no other division I'd rather see the Rays in. Taking down the Yankees is why I used to root for the Red Sox. There needs to be a new team to battle the Yanks and Red Sox. There is a pride and utter satisfaction which comes with making these proud franchises fall. When the young talent of the Rays reaches its potential, there will be no stopping them. I have a post coming soon on AGM which I'll explain why this is so satisfying, knocking down the Yanks and Sox. Since they will be the biggest threat in their division in a few years, Red Sox and Yankee fans will unite on the sole basis of their hatred of the Rays, and personally, I cannot wait.  
Kelsdad: Hold on Falcon, Yankee fans and Red Sox fans will never unite for anything, ever. There is a huge difference between "rivals" and a "rivalry." I agree the Rays will be a team to be reckoned with in the near future, and the Rays may even edge the Yankees in the standings once or twice, but "uniting in their hatred" will never happen.  
Manny: To tell you the truth, after meeting the penultimate optimist, Joe Maddon, I WANT the Rays in the AL East. Who cares if you win a crappy division and sneak into the playoffs? I'd rather get tested and proven before I get there. Maddon reminds the team every day they are in a tougher class just by being in the AL East. Every AL game feels bigger. Every AL game is played harder, tighter and with less margin for error. That is what makes you better.  
Kelsdad: Right, unlike the Diamondbacks. They went out after the initial 1998 season and made a couple trades and signed some big bucks free agents, won the NL West in 1999 and the World Series in 2001. Won the West again in 2002, and in 2004 lost 111 games. The vets they picked up either moved on when free agency came up again or retired because they couldn't play anymore. Then they were forced to play a bunch of stiffs like Junior Spivey and Erubiel Durazo because they mortgaged their minor league system and drafted poorly, thus didn't have the resources in place to develop a solid core group of young players. They have that core now, but I wouldn't trade the Dbacks roster for the Rays roster, no way.  
Manny: I know the majority of people are set in their ways and once they get used to something they can accept no alterations from their assumed reality, but "revolution" means coming around, changing, moving, turning. One day you're on top, and then you're not, the Yankees and Red Sox can't stay on top forever. Believe me, if I didn't see what was going on in Tampa, I wouldn't have auctioned my fanship off, I would still be a big fan of what's going on there. They have a plan and are seeing it through. You have to dream big if you're going to make the big dream come true. And this dream will become a nightmare for Yankee, Red Sox and Blue Jays fans. They are doing it right, not just for right now; but for a long time to come. This team is on the way, way up, a team with some super studs on the brink of the majors, another number one pick in '08, and the best farm system in the game. They are ready to become the next dynasty!  Because once they are there, they will be for a long time, the past is gone forever and the future is now!
Kelsdad: OK, we've talked about the front office. We've talked about the minor leagues. We've talked about a handful of the not quite ready minor league players. Now its time to get into the nuts and bolts and talk about the ML players and your expecations of the upcoming season. I'll throw a few names at you, and in 20 words or less, give me your hopes and expectations for 2008, and feel free to add a player or two of your choice if you want.  
Falcon: KD, 20 words aren't enough.  
Kelsdad: OK, Falc, whatever comes out is fine.  
Kelsdad: Scott Kazmir  
Manny: "Johan Lite" all the effectiveness of Johan Santana for less money. One of the three best lefties in the game and maybe the best starter under the age of 27 there is.  
Kelsdad: I agree with you on the lefty part, but no way I'd take Kaz over a 21 year old Felix Hernandez.  
Falcon: Kazmir will once again do what he does best, strike people out left and right, although that also is his biggest problem, high pitch counts. I see a record of around 15-6 with an ERA around three and a WHIP under 1.30 are numbers I expect from a staff ace. Those numbers should get him an invite to the Mid-summer classic.  
Kelsdad: Troy Percival.  
Falcon: A question mark. He hasn't been asked to close for a contending team for quite a while. He brings a great personality and attitude to a young team, but he is older and coming off surgery. I don't see more than 25 saves from him due to either age related ineffectiveness or injury.  
Manny: "Baseball Lifer". A veteran who brings more to the team off the field than is asked of him on it. Proven track record.  
Kelsdad: Akinori Iwamura  
Manny: "Aki Mazeroski". Extremely underrated as a player. Will surprise many on his move to second and will make a run at All-Star.  
Falcon: Iwamura is going to be HUGE! Before he was injured last season he was tearing up the league. Now that he has had a year to adjust to the league and to the lifestyle and is healthy again he will be one of the best all round players in the league. An All-Star start is not out of the question, an All-Star appearance is all but guaranteed.  
Kelsdad: Pretty optimistic there, Falc. When Aki went on the DL he was at .339, but had only played 18 games, so not a big margin to go with. Aki had the second fewest RBI in the league for anyone with 400 plate appearances or more, I just don't see his power translating to the US. Hideki Matsui hit 50 bombs once and more than 35 two other times in Japan yet his career high in the states is just 31, not a bad number by any means but not 40 or 50 either.  
Kelsdad: Evan Longoria  
Falcon: Longoria will come in and be a total professional, with a winning attitude, classy style and a leadership ability found in few young players. He is what everybody expects, just not as great as many people believe at this point. He still has never had a ML at bat, remember. Over twenty HR, eighty or so RBI, and solid defense is what can be expected from a guy who likely won't reach the 500 AB plateau. The following season is when we may witness the 40 HR pop.  
Manny: "Mike Schmidt Lite." The cornerstone of the franchise for as long as he plays.  
Kelsdad: I saw him play twice, and the most impressive thing I saw him do was a foul ball. It's hard to describe, suffice it to say there aren't more than a handful of guys in the majors right now who would have made contact on the pitch, and here is this kid just out of college doing something like that. I was shocked at what I saw, and from the reaction of the other scouts around me, they were pretty impressed too.  
Kelsdad: Carlos Pena  
Manny: "Cheese." Smilingest player in the clubhouse. Happy to be a Ray, and happy to be just as good, or better, this year. Keep in mind, he barely played the first month of 2007.  
Falcon: Of all things that are frightening is Carlos Pena. Yes, he was amazing last season. He was always given high hopes but until last year had never reached his full potential. Was it a fluke? That is the biggest worry of all.  
Kelsdad: Andy Sonnanstine  
Andy Sonnanstine has really good control, but he is hittable, almost too hittable. As a starter this season he won't be special. A few good games mixed in with a few not so good games. If Edwin Jackson and Jason Hammel work out in the rotation, and upon the return of Kazmir, Sonnie will go to the bullpen. Once he goes there, he will be brilliant in this role for the rest of the year.
Manny: Temporary fix. Nice guy, decent stuff, just holding down the fort until David Price makes him disappear.  
Kelsdad: See, Falc. Twenty words really ain't that hard.  
Kelsdad: Edwin Jackson  
Manny: "Needs Consistency." If Jack can be steady over long stretches, and not be Edwin Jekyll and Mr. Hide the Women and Children, the Rays will have a devasting front four instead of a solid top 3.  
Kelsdad: "Edwin Jekyll and Mr. Hide the Women and Children." Fackin' hilarious!  
Falcon: Matt Garza. New addition to the staff. Remember, he was a highly talked about prospect just a year ago. He did not come storming onto the scene, but people are learning his name, and for good reason. Matt will have a decent year before his breakout season in 2009. I look for a 12-7 record with an ERA around 3.50 with around 200 innings pitched.  
Falcon: Another guy I'm going to watch closely is Jason Bartlett. Already a clubhouse favorite, he has developed a good relationship with Akinori Iwamura, making Aki's move to second a bit easier. Jason will score some runs and have a high average while bouncing back from a down defensive year and show he still has the skills of a top stopper at the shortstop position.  
Manny: A key for me is health. As long as guys stay healthy, Navarro, Upton, Pena, Kazmir, Shields, Garza, Wheeler, Reyes, Percival, if these stay and play healthy, WATCH OUT!!  
Kelsdad: OK, prediction time. Manny, you are on record here as saying the AL East winner will be around 92 wins and the Rays will take it. Now is the time for you to explain why, then, Falcon, its time for your prediction for the upcoming season. Where will the Rays finish. Will Carlos Pena repeat last season's numbers. How will Matt Garza perform and will Troy Percival remain healthy all season.  
Manny: Rays win 92 and win the AL East. Yankees win 90, Jays 89, Red Sox 87, Orioles won't matter but I'll put them around 63. Carl Crawford wins MVP despite gaudy production from Pena and Upton. Longoria is Rookie of the Year and Kazmir and Shields both end up in the top 10 in Cy Young voting, wins and K's. Garza turns in an impressive season as well.  
AL East is most talked about division race in the game. The Rays will be the surprise of 2008 even though everyone is talking about them getting better, they just don't realize how much better.  
Falcon: In 2008 the Rays will have a winning record. Eighty five wins is the floor and it's hard to see 90. They have young talent, the veteran presence, and the right attitude but also too many question marks. Is Carlos Pena for real? Can Percival be strong? Will Longoria bust? Will the bullpen blow it? Some of these are cut and dry, Longoria most likely will be great and Pena seems to have figured it all out finally. There are just too many questions and too much to still prove. They've broken ground, built the base, and put up the walls. Without a ceiling, the sky is the limit for the franchise. The 2008 season they will head up to the top floor so that in 209 they can jump as high as possible. For now, with most of the talent still in the minors and the other bunch with very little experience, the Rays will finish third in the AL East with a record of 85-77.  
Kelsdad: Guys, as an FYI, the Major League record for the greatest single season turnaround was set by the 1999 Diamondbacks, who, after winning 65 games in 1998, won 100 games in 1999, a 35 game difference. The Rays won 66 games last season, if they win 92 games, that will tie the second largest turnaround of all time, 26 games, also set by the Diamondbacks, (51 wins in 2004, 77 in 2005). Obviously it's been done before, but the Dbacks played in the NL Worst, not the AL Best. Just saying, is all.  
Kelsdad: Last question, time for some fun. Jim Callis, Baseball America's Executive Editor, writes an annual column around this time where he "predicts" the state of baseball three years down the road. In the short time he has been writing this column, he has a .583 success record in picking postseason teams. In 2010, he has the Rays beating the Los Angeles Dodgers in the World Series. So, Manny, Falcon, go grab your crystal ball and see what you see.  
Manny: Let's pick 2012, Opening Day, new season opens. By Opening Day, 2012, the Rays will have won at least two AL pennants and at least one World Series Trophy. The Rays will be favorites to win the East while the Yankees and Red Sox are overhauling their franchises. New Yankee Stadium will be the home of a sub-.500 team and Fenway Park will be due for demolition and replacement by a new stadium that will be cursed. Carl Crawford will win an MVP Award, and Scott Kazmir will sign a long term deal as well as win a Cy Young. David Price will have a 20 win season. Evan Longoria will be a perennial All-Star as will B.J. Upton and the Rays will become a major player in the free agent market.

Kelsdad: Three years, Manny. Math not a strong suit for you in school?

Manny: Oh, I'm very strong in Math. But "following directions" is definitely not my strong suit!  
Kelsdad: One of Callis' predictions, Manny, is Kazmir will leave via free agency and sign with the Texas Rangers.  
Manny: I don't see Texas, that park is a killer for pitchers, although I could see Houston, that is where Kaz is from, you know.  
Falcon: In 2010, the Rays will be the best team in all of baseball. Simple, cut and dry, no team will be better. Player predictions for 2010: Four All-Stars, Iwamura, Price, Upton and Longoria. Even though Kazmir will be stiffed from the Midsummer Classic, he will have the best record on the team. Dioner Navarro will become a solid catcher, both offensively and defensively. Jason Bartlett, I dare say, will remain the starting shortstop. Andy Sonnanstine will have become one of the top relievers in the game. Justin Ruggiano, B.J. Upton and Carl Crawford will be the starting outfield. Jake McGee will be in the set-up role in the pen. Wade Davis will be the number five starter behind Price, Kazmir Garza and Jackson. Evan Longoria will not have won an MVP as yet. Tampa will win the 2010 World Series.  
Kelsdad Epilogue: This interview was conducted via email between March 16 th and March 24 th.  Since then, the Rays re-assigned SS Reid Brignac and 3B Evan Longoria to Triple A Durham, and placed P Scott Kazmir and reserve INF Ben Zobrist on the DL. Two roster positions remain open, the final bull pen spot has been narrowed down to righties Grant Balfour and Scott Dohmann. With Longoria sent down and reserve Willy Aybar battling a hamstring injury, the Rays have rookie Elliot Johnson and journeyman Joel Guzman in the battle to start opening day at third. Manager Joe Maddon has indicated Guzman could play second with Iwamura heading back to third, but has stated a preference a strong showing by either Johnson or Guzman over the last four exhibition games can give him a clear winner for the hot corner spot.